Amid countless challenges, Leeds grads transformed the school, campus and world through their work. And they're just getting started.​
---
College graduates this spring confronted their share of challenges along the way—especially the pandemic and resulting economic uncertainty. For Boulder's Class of 2023, though, another defining disaster was the December 2021 Marshall Fire, which burned more than 6,000 acres near the CU Boulder campus and destroyed more than 1,000 homes. 
Olivia McKeen was among those who lost her home in the fire, but instead of being consumed by shock, she rallied to build a community resource—the Marshall Fire Resource Guide—that become a relied-upon, one-stop shop for fire victims unsure of where to turn for donations, rebuilding resources, updates on lost pets and more. It also helped volunteers find useful ways to help.
Now that she's graduating, McKeen—who will start work as an assistant social media planner at Sterling-Rice Group—hopes those marketing and branding skills she learned at Leeds, and that she used to build the website, will help her create impact throughout her career. 
"I wanted to come out of Leeds with a meaningful degree and a meaningful job," she said. "I would love to use my degree do something that helps people."
McKeen is just one of many graduates of the Leeds School of Business who have already created impact at school and are hungry to do more. Here are some of their stories.
Chasing the dream—literally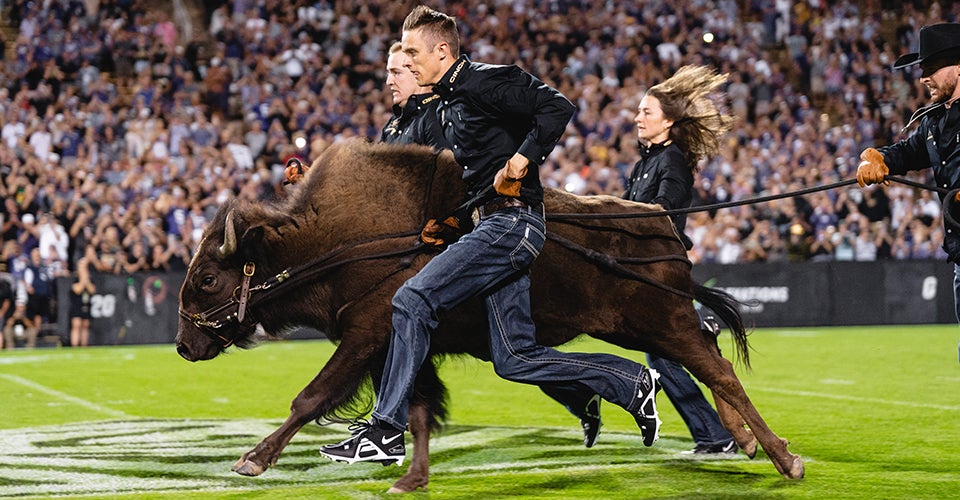 Wes Weber's original plan was to work a few years after completing his bachelor's degree before retuning for a master's. But continuing directly to his master's degree meant a fifth year with the Ralphie handler program.
Chasing a buffalo during football games definitely involves physical stamina and courage—but for Weber (Mktg, BA'22; MSBA'23) and other runners, the program also teaches leadership, communication, improvisation, confidence and resilience—all vital business skills. He'll now bring that unique package of skills to CapTech, where he's been hired as a data analyst consultant. 
"You walk out of Leeds feeling prepared for anything," Wes said. "My professors have given me the confidence and preparedness to help me feel I can do this. And it goes hand in hand with the Ralphie program of being a leader, being able to use my voice and believing in myself to get the job done, whatever it may be."
'Making people feel part of the Leeds community'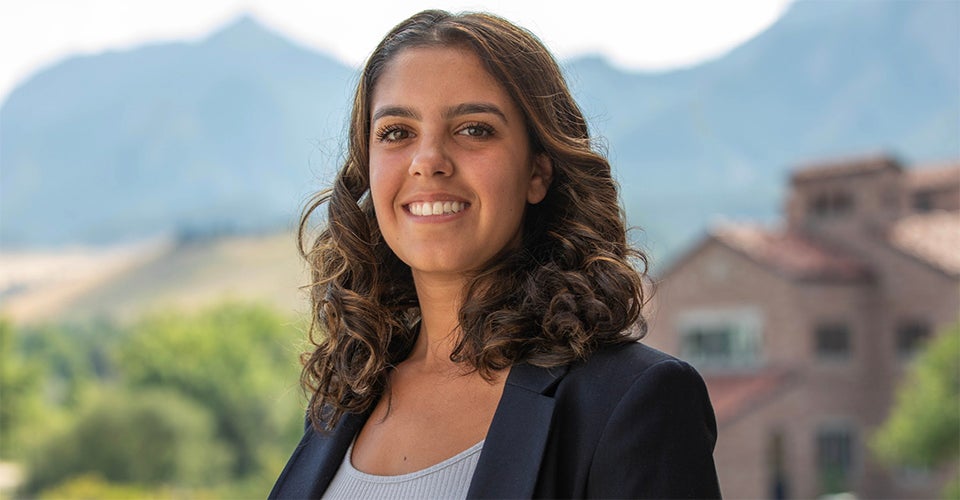 Anya Aidun (InfoMgmt'23) is no stranger to leadership, having held key roles at organizations such as Leeds Student Government and the Delta Sigma Pi business fraternity. So it's no wonder she was named among CU Boulder's Student Leaders of the Year for 2023. 
"The award means so much to me because I think it was not about the executive positions I was in, but rather, about making people feel part of the Leeds community," she said.
Aidun also worked to be a leader in organizations where she didn't have the title, like Leeds' student consulting club, which prepared her for an internship with McKinsey that led to a full-time offer as a business analyst. 
"Leeds taught me how to quickly take in information and be able to make rapid decisions," she said. "That's the key to success in consulting, because you have to be constantly learning."
The head of her class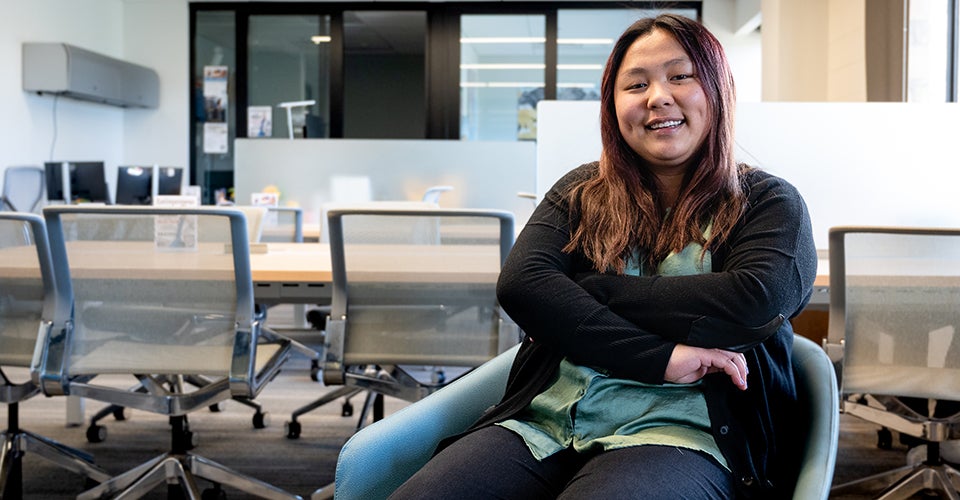 Christina Heese (Strat&Entrep, PolSci'23) always thought she'd end her career as a teacher, as a way of giving back to those who inspired her as a student. 
But then—why wait?
"There's so much you can do as a teacher, so much you can give back to a community, especially at a time when there are such shortages out there," she said.
That's why Heese is off to Teach for America, where she'll be teaching math in Washington as she prepares for law school—and maybe a future counseling startups and entrepreneurs on how to create impact through their discoveries.
"I don't think I'm an entrepreneur—I don't always have the tolerance for risk—but I've found I really like working in these startup ecosystems, and I think I could help support those people who do have great ideas and plans," she said.
Seeking 'the opportunity to change the world'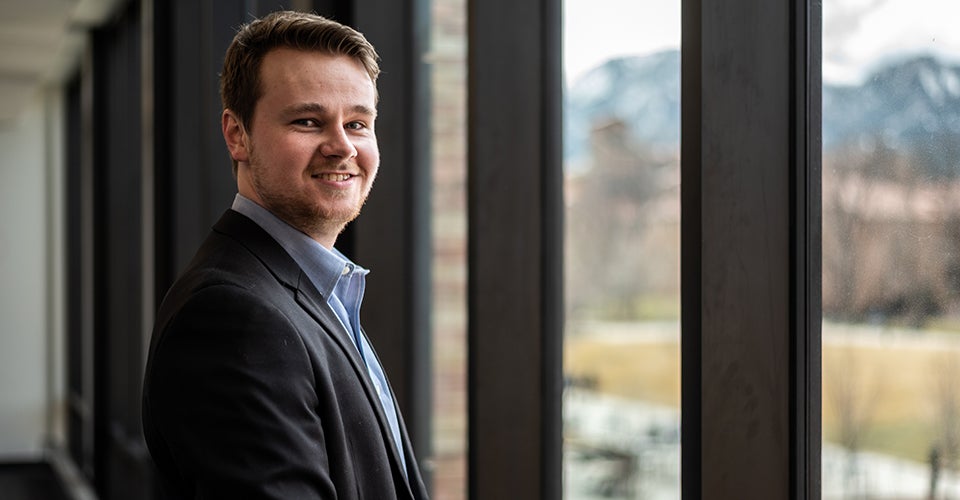 Effective analysts understand that data isn't about numbers. It's about how data tells a story that informs a strategy. 
Colton Marschik (BA, OpsMgmt'23) found an unusual outlet to practice his talents as a storyteller—"The Future of Thought," a podcast he started and hosts. On the show, he interviews thought leaders for open conversations that explore the growing divide in a polarized society. 
"Ultimately, the goal was to understand people from all perspectives in the hope of bridging that gap," he said. 
Marschik interned with Lockheed Martin's space division. He's now headed to the company's Rotary and Mission Systems office as a data analyst.  
A fashionable side gig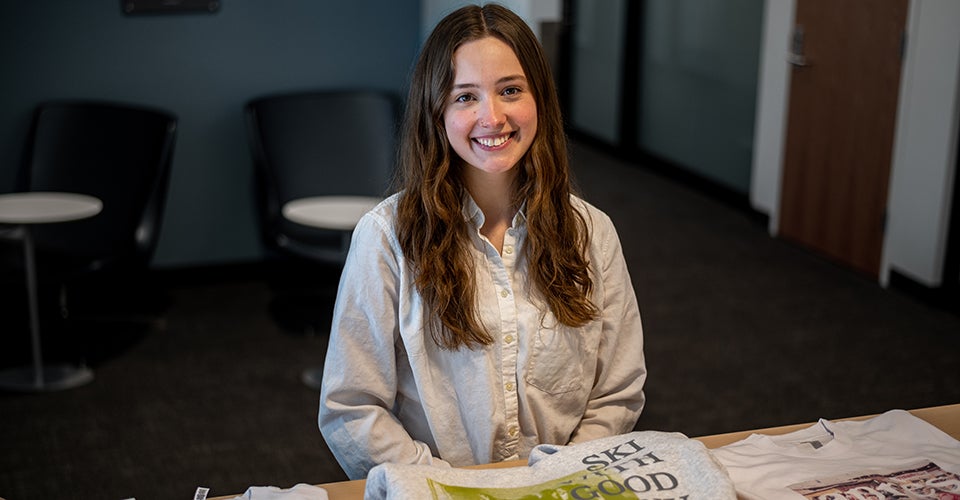 Who launches her business the same week as final exams? 
"I love the chaos," said Holly Henderson (MBA'23), who created the Free Takeout fashion brand in the fall alongside two of her classmates. 
Henderson plans to continue with Free Takeout on the side after graduation—she's currently interviewing at several places—as it unlocked a passion while serving as a proving ground for the lessons she was absorbing in class. Even more than her classes, though, Henderson appreciated how Leeds challenged her to explore her passion for business. That's reflected in Free Takeout's brand, which is centered around the people in your life, not just the journey.
"At Leeds, I found the path for myself and had a self-exploration journey that helped me create something truly meaningful," she said. "I couldn't have done it without the friendships I made through my MBA."
Mentorship matters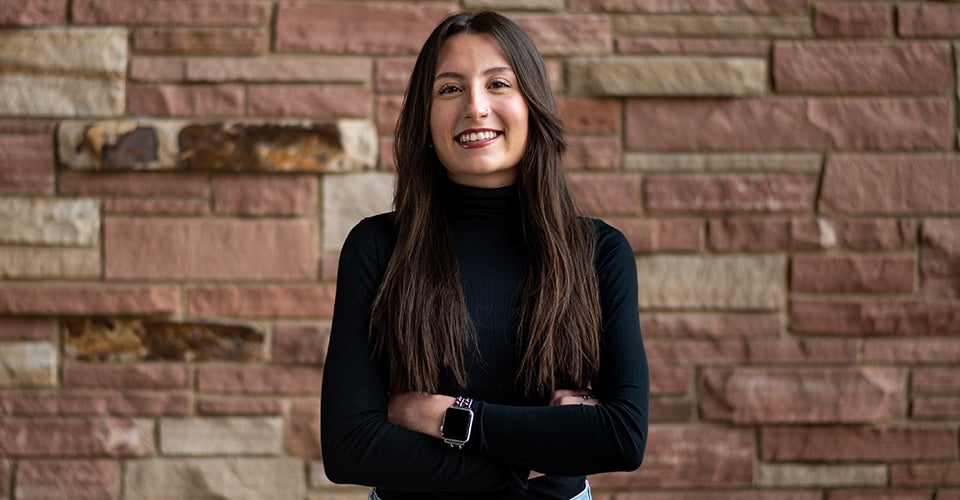 As she explored possible career paths in real estate, Kyla Thomas (RE, Fin'23) said she benefited from incredible mentorship opportunities that were made possible through the Inclusive City Builder Fellowship, a new rotational program that gave her insights into the industry "from start to finish." 
It also gave her a truly unique set of mentors.
"The biggest part is not only the learning, but the network and connections," Thomas said. "We learned from the leaders at these companies because they really want to help students break into the real estate industry, and share a mission of encouraging diversity."
While she remains intrigued about the opportunities to work in urban mixed-use development, Thomas is eager to work as an alternative analyst at BlackRock's asset management team.
'It hasn't always been easy'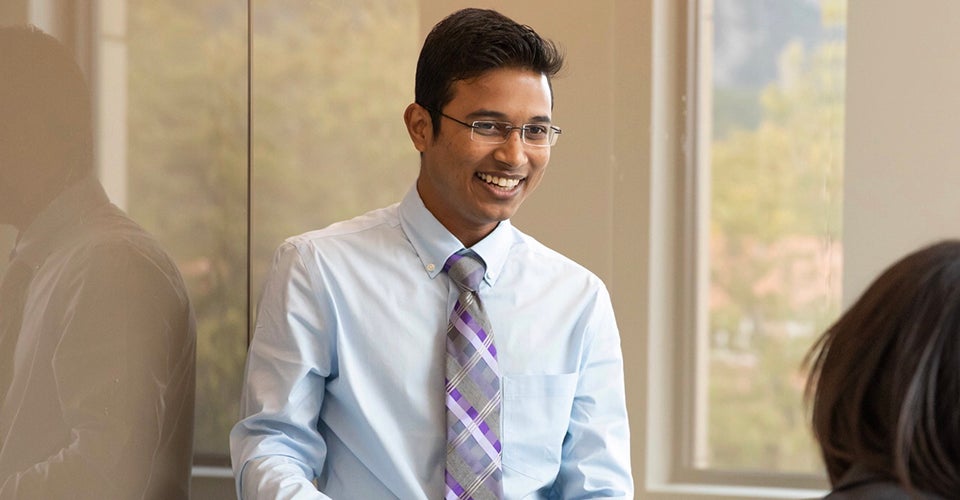 For Sandip Bisui (PhD'23), the challenges of doctoral-level study and research were compounded by the difficulty in navigating a new home and culture. 
"The past five years haven't always been easy," he said. "Moving over 8,000 miles away from home was quite the culture shock, but Boulder quickly became my second home." 
Bisui studied mathematics and scientific computing at Indian Institute of Technology, Kanpur, before heading to Colorado for his doctoral work. He credited his advisors and Leeds faculty for making him a strong researcher and preparing him for his role as an assistant professor at Purdue University. 
"My journey here wasn't just about academic growth," he said. "I've also gained valuable life lessons, such as learning the importance of community, friendship and inclusivity. And it's hard to find a community as welcoming as the one at CU Boulder."