Founder, Free Takeout 
It takes a special kind of person to launch her business in the frantic period between Thanksgiving and the beginning of final exams.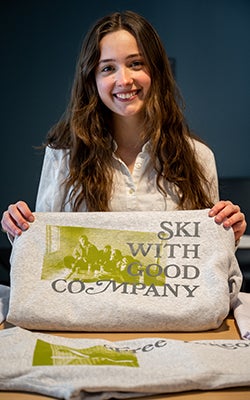 Holly Henderson is definitely a special kind of person. 
"I love the chaos of it," said Holly, who launched the Free Takeout clothing brand on the first day of exams with two partners, both MBA students in her cohort; the company's latest release dropped March 2. "It was the craziest, most insane two weeks ever. I was calling my business partners at least 10 times a day, and they would say, 'Oh, my God, I'm so stressed out,'—and I was like, 'But aren't you having the most fun you've ever had?'"  
While starting a business at such a busy time has had its downsides, Holly said applying what she's learned as a student has been an incredible complement to her studies. "We're in our second year in the program, so: Where are our gaps in knowledge, what do we need to know more about, how can we find more interest in the classes we're taking, because we have something to directly apply it to?" she said.
Like many entrepreneurs, Holly's path has been far from straightforward. She graduated from Central Michigan University with a degree in graphic design and a warning from her professors that she wasn't cut out for agency work "because I did projects the way I wanted to do them, not how they wanted them done," she said, laughing. 
So instead of going the traditional designer route, she wound up at a startup retailer in Michigan, where she found she enjoyed the pace and size of a smaller enterprise. Getting an MBA was a way for her to get the business skills she needed in order to be prepared for her next move.

"It's interesting being a leader in a room full of other leaders, because you really need to knock down your ego and let everyone shine for who they are."
Holly Henderson (MBA'23)
The next move wound up being to Boulder, as she looked to immerse herself in the outdoor culture of the West while benefiting from Leeds' emphasis on entrepreneurship. 
'Leeds encouraged exploration'
"Especially coming from a startup, I'm not really big into the corporate world," Holly said. "A lot of business schools try to push you in that direction, but Leeds encouraged exploration."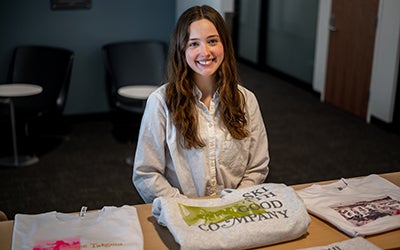 Holly has certainly made the most of the experience. In addition to her foray as a founder, she's co-president of MBA Women in Business and vice president of community outreach for the MBA Association; she also ran a clothing swap in November to benefit the nonprofit TGTHR, in Boulder. And while Free Takeout is a three-woman effort, hatched on a camping trip, Holly's comfort in leading—not to mention her fashion experience—has put her in the driver's seat.
"It's interesting being a leader in a room full of other leaders, because you really need to knock down your ego and let everyone shine for who they are," she said. "With Free Takeout, it's been an interesting challenge in leadership because it's me and two of the closest friends I made in the program. Figuring out how to lead your two best friends has helped me grow and develop as a leader a lot." 
That friendship is a key part of what fuels Free Takeout's mission. 
"The three of us all moved here for the mountains—skiing, hiking, camping," Holly said. "But what matters so much more is the memories we made with the great people we were surrounded by. We wanted to create a brand that embodies the idea of human connection and how important it is to value the people you're spending your time with."  
The designs in her latest collection, which debuts this month, feature vintage photographs from her family and friends skiing, including a hoodie featuring her mom and a T-shirt with her dad visible in a crowd. The look further speaks to her ideas around emphasizing the people you're with, more than the activity you're doing together. 
As she works to complete her MBA, Holly is now figuring out what she'll do full time after graduation, though she plans to keep running Free Takeout on the side, with the hope of scaling it up in the future. 
"At Leeds, I found the path for myself and had a self-exploration journey that helped me create something truly meaningful," she said. "I couldn't have done it without the friendships I made through my MBA."