Invest in the Future of Business and Engineering
Chance to magnify your support!
Leeds has an exciting match opportunity for those who are interested in supporting the physical and programmatic collaboration of Leeds and Engineering. This project would not be possible without the support of our alumni and community members. The collaboration has already gained incredible momentum (see updates below)—there is truly no better time to support this project!
$1 for every $2 committed
Boulder entrepreneur Dan Caruso and Leeds Advisory Board member Cindy Caruso—active philanthropists who have supported entrepreneurial activity on campus for over a decade—are donating $1 for every $2 committed to the building expansion project, up to $1.2M. This is the Caruso's second generous investment toward our effort to finalize our funding.
Dan and Cindy are inspired to increase their investment in CU Boulder and support the innovative opportunities that will stem from the intersection of CU's highly ranked Leeds School of Business and College of Engineering and Applied Science programs. 
Please consider a gift of any amount. We would be tremendously grateful for your support in finalizing funding for this project in conjunction with the Caruso's generous matching program.
Check: to donate via mailed check, please make it payable to the University of Colorado Foundation OR the CU Foundation, include "Business and Engineering Expansion" in memo line. Mail check to University of Colorado Foundation, P.O. Box 17126, Denver, CO 80217.
For more information, please contact Carolyn Gleason at 303-492-8940
The Business and Engineering expansion represents a new era of collaboration and innovation on the CU Boulder campus—and our commitment to generate a positive disruption in higher education. To that end, we are breaking down traditional disciplinary boundaries in order to actively foster cross-functional competencies in our students. Ultimately, we are redefining how tomorrow's leaders drive meaningful change in the world.
The expansion joins our two schools physically and programmatically, creating a new world of possibilities for the top-ranked, globally recognized programs, including creative, functional space to collaborate and connect. Increasing opportunities for our communities to engage with each other on a daily basis—in a space that also invites in our business and industry partners—establishes a broader sense of local community, inspires relationship building and dialogue, and facilitates cooperative, productive interactions across disciplines.
University of Colorado Board of Regents recently approved CU Boulder's recommendation to name our building the Rustandy Building, in recognition of Leeds alumnus and donor, Tandean Rustandy. Tandean embodies all that the Leeds School of Business stands for when it comes to making positive economic and social impact through business. His support as the first donor to this largely donor-funded building was integral in making this expansion a reality. Read more about Tandean Rustandy. 
10 Things to Get Excited For:
Innovation and Entrepreneurship Hub
200-seat state-of-the-art auditorium
Renovated William M. White business library
Cross-campus entrepreneurship certificate
4 active learning classrooms
Joint graduate programs
The Phillips 66 Business and Engineering Diversity Case Challenge
Open spaces designed for collaboration
A new café for your daily dose of caffeine
Stunning views of the Flatirons
Visit the Business Library Pop-Up
The Business Library Pop-Up is now open on the 3rd floor of Koelbel, near the Welcome Desk. While the Business Library is closed, you can still get textbooks on reserve, request books to be picked up in Koelbel, ask questions, and more.
Hours: Monday to Thursday 9 a.m.–7 p.m. | Friday 9 a.m.–3 p.m.
Your Daily Perk Returns to Leeds
We are thrilled to announce our new relationship with Gravity Café, an entrepreneurial enterprise co-founded in 2019 by owner Ariane (Ari) Wolfe and manager Lauren Holm. (You may recognize Ari and Lauren from the Engineering building cafés.) They will be operating a kiosk in the Atrium, which will be opening in the 2020 spring semester, as well as the café in the expansion, opening spring 2021.
Curricular Collaboration Opportunities
The Business and Engineering expansion provides opportunity for the two schools to come together for curricular collaboration, such as: 
Cross-disciplinary project management course that brings in outside industry
Joint MBA and computer science degree
Cross-campus entrepreneurship certificate
Business minor for engineering students
Computer Science minor for business students
Courses listed and accessible across schools
Joint graduate programs in construction management and business analytics
Programmatic Collaboration Opportunities
Likewise, the Business and Engineering expansion provides opportunity for the two schools to come together for programmatic collaboration, such as with: 
Collaborative recruitment efforts
Business mentoring for engineering students
Joint career treks for business and engineering students
Joint entries into New Venture Challenge and campus-wide competitions
Joint corporate partnerships with Ball Corporation, Arrow, Zayo and Phillips 66
Joint career fairs and workshops
Groundbreaking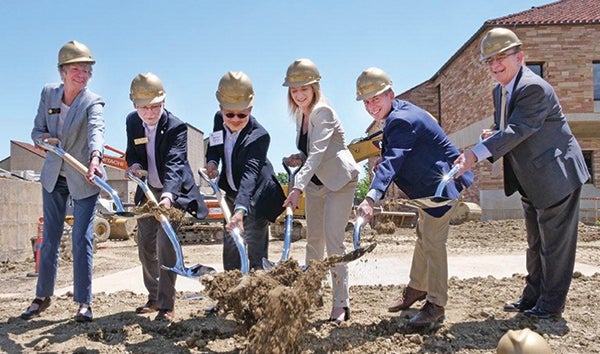 On June 5, we celebrated our highly anticipated groundbreaking of our building expansion with the College of Engineering and Applied Science. The idea for the expansion between our two schools came about in 2017. It serves as a way to integrate the two disciplines, break down barriers and connect our two communities—ultimately encouraging collaboration and engagement between students, faculty, staff and the business community.
"The use of this combined space, by students who will come to us from all over the world and who will study a variety of subjects within business and engineering, will multiply their potential as graduates, the potential of the academic programs they will participate in, and CU Boulder's potential overall."     
—Provost Russell Moore.