Global experiences, a thoughtful program design and emphasis on DEI helped students forge tight bonds while reflecting on their aspirations as leaders.
---
Ask the students, and they'll tell you it's more than the convenience of a hybrid structure, the high level of support or the picturesque retreat locations.
What stands out most to the first graduating class of the Executive MBA program at the Leeds School of Business are the people.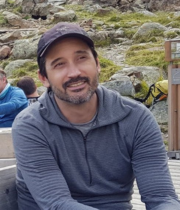 "I did not expect my relationships to develop to such depths," said Max Perez (EMBA'23), who is graduating this spring. "The relationships I built with my team, my cohort and the faculty are something I expect to carry with me for the rest of my career." 
Making meaningful connections with an accomplished group of leaders is a hallmark of the EMBA at Leeds. In designing the program, Lori Seward, professor and faculty director of MBA programs, felt strongly that it provide "rich opportunities for exceptional professionals—from a variety of industries, functions and fields—to make lifelong relationships." She understood that these powerful contacts would help advance careers, launch new endeavors and facilitate impact at organizations.
Perez agreed. Now vice president of strategic initiatives at a cutting-edge quantum technology company, he directly attributed his current role to his EMBA experience.
"I had classmates working in finance, energy, mining, sales, operations, medicine, small business and so on," he said. "Everyone brings a distinct perspective to the coursework and discussions. This will be my network beyond my core tech industry for the next phase of my career, and I hope it will enable the kind of cross-collaborations that I really enjoy.
"Ultimately, business is about people—and that is at the heart of the Leeds EMBA."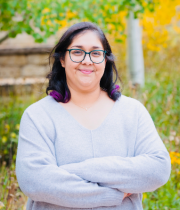 Maryel Barron (EMBA'23) valued her cohort's rich diversity, as well. "The program's emphasis on global perspectives and diverse industry experiences provided exposure to different viewpoints," she said. "It was precious in broadening my understanding of various business practices and cultures, which is essential in developing effective strategies for managing diverse teams and addressing systemic gaps."
When the program started, Barron worked at Boulder County Public Health. Thanks to her Leeds EMBA, she was able to transition into a financial controller role at Salud Family Health, where she's working to create equitable access for vulnerable populations.
A special format
Soon after Leeds launched the EMBA in 2021, Executive MBA—the global trade magazine for EMBA programs—celebrated the program for its innovative, hybrid structure.
Even more importantly, that structure has been a hit with students.
"The Leeds EMBA is ready-made for a working professional," said Dr. Brad Fehrenbach (EMBA'23), a radiologist who is graduating this May. "They've got all the logistics down. And I like our class size, because you get to know each other very well."

"Ultimately, business is about people—and that is at the heart of the Leeds EMBA."
Max Perez (EMBA'23)
Those logistics include three one-week, in-person residencies each year—in the mountains, on the Boulder campus and abroad—that allow professionals to escape outside distractions while applying new skills, working in teams, and building relationships with their classmates and instructors. Between residencies, they build their business knowledge through high-quality online instruction, which provides the flexibility needed to continue meeting the demands of their careers and personal lives. 
Over the course of the two-year program, the EMBA Class of 2023 visited international destinations, including Lisbon and London, that featured visits to innovative companies like the Techstars London Accelerator and Disney. The trip also allowed time for absorbing the culture—whether at Lisbon's oldest winery or London's historic theater district.
"The international residency brought together all the relationships built over the course of two years through teamwork and local residencies, and extended that engagement to the wider international community," Perez said. "It was truly life-changing."
Emily Ryan (EMBA'23), chief client officer for Valuize and the winner of Leeds' first Executive MBA Student Excellence Award, also said the bonds between students are a crucial feature of the program.
"The thing that stands out to me the most, beyond the stellar faculty and care that was taken in developing our cohort, is the thoughtful design of the program itself," she said.
A hallmark
That design includes special emphasis on diversity, equity and inclusion—crucial leadership skills that are nonetheless nascent concepts in most business curricula. One year after the program began, Executive Connections again praised Leeds' EMBA program, this time for its emphasis on DEI. The publication extolled Leeds for the intentional curriculum of the program, which is based on three interwoven pillars considered critical for leadership: inclusion, innovation and leadership. The program's emphasis ensures DEI goes further than ensuring student teams are adequately represented—it emphasizes that each team member feels heard and appreciated.
In addition to business fundamentals, leadership and innovation, the curriculum focuses on inclusive leadership, which challenges students to explore their unconscious biases around gender, race, class and sexual orientation. Given Leeds' expertise in this area, program designers decided DEI was just as important to integrate into the curriculum as fundamental business disciplines.
The emphasis on DEI is what motivated Barron, a self-described Latina leader, to apply.
"As someone who has faced systemic barriers and discrimination in my career, I appreciated the program's focus on understanding and addressing issues of diversity and inclusion in the workplace," she said, "and developing leaders equipped to lead diverse teams."