As students, the Class of 2023 overcame plenty of adversity—so when it rained, grads were prepared to take it in stride.​
---
If you're interviewing for your dream job on a great team, who better to give you advice than the two-time president and CEO of the Arizona Super Bowl Host Committee? 
In her keynote remarks to the undergraduate Class of 2023 at the University of Colorado Boulder's Leeds School of Business, Jay Parry (Fin'80) shared how her own experiences as a student prepared her for the leadership roles she's held in finance and sports.
"When I look back on what I've been doing since graduation, my journey feels very serendipitous," Parry said. "You may not always be able to see the road ahead, but literally anything is possible if you're willing to put in the work and plow forward in the face of fear." 
It was a message tailor made for the Class of 2023, which overcame great challenges—pandemic, fire, and economic and political instability—with the enthusiasm of entrepreneurs, the optimism of future leaders and the perseverance of the battle-tested. That came in handy during a pair of rain-soaked ceremonies that, while dampening the views of the nearby Flatirons, did nothing to temper the joy of graduates and their families. 
MORE: List of Leeds awards winners at commencement ceremonies
"The world has changed since I graduated from CU," Parry said, "and I'm envious of the opportunities you will have to create impact on the world." 

"You will encounter people in life and business who may not take this approach. I challenge you to be the ones that do."
Ellen Balaguer (Fin, Psych'82)
Parry was an executive vice president at Bank of America before a chance connection sent her from banking to basketball. That second career saw her play leadership roles with the Phoenix Mercury, of the WNBA, and Suns, of the NBA, along with leading Super Bowls XLIX and LVII in Arizona. She's currently leading the host committee for the 2024 NCAA Final Four, to be held in Glendale, AZ. 
No surprise then that, along with sharing lessons she learned in building and leading teams, Parry encouraged the graduates to build their networks deliberately as they start their careers. 
"The most influential drivers in your life will be relationships. And relationships in your early experiences in the workplace are exceptionally important," she said. "Networking is not connecting with everyone you can think of on LinkedIn, so you have the absolute biggest universe—though of course, I'll be disappointed if you don't connect with me on LinkedIn and mention this keynote as the best ever."  
Taking on the big problems
Comfort embracing complexity was a major theme of the graduate ceremony, which took place in the evening May 13. Liza Yasemin Barnes (Phd'23) invoked Boulder's chancy weather—just as an unseasonable rainstorm was raging outside—in sharing graduates' comfort navigating the unpredictable. 
"By embracing the complexity of such a simple thing—the weird weather in Boulder—we have developed a sense of adaptability," she said. "We are prepared for unforeseen scenarios and can embrace an unexpected snowstorm in the middle of a seemingly sunny day."
Barnes also spoke about choosing the right path amid countless options. Both topics were further discussed in Ellen Balaguer's keynote address, which challenged graduates to think differently about business, relationships and negotiation—complex issues but, as she noted, "Albert Einstein said that the definition of genius is taking the complex and making it simple." 
Dealmaking, she said, has become about winning, not about a result that satisfies both sides and is ethical. 
"When Mike Leeds envisioned all of us daring to do business differently, he was striving to empower and inspire the same," said Balaguer (Fin, Psych'82), a philanthropist and retired executive at Accenture. 
"You will encounter people in life and business who may not take this approach," she said. "I challenge you to be the ones that do."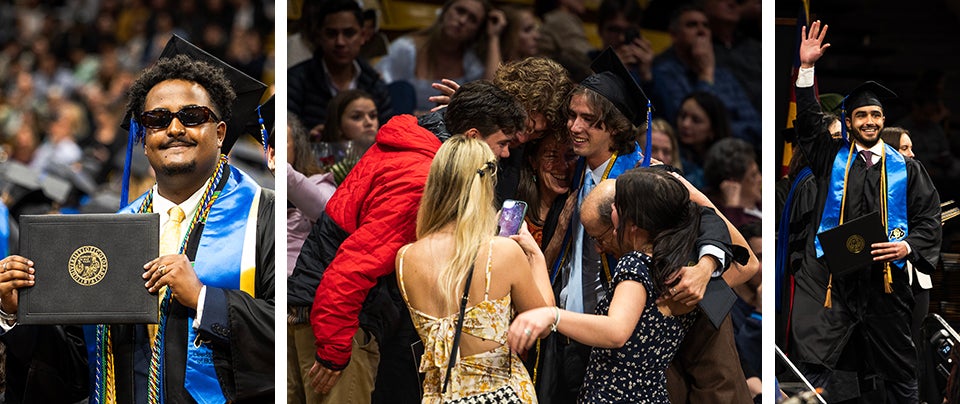 Why Leeds  Undergraduate programs  Graduate programs
---
Degrees of Distinction
Leeds graduated an especially notable class of doctoral candidates this year, who are going on to posts at particularly notable universities and companies. Here's the PhD Class of 2023 at Leeds: 
Liza Yasemin Barnes has been hired at Drexel University. Her dissertation title is "A Multi-Perspective Exploration of Employee Medical Leaves of Absence." 
Sandip Bisui accepted a role with Purdue University. His dissertation title is "Essays on the Implications of Information Disclosures on New Ventures' Technologies." 
Elizabeth Embry will join the University of Kansas in the fall. Her dissertation is titled "Building Change: A Multi-Level Analysis of Resilience through Sustainability, Health and Entrepreneurship in the Built Environment." 
Andrew Garofolo has been hired at Georgia Southern University. His dissertation is "The Time Dynamics of Acquisitions and Entrepreneurial Exit." 
Matt Meister has accepted a position at the University of San Francisco. His dissertation is titled "Inherent Issues with User-Generated Star Ratings." 
Hasti Rahemi has been hired at the University of Wisconsin, Whitewater. Her dissertation is "To Look Good or to Do Good: Three Essays in Nonprofit and Humanitarian Operations." 
Jessi Mariah Rivin will be on the faculty of San Diego State University in the fall. Her dissertation title is "Dynamics Between Mental Health and Curiosity in Employee Well-Being." 
Fan You accepted a role as an applied scientist with Uber Technologies. His dissertation title is "Dynamic Stochastic Matching, Customer Choice Modeling and Assortment Optimization in Online Marketplaces."