Business Analyst, McKinsey & Co. 
Anya Aidun is teaching herself to Rollerblade.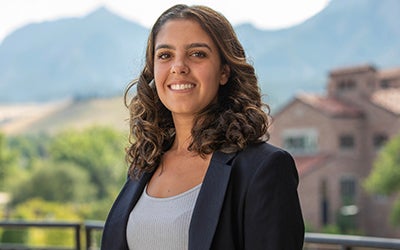 As a classically trained ballet dancer, you'd think she'd have the balance, poise and agility to easily master inline skating, "but gravity and I do not have the sort of agreement you need to learn how to Rollerblade," Anya said, laughing. "I've gotten really good at it in my room, though, because there's a carpet, so I don't fall down." 
However, when it comes to her professional aspirations, Anya has had no trouble standing tall. She's a highly active student—a member of Leeds Consulting Group and leadership roles with Leeds Student Government and the Delta Sigma Pi business fraternity—secured a great internship with McKinsey that led to a full-time offer and was recognized this spring as one of CU Boulder's 2023 Student Leaders of the Year.
Anya's view on what it takes to be an effective leader has, not surprisingly, changed since high school, where she already held executive-level positions at several student clubs. 
"The way I view leadership now is knowing yourself, showing up authentically and inspiring other people to do the same thing," she said. "At Leeds, I learned more about myself, which lets me show up in a more intentional way for other people. And you have a more meaningful impact when you're surrounded by other people who are encouraged to bring their genuine selves to the table. 
"The award means so much to me because I think it was not about the executive positions I was in, but rather, about making people feel part of the Leeds community."
Making a big school a little smaller
As a Boulder native, Anya has a head start on helping fellow Business Buffs get acclimated to Leeds, though most of the schools she applied to were far from home. The views of the Flatirons, and the resources of a major state university, helped tip the decision to stay local. Admission to the Leeds Scholars Program also was pivotal; "it made CU a little bit smaller and helped me find my own community," she said.
Where she found community was in Leeds' student consulting club—available by application only—and government, which Anya said was instrumental in her development as a student. It also gave her leadership experience—she served as vice president of student organizations—and something to look forward to when the pandemic made student life virtual.

"At Leeds, I learned more about myself, which lets me show up in a more intentional way for other people."
Anya Aidun (InfoMgmt'23)
"It was something to look forward to—getting together with friends and figuring out how to make the school a better place," she said. "This year, there's been a real shift in the organization to find a way to build better community for everyone in Leeds—not just the people already engaged in a bunch of clubs."
Anya completed multiple internships as a Leeds student, but most enjoyed working with McKinsey over the summer. She got to work on a project in higher education where the company consulted with a university considering whether to open a new campus as part of its overall growth strategy. 
"It was the best experience I could have had—a crash course in everything I needed to do to own and manage my own work stream," she said. "Sometimes as an intern, you just float around and help out where you can. That wasn't my experience at McKinsey."
As she prepares to return to the company's Denver offices after graduation, she's looking forward to exploring different avenues and see what professional path in consulting most excites her. Her Leeds classes—especially the discipline-intensive mods and BASE experience—gave her the breadth needed in the fast-moving world of consulting.
"Leeds taught me how to quickly take in information and be able to make rapid decisions," Anya said. "That's the key to success in consulting, because you have to be constantly learning."
More Faces of Leeds  Undergraduate programs  Leeds Student Government