Analyst, BlackRock 
Kyla Thomas is both a Colorado native and newcomer, if such a thing is possible.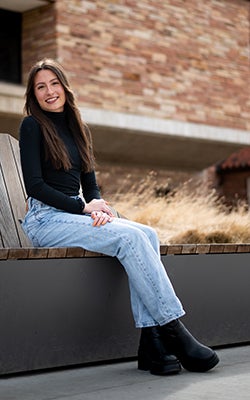 Despite growing up in Salida, she only discovered hiking last year, and is fresh off her first skiing trip around the holidays. 
"The embrace of the outdoors was slow," she said. 
In fact, it almost didn't come at all. A first-generation student, Kyla was set on leaving, only staying in Colorado to take advantage of in-state scholarships—choosing Leeds after a last-minute award came in and make CU Boulder affordable. 
"I cried," she said. "I knew it was the best business school in the state and that the campus was beautiful, even though I'd never been to Boulder before." 
It turned out to be the perfect fit for Kyla, both for her varied interests—president of the Real Estate Club and a Leeds Ambassador, plus a former tutor and member of Women in Finance—and the opportunity to live in a bustling college town: "Boulder was a perfect transition from the very rural part of the state, where I come from, and downtown Denver, where I see myself headed next" as part of what she hopes is a career in development.
A new perspective on real estate
It started quite by accident—Kyla dropped in on a meeting of the Real Estate Club as a first-year student and found the breadth of the industry fascinating, especially as someone who thought of the industry as just buying and selling houses. She went on to become its president after the pandemic; through her leadership, the group has more than tripled in size while attracting guest speakers representing national players in finance, architecture, development and more. 
And to speak to the club, those guests make the trip to Boulder. 

"I like to work on different things at the same time. If I'm just focused on one thing, I don't perform as well."
Kyla Thomas (RE, Fin'23)
"Virtual is not how we do things," Kyla said. "We want these experts to come to connect with our students, whether they're looking for jobs, seeking informational interviews or just want to ask questions about the industry. That's really awkward and public on an online platform," especially because the group has worked hard to attract first- and second-year students who may be less comfortable or poised in virtual settings.  
"There's no real estate mod, so for younger students, this is a great introduction to the industry and chance to explore whether it's right for them," Kyla said. 
The leadership experience with the club has benefited her, but even more influential has been the Inclusive City Builder Fellowship, which is in its first year and has a cohort of eight students from CU Boulder and the Metropolitan State University of Denver. 
As a fellow in the program, Kyla has been able to see "real estate from start to finish," as she put it. Each Friday over the course of the academic year, she has a full day of onsite instruction from the leaders of companies in general contracting, architecture and development, including opportunities to tour properties to see different principles in action and meet with decision-makers in the organization. 
"The biggest part is not only the learning, but the network and connections," Kyla said. "We learned from the leaders at these companies because they really want to help students break into the real estate industry and share a mission of encouraging diversity."
Access to mentorship
The program also gave her access to a mentor, who works in human resources at McWhinney, where it's no coincidence that she began an internship this spring. 
"When I was interviewing for the fellowship, I said I was interested in becoming a developer, and they paired me with the only person at McWhinney in the program," Kyla said. The two connect regularly—including a lunch, that turned into an invitation to an office holiday event, that turned into a chance to advocate for herself as an intern. 
It's not her first internship—she's also worked at Stream Realty Partners—but it's first chance to purely focus on development, especially in the urban mixed-use space. Building "the kinds of places where people are making memories" is something she's interested in exploring in the long term; for now, she's excited to be taking a job as an alternatives analyst at BlackRock's asset management team. 
That should provide her with the variety that she craves as both a student and young professional.
"As president of the Real Estate Club, my role is leading 12 other people who have different roles and ideas, and making sure we arrive in the right place," Kyla said. "Development is similar—you're a jack of all trades, and I like to work on different things at the same time. If I'm just focused on one thing, I don't perform as well."
More Faces of Leeds  Undergraduate programs  CU Real Estate Center