Intern, Colorado Attorney General's Office 
When she graduates from Leeds in May, Christina Heese will have checked off a lot of the same boxes as her classmates: Study abroad. Internship. Job offer.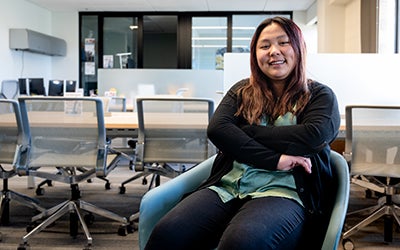 But those experiences, and her journey to get there, have had their own unique twists. She studied abroad in three different European cities, is in a pre-law internship with the Colorado attorney general's office and has accepted a job with Teach for America, which is sending her to Washington after commencement. 
"The more I reflect on my experiences at CU and think about all it offered me, the more I appreciate how college was a safe space for me to make mistakes and have the opportunity to grow from them," she said. "It's been a supportive environment, and the people around me have helped me count my blessings."
As you might expect of someone with such a diverse set of experiences, the journey for Christina wasn't always easy. She fell ill early in her first year, which left her feeling shut out of extracurricular activities, and her path—a dual degree in business and political science—made her feel somewhat isolated from her peers. 
What helped turn it around was watching that community have to take hold when the pandemic sent all of it online. 
"COVID actually made me more enthusiastic about Leeds, because I really appreciated the professors who tried to build those connections and accommodate you," she said. "They were learning how to manage this just like we were." 
Innovation in the justice system
She also enjoyed the major-specific courses she was taking in strategy and entrepreneurship, and is grateful that her current internship has challenged her to think about how the justice system can be more innovative. 
"The opportunity to work in the attorney general's office is giving me a perspective on business that you don't necessarily get as a business student," Christina said. "In my new venture creation class, we're learning about agile engineering, and in my internship, we're talking about entrepreneurial administration and the importance to think with a startup mindset when it comes to governance."  
She's known she wanted to be a lawyer since she was in middle school—"a combination of my parents saying I'm super argumentative and my own motivation for advocacy and helping people," she said with a laugh—so why Teach for America? She always saw her career ending as a teacher, to share the skills and perspective she earned along the way, "but why not start off like that?" she said. "There's so much you can do as a teacher, so much you can give back to a community, especially at a time when there are such shortages out there."

"The opportunity to work in the attorney general's office is giving me a perspective on business that you don't necessarily get as a business student."
Christina Heese (Strat&Entrep, PolSci'23)
She'll be teaching math when she gets to Washington, and hopes that this role will help her to continue developing the mentorship skills she honed as a peer mentor and member of the Diverse Scholars Program.  
Helping others find their voices
"The mentorship program at Leeds is amazing, and really taught me how I can be there for other students in that capacity," she said.
It's the same driver that has her looking forward to law school and, she hopes, a career that lets her speak for those who don't feel they have a voice.
"It would be really fun to help small businesses and entrepreneurs," she said. "From my classes, I don't think I'm an entrepreneur—I don't always have the tolerance for risk—but I've found I really like working in these startup ecosystems, and I think I could help support those people who do have great ideas and plans."
More Faces of Leeds  Undergraduate programs  Mentorship at Leeds