Right Here, Right Now summit helps showcase the ways faculty, centers and alumni are taking on climate change. ​​
---
For almost as long as climate change has been part of the global discussion, there has been the suggestion—if not outright blame—that the crisis is largely the fault of business. 
"That narrative is starting to change," said Kathryn Wendell, executive director of the Center for Ethics and Social Responsibility at Leeds. "Industry leaders are increasingly vocal about how their businesses can play a role in solving this crisis in a socially just manner. There's a business case and a moral imperative driving the private sector's commitments and action."
As the University of Colorado Boulder and United Nations Human Rights kick off the Right Here, Right Now Global Climate Summit, Wendell said it's important to understand that when it comes to solving this crisis, industry needs a seat at the table, rather than being told to stand in the corner. 
'An incredible time' to be part of innovative solutions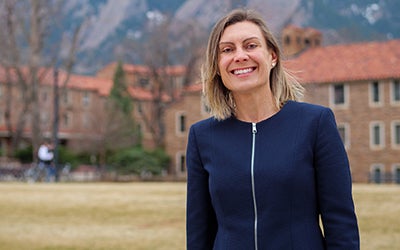 "We are going to see a lot of change over the next decade, especially as companies integrate sustainability—including climate and diversity, equity, and inclusion considerations—into their core business strategies," she said. "For business students, it's an incredible time to learn about the issues and identify innovative solutions."
Wendell is facilitating a panel discussion on business' responsibility in the climate crisis, especially from a human rights perspective, that will take place Dec. 3 at 4 p.m. The panel will be introduced by Yonca Ertimur, Leeds' acting dean. 
"At Leeds, we have had a strong focus on values-based leadership for over 20 years," Ertimur said. "It's integrated into our curriculum, faculty research, corporate partnerships and pretty much everything that we do."
A quick examination of Leeds' unique differentiators bears that out. In addition to offering topical programming and events on business and climate, CESR serves as a bridge between Leeds and the sustainable business community in Boulder and beyond. The center also provides input that directs the creation of academic programs, including a new ESG and sustainability specialization for the MBA and a certificate in social responsibility and ethics.  
If you go: Right Here, Right Now
CESR also is an enthusiastic partner in working with other Leeds centers to address these pivotal issues. Last month, CESR and the Burridge Center for Finance hosted a panel discussion on careers in sustainability that featured professionals from Bank of America Merrill Lynch, PNC and others. The conversation touched on ESG, the financial innovations needed to make the case for so-called "green portfolios" and the changing regulatory environment around climate-related disclosures. 
That impact goes far beyond Leeds' centers, though. Last year, when CU Boulder cut the ribbon on the Rustandy Building—the campus' newest academic facility—it marked the physical link between the business and engineering disciplines, which already were collaborating in service of solving complex problems. 
Few problems are as complex as climate change, but the cross-disciplinary approach of Leeds and the College of Engineering & Applied Science has paved the way for impactful teaching and research.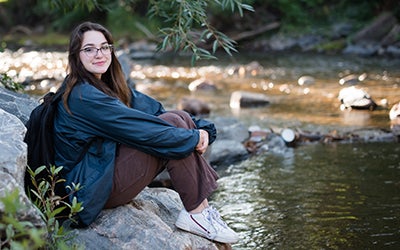 Julie Gentile (EnvEngr'24) is part of the BE Women in Tech program, a cross-disciplinary cohort that offers technical, business and leadership training to female students. She's excited to use what she's learning to create practical solutions to the climate crisis. 
"I plan to develop products and systems that reverse or lessen the negative effects our industrial society has on the environment," said Gentile, a research assistant on campus who's interned with the New Jersey Department of Environmental Protection. "But there needs to be collaboration with business for success." 
At a Right Here, Right Now kickoff event, CU's business and engineering faculty showcased some of the interdisciplinary research that's addressing this crisis. Among the faculty presenting were Jeffrey York, research director for the Deming Center for Entrepreneurship and a firm believer in a future where founders figure out climate change. 
York co-authored a paper, forthcoming in Organization Science, that examines how entrepreneurship is a promising, but often overlooked, force for mitigating climate change. 
"Entrepreneurs create for-profit ventures that can address climate change in a way that government and activists cannot," said York, who also is chair of the division of social responsibility and sustainability at Leeds. 
Research that influences classroom activities
That entrepreneurial emphasis is clearly felt in the classroom, too. A team of Leeds students won the campus New Venture Challenge Climate Prize for their business concept, Aagraze, which produces seaweed feed pellets for cattle that could drastically curb emissions. Another recent graduate created a nonprofit to inspire children to become passionate about ocean conservation. 

"Climate risk and resilience—not just how we reduce impact, but how we adapt—are moving to the forefront, which means new skills and ways of thinking are going to be valued."
Colette Crouse (MBA'18), director of carbon services, Stok
In founding Sea the Change, Emma Pearson (Fin, EBio'22) honed the business skills she used as an intern with Boston Consulting Group, which she was eager to join after graduation, thanks to the company's work in sustainability. 
"BCG is really focusing on their climate practice and their sustainability measures and initiatives," said Pearson, an associate with the company. "I'm really excited to get involved in that, specifically in the conservation sector. It's just so cool to work for a company whose values I really align with."
Alumni of Leeds graduate programs also are applying Leeds' emphasis on sustainability and social responsibility at work, where their knowledge and skills help companies set and achieve ambitious climate goals that are as good for the planet as they are for profits. 
Tim Weiss (MBA'16) went to grad school to better immerse himself in the Boulder community, but it helped him build the skills and network needed to co-found Optera, of which he is also chief operating officer. The company is a sustainability software provider that works with companies in tech, retail, oil and gas, and mining. 
Going after 'those hard problems'
"We want to work with the companies that matter," Weiss said. "When we work with a major manufacturer, or someone at the foundation of the supply chain in the corporate world, our impact is so much bigger, and it matters so much more. We're trying to go after those hard problems."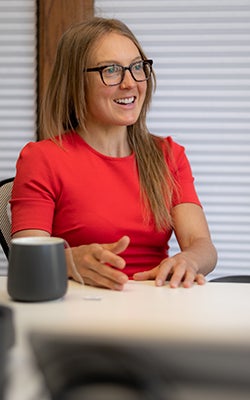 Colette Crouse (MBA'18) had a career in sustainability, but it was mainly in government and nonprofit. She chose Leeds for her MBA so she could make a broader business case for sustainability and create larger impact through her work. 
She's director of carbon services at Stok, which offers clients expertise in areas like greenhouse gas accounting, regulatory and disclosure frameworks, supply chain strategy, and budgeting. Those kinds of services are poised to take off as regulatory conversations around climate impact start shifting.
"Traditionally, the industry has been forward-looking, focused on climate mitigation and reduction. Now, the conversation is slowly shifting toward what do we do now—because we're in trouble," she said. "So climate risk and resilience—not just how we reduce impact, but how we adapt—are moving to the forefront, which means new skills and ways of thinking are going to be valued. There will be a lot of opportunities for anyone interested in working in this space."
That's a sentiment Weiss echoed. 
"Many people think of climate change as a geopolitical issue. We look at it as an economic issue," he said. "Even if regulation were to help solve this problem, that regulation would require action among companies—so we're going straight to the companies to help them do business better."
Why Leeds  Center for Ethics and Social Responsibility  Right Here, Right Now