Co-founder and COO, Optera
Tim Weiss knows that when he hires people, training them on the language of sustainability is going to be part of the onboarding. It's what happens when your mission is to bring sustainability practices to companies that have not historically emphasized those ideas.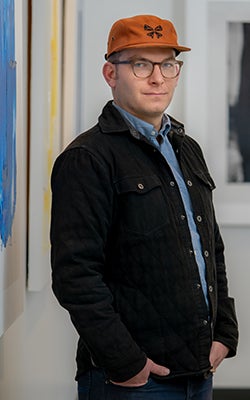 "We've worked with oil and gas companies, mining companies, as well as big tech and retail," said Tim, co-founder of Optera, a sustainability management software provider. "That's our goal—we want to work with the companies that matter. When we work with a major manufacturer, or someone at the foundation of the supply chain in the corporate world, our impact is so much bigger, and it matters so much more. We're trying to go after those hard problems."
Tim's MBA, he said, grounded him in the Boulder community while giving him the chance to explore areas like energy law. To rein in emissions, regulations are now moving quickly—and the varied perspectives he got at grad school have been useful in both keeping pace and setting up the business.   
"Many people think of climate change as a geopolitical issue. We look at it as an economic issue," Tim said. "Even if regulation were to help solve this problem, that regulation would require action among companies—so we're going straight to the companies to help them do business better."
Tim came to the Leeds MBA from the Bahamas, where he and his wife—who met as students at Colorado College—were living and teaching; he also spent two years as an operations manager at Elephant Energy, a solar company in Namibia, among other experiences in energy and sustainability. 
"I chose Leeds for the location and reputation, but also, the idea that I could focus on the areas of business I cared about," he said, such as an energy law class that he took through the law school. "I tried to use my MBA as a platform to hone new skills that I wanted and prepare to market myself to prospective opportunities." 

"I chose Leeds for the location and reputation, but also, the idea that I could focus on the areas of business I cared about."
Tim Weiss (MBA'16)
Now, as a business owner in an in-demand field, he's trying to help young people interested in the industry to get their start. 
"A few years ago, I'd have said it's really hard to break into this industry—you have to be really focused, and you have to really want it," Tim said. "There's not one path any more—there are a lot of ways in, because sustainability will impact everyone in their career at some point. 
"I really believe this is a unique time to be entering the business world, because I think it's a time where people can have the courage to bring their values to work and understand their principles shouldn't be optional.