As They Complete Commercial Real Estate Certificate Program, Professionals Reflect on Program Benefits
You are here
Christine Fitch is an attorney who spends most of her time sorting out planning and zoning issues in Colorado's Adams County. An expert who graduated from the University of Colorado Law School in 2016, Fitch knows local government issues inside out, but said she didn't fully understand the process commercial developers go through when they bring new projects to her desk. 
"I tend to see the beginning of projects, when developers are looking for approvals, but I thought it would be good to get a fuller perspective on what goes into a completed project," she said. 
That led her to the commercial real estate executive certificate at the Leeds School of Business. This three-course certificate covers industry fundamentals, law and finance, making it ideal for potential career changers into commercial real estate as well as seasoned professionals looking to update their skills in a time of great change in the industry. 
The programs also can be taken individually, a useful feature for professionals already in this space who are looking to upskill or are seeking CEU credits to maintain professional certification.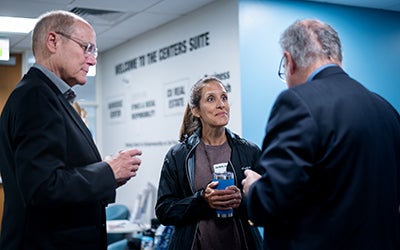 This spring, 19 students completed all three foundational real estate courses, earning executive certificates in commercial real estate. It's the first time the courses have been offered; students like Fitch who part of the inaugural group that completed the certificates were invited to a reception at Leeds, where they met faculty and peers face to face after completing the virtual classes. 
Maureen Espinoza, another student who attended, said the national network she was able to build gave her perspective on challenges professionals faced in other major U.S. markets. 
"The breakout rooms gave us opportunities to meet people from different parts of the country, but also different sectors in real estate—developers, brokers, attorneys, people in local government," said Espinoza, a dual licensed attorney and commercial broker with The Colorado Group. "I didn't expect such good opportunities to connect with people in a virtual program." 
Even though she's an attorney who also graduated from CU Law, Espinoza said the module on real estate law was a useful update, since she completed her JD in 2004. 
"I was so impressed with what the faculty were able to deliver, content wise," she said. "You got what felt like a whole semester in one evening." 
Fitch also called the faculty impressive.
"They brought in some very interesting speakers who shared some amazing projects they'd worked on in Colorado and elsewhere," she said. 
The finance module, she said, was especially helpful to her. 
"The courses really helped me see the process more clearly, especially in terms of financing projects," Fitch said. "I think the experience has made it easier for me to see how that process works on the other side, and potentially be more of a resource to help get projects accomplished." 
---
More Featured Insights and News From CUREC
In his nine years, Michael Kercheval helped connect academics to industry.