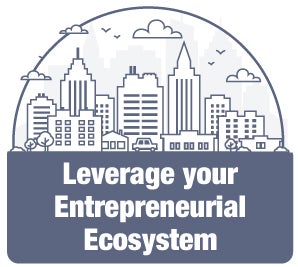 Over the last decade, there has been an explosion of interest across business schools in entrepreneurial courses and experiences to help students who aspire to start their own ventures and prepare the next generation of business leaders with a toolkit that enables them to solve the challenges of tomorrow.
To that end, business schools are creating mechanisms to provide seed funding for student ventures, pairing up students with mentors in the entrepreneurship community, creating experiences that promote a "bias towards action," and greater comfort with failing and redirection in the relatively safe environment of the campus experience, and launching venture planning competitions to give students hands-on experience.
When you mine your entrepreneurial community, you open the door to myriad opportunities for creative programming.
Here are five ways to leverage your entrepreneurial ecosystem:
To meet student demand for cutting-edge training in entrepreneurship, business schools are finding innovative ways to think beyond the classroom. We can elevate students' educational and professional experience when we leverage game-changing business innovation and talent that live in our own backyard. Also, the opportunities to leverage assets in the community means that universities do not need to do everything for themselves. Building bridges allows the campus to take advantage of all that is going on in their surrounding entrepreneurial ecosystem and elevates both the school and the community.