If your goal is to work in investment management, there's no substitute for using real money to take financial positions based on a well-thought-out growth strategy.
Thanks to the efforts of Leeds students and staff, and the support of donors, the University of Colorado Boulder is offering undergraduates real asset management experience. 
The Leeds Investment and Trading Group, or LIT Group, is a club open to the entire university. In its weekly meetings, students can ask questions about finance, investing and business trends; explain investment concepts; or learn from guest speakers.
Now, for truly dedicated students, there is LIT Group's Investment Team, which since January has overseen a portfolio of more than $300,000. 
"The opportunity to manage real money has everyone more excited—especially our business community and alumni, who are eager to mentor students and share their expertise," said Matt Fleming, program director at the Burridge Center for Finance at Leeds. 
Prospective members must first complete the LITG Analyst Program—a nine-week course created and facilitated by team president Matt Kreimer (Bus'22), that primes them for the challenges they'll face in working with part of the university's endowment. 
Last academic year, about 50 students interviewed for positions with the Investment Team, with 12 selected for the first Analyst Program class. Those dozen students are now working within the team to pitch potential investments.
LIT Group's legacy training program lacked real-world application and "wasn't robust enough to properly train our analysts to manage money," said Kreimer, who completed his third internship this summer and will graduate in the spring. Now, students complete weekly assignments in line with their Investment Team responsibilities, and "the course culminates in applying what they've learned in a final stock pitch presented to the team."
Matt Kreimer, president of LIT Group's Investment Team, checks a chart during a club presentation. Kreimer also created the nine-week program that prospective analysts must complete to join the Investment Team.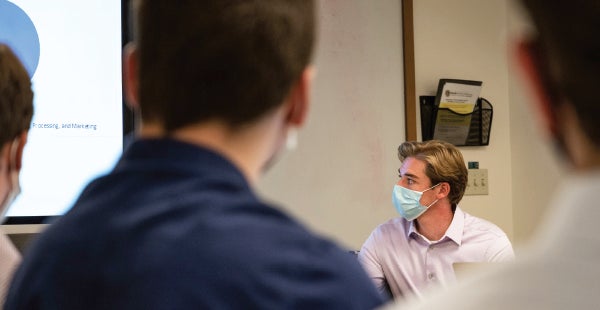 "The opportunity to manage real money has everyone more excited—especially our business community and alumni, who are eager to mentor students and share their expertise."
- Matt Fleming | Program Director | Burridge Center for Finance
Viraj Suri (Bus'21), the immediate past president of LIT Group, said his leadership experience in the club—including making the case for funding—prepared him to make a strong impression as an investment analyst with Denver-based Aether Investment Partners. 
"The leadership qualities I built—being organized, properly delegating tasks, supporting other members of the executive team—were integral to my personal and professional development," Suri said.
The focus now, Kreimer said, is using the Analyst Program to build a strong pipeline, so the group can generate market-beating returns and provide a community for students to learn and grow together.
"The idea is, you take this course in either your first or second year, and by the time you are a junior or senior, you are able to mentor the next group of members," he said.
The Analyst Program is demanding—nine weeks of lessons, with homework and research work, that emphasize both technical and durable skills—and members do not receive formal course credit. There's no shortage of benefits, though.
"A club like LIT Group makes our conversations with recruiters much easier," Fleming said. "We can identify students who are involved to further demonstrate the value they can bring to an organization."  
Suri, meanwhile, said the club is an incredible opportunity for underclassmen to get a head start on complex topics in finance and accounting. 
"If you want to understand what people are talking about, you need to learn the jargon," he said. "When you go into your classes, or are interviewing for an internship or job, you're able to talk to a financial concept more thoroughly than the person next to you. It gives you a really big advantage."
Erik U. Rollé says his family's support is about challenging students to apply what they've learned in investing.
Giving students a long-term perspective
As a student, Erik U. Rollé (Bus'02) had a wealth of experiential learning opportunities with actual businesses—but none in finance. So he and his family helped launch the Leeds' investing seminar course, as well as what would become LIT Group's Investment Team.
"My investment approach is about the long term," said Rollé, principal and portfolio manager at Granite Investment Partners LLC.
This experience makes analysts more accountable and responsible over a four-year trajectory of a stock, as opposed to a single semester."That experience is key when Rollé interviews candidates.
"The first thing I want to understand is, does this candidate have a genuine interest in investing, and have they done it?" he said. "Being able to have that conversation as a recent graduate really separates you from the pack, and this program gives you that differentiation."