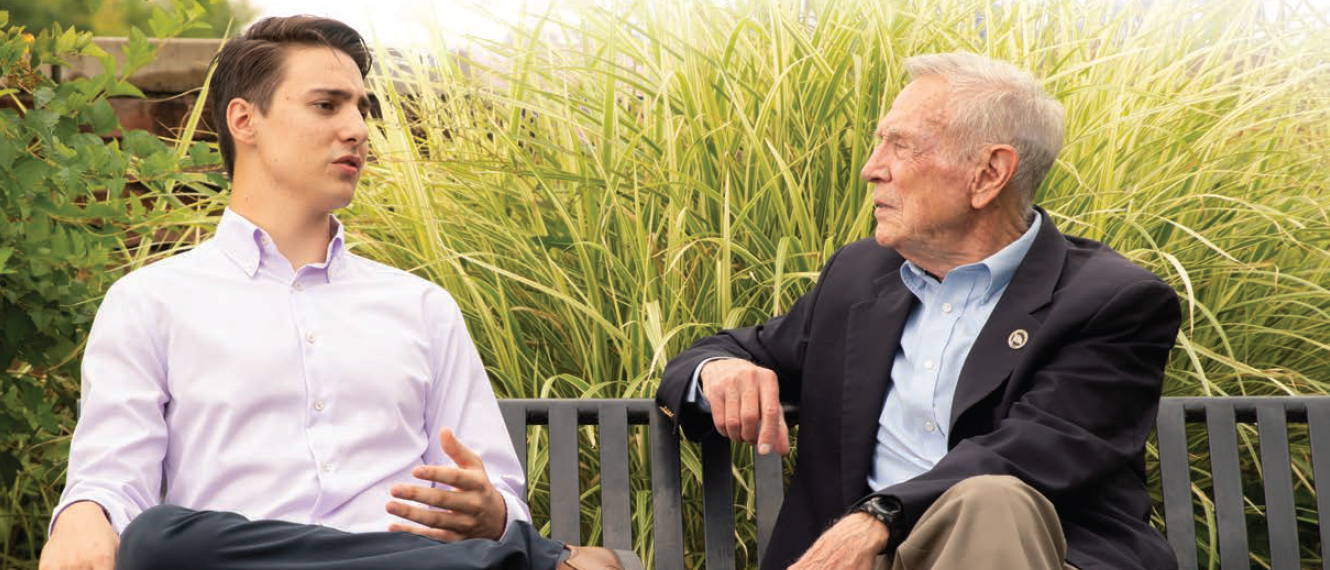 Steve Bosley, right, made a career 'investing' in Boulder-area entrepreneurs as a successful community banker. Now, he says, 'I have the privilege of investing in students' like Connor Rhodes, left, a Leeds undergrad who received a scholarship from Bosley.
"It's One
Thing to Give.
It's Another
to Engage"
---
Just as important as the financial
support, scholarship recipients
say, are the relationships they
develop with donors—which
last well into their careers
---
Chris Milinazzo (Bus'13) remembers his first meeting with Amy and Clark Jones very well.
As an undergraduate, Milinazzo was invited to give a talk at a dinner where he met the Jones family, who had funded a scholarship that was awarded to him. He remembered being plenty nervous before taking the stage.
"They're both very sweet and welcoming—but at the same time, Clark is this big-time executive in the corporate world, which was a little intimidating," Milinazzo recalled. "I pulled out this piece of paper with my speech written on it, and Clark told me to throw it away. He said, 'Just get up there and talk from the heart about what it means to be a scholarship winner and what the school has done for you.'"
It sounds like a Disney moment. Then again, Clark Jones is an executive at Disney. "Connecting with college students was my favorite part of the job—just getting the opportunity to meet with them and speak with them," said Clark Jones (Bus'91), chief financial officer for Disneyland. "There's just something refreshing and exciting and invigorating about talking with that next generation, which is why supporting students is so important to us."
And the next generation is listening. Milinazzo said he can't recall how his talk turned out, "but that interaction taught me so much about life—that there's more to it than reading off a script. Clark and Amy's impact on me was much more than just a donation."
"Leadership is leadership"
Talk to students and alumni who've received scholarships during their time at Leeds, and you get a clear picture of how mentorship is a frequent benefit of this kind of philanthropy. And it's true for donors as well as recipients.
Take Steve Bosley (Bus'68). A former Colorado regent with a long record of service to the university, Bosley is particularly invested in the success of students who share his small-town roots, his patriotism and an appreciation for the role of entrepreneurs in our economy. Bosley's career in community banking gave him a platform to enable and support ambitious entrepreneurs and their small businesses. These connection points help him share meaningful experiences with students.
"It's a reminder that leadership is leadership," Bosley said. "You talk to young people today and you know the world has changed so much, but the basic values of leadership—always doing the right thing because it's always the right thing to do, and treating people fairly—are unchanged." Bosley was president and CEO of The Bank of Boulder from 1974 to 1998, the culmination of 35 years' leadership in Colorado's banking and nance industry. He completed thousands of small-business loans throughout his career.
---
A tool to recruit the 
VERY BEST
STUDENTS
---
Is a college degree still all it's cracked up to be, in an uncertain economy and unpredictable job market?
The answer remains an unequivocal yes. Numerous reports and studies at the local and federal level have confirmed that professionals with bachelor's degrees enjoyed higher wages and lower unemployment during the pandemic, demonstrating the lifelong (and life-changing) impact of a college education.
Getting that education, though, is a challenge in uncertain times. Leeds alumni and business partners have been instrumental through the pandemic, providing support that
has helped Leeds recruit the very best students and continue to raise its academic profile.
"The commitment demonstrated by alumni and businesses is nothing short of incredible," Dean Sharon Matusik said. "Amid such uncertainty, our donors have remained committed to the belief that a degree from Leeds prepares you to take on the global challenges facing today's businesses."
"To drive around Boulder County and see businesses that are here today, and know I was able to be a part of that, gives me great pride," he said. "When I think about scholarships for Leeds students, it's just like my banking career, when I was 'investing' in entrepreneurs. Now, I have the privilege of investing in students, and I will feel the same pride when they become successful."
Connor Rhodes (Bus'24), an Army ROTC cadet who'd like to pursue a finance career of his own, said he greatly values the relationship he enjoys with Bosley, and the professional development it has afforded him. "Without people like Steve, I probably wouldn't be going to school right now, and I wouldn't be where I am today," Rhodes said. "But more importantly, Steve is great to talk to. I feel we're very alike, in the sense that we're both open minded and love to learn, and I hope he's a mentor I can call on as my own career gets started."
For David Lopez (Bus'21), a Hummel Family Scholarship was a gateway to Leeds and a network of people who helped influence him as an entrepreneur.
"Leeds alumni are always happy to lend a hand to a fellow Buff," Lopez said. "Through my education, I have been granted access to mentors who have helped shape my growth as an entrepreneur."
Other students, like Laxmi Rai (Bus'16), said scholarship support offered the opportunity to fully focus on her career aspirations.
"Scholarship support goes a long way toward helping students focus on what's really important, as opposed to worrying about how they're going to pay the tuition bill," said Rai, who after graduation went on to work at Goldman Sachs in investment banking. "Without that ability to focus on my classes and schoolwork, I might not have been able to look for internships or plan for my career in the same way."
Her interactions with Amy and Clark Jones offered a preview of where her hard work might help her land in her own career. "As a student, it was so helpful to see people who had been in the same position as me, and who went on to lead such fulfilling lives," she said.
Giving connects us, as alumni, back to the school. It's helped open up more conversations, more insights into where the school is going—and more access to the students, which is so important to us." - Amy Jones (Comm'92)
A family connection
Rai, in turn, made an impression on the Jones family, in particular their daughter, now a student in Indiana University's Media School.
"Morgan was probably 13 when she met Laxmi," said Amy Jones (Comm'92). "And Laxmi talked to Morgan—not around her—about books they were reading and other interests they shared. And my heart just swelled. I remember thinking, 'Here is a woman who's just about to make her mark on the world, and I get to be a part of this, and I will never forget it.'"
Amy Jones recruits women to Leeds undergraduate programs for much the same reason that she and her husband support scholarships—a passion for helping women and young professionals succeed in business.
"Giving connects us, as alumni, back to the school," Amy Jones said. "It's helped open up more conversations, more insights into where the school is going—and more access to the students, which is so important to us."
Milinazzo, now an advisor at Hadad-Milinazzo Financial Group, said the support of the Jones family made all the difference to him as a student and young professional.
"It was great to have successful mentors who helped me build on what I was learning in class," he said. "There were plenty of times where I'd see Clark and say, here's what I'm learning, how do you apply this in the real world?
"It's one thing to give. It's another to engage, and that's what Clark and Amy did for me."
---
EMPOWERING
the next generation
---
The pandemic had the double effect of challenging donors and Leeds to rethink what engagement looks like while magnifying the demand for support across many organizations. Many donors stepped up to help Leeds deliver on its mission to provide an education for students. Here's what motivates them.

Al (Bus'62) and Carol-Ann (Soc'64) Olson
Olson Family Entrepreneurship Endowment; Distinguished Alumni Lifetime Service Award recipients
"When we created the Olson Family Entrepreneurship Endowment, we heard from students again and again that they might not have accomplished their goals if not for the financial assistance they received."
Will McCollum (MBA'12)
 
McCollum Endowed Scholarship for High-Growth Ventures; Co-founder, AWD Holdings
"Leeds' rich tradition of entrepreneurship helped me achieve success in the startup world. This endowed scholarship further empowers MBAs to contribute meaningfully to high-growth ventures or to launch successful businesses of their own."
Gary (MBA'74, PhD Bus'77) and Melissa (Bus'77) Porter
Komisar/Porter Pacer Endowed Scholarship
"We're always impressed at the caliber of people coming out of the program. We both have such fond memories of Leeds and wanted to create something to help out-of-state students—like we were—have access to the opportunities we enjoyed."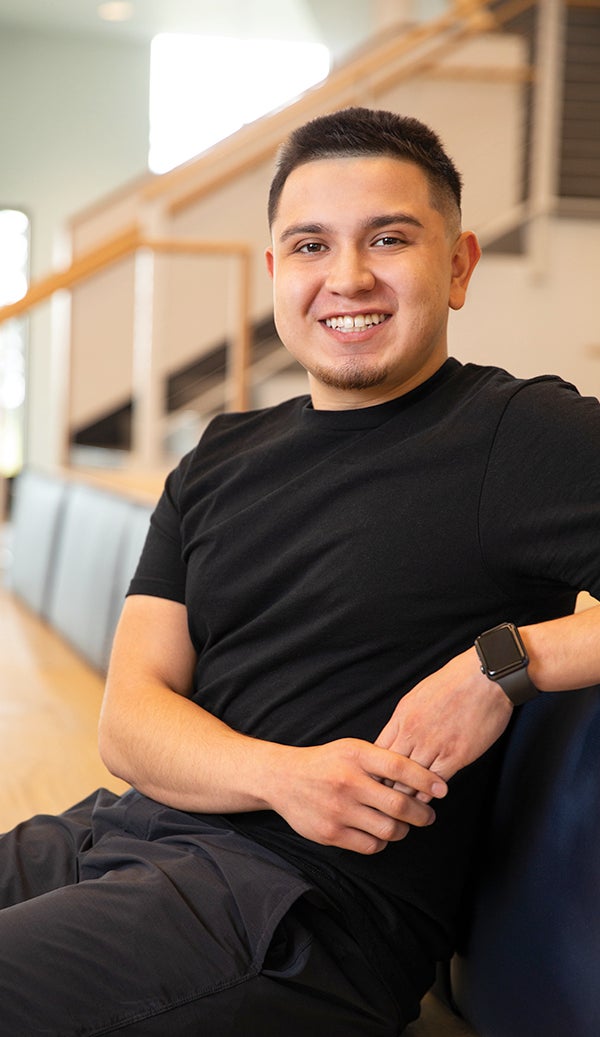 Leeds offered scholarship recipient David Lopez connections to entrepreneurs that helped him start his own business, Gritly, a career accelerator focused on improving diversity in technology.