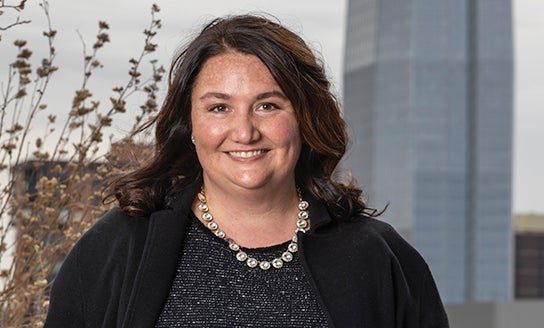 Katie Huber has been recruiting for DaVita for about six years, and while Leeds has always been a favorite place to look for the next generation of aspiring leaders, she's lately noticed the students she meets with are even stronger candidates than in years past.
"Leeds students have the best retention at DaVita, and have grown into leadership roles," said Huber, manager of DaVita's Redwoods Leadership Development Program, in Denver.
"I believe their success is a direct reflection of their education and the strong foundation it provided."
That education has been enhanced by Leeds' Career Impact Initiative, which complements discipline-specific skills with a focus on durable skills, including communication, thinking skills, emotional and social intelligence, and personal attributes. Through these skills, students learn to apply new techniques in their career searches, assess their performances and adapt continuously until they find the job they want.
Huber, who recruits sophomores, juniors and seniors each year for summer and early-career programs, said Leeds students "stand out among all schools we recruit at across the country. They are creative thinkers who are solution-oriented, with strong business acumen and interpersonal skills."
The Redwoods program is designed to support interns and new hires—offering skills development, executive shadowing, project work, alumni coaching and more—but it's ambitious.
Leeds students, Huber said, are up to the challenge, as the Career Impact Initiative gives them skills that make them leaders "who are creative, goal-oriented, determined and community focused."
That's especially important at a company like DaVita, which provides healthcare to more than 200,000 dialysis patients in 10 countries. The company prides itself on the strength of its community, and Leeds—through its career preparation and extracurricular activities, especially Delta Sigma Pi and Women in Business—prepares students to excel.
"Emotional intelligence is very important for Redwoods candidates, and the new emphasis has made an impact in Leeds student performance," Huber said. "The soft skills and leadership skills development has influenced student success in the interview process while furthering their career and professional development."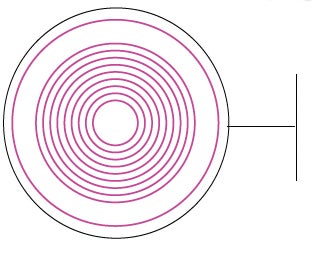 A focus on career impact skills has helped Leeds
students and recent grads distinguish themselves in the job market. Here are some of their success stories.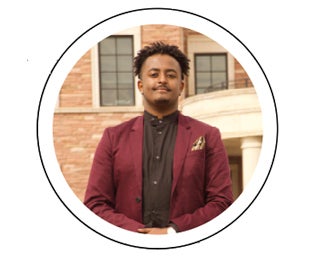 PERSONAL ATTRIBUTES
Samir Mohamed (Bus, PolSci'22) | Intern, Capital Group and Arrow Electronics
Right from his first-year seminar class, Samir Mohamed felt he was learning skills that would help him chase his career goals. "I learned to embrace my identity, which helped me to better understand my values and define the narrative I want my life to follow," he said. And he's further developed those personal attributes through activities like student government.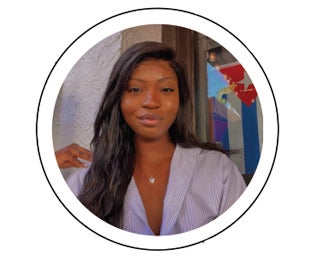 THINKING SKILLS
Joycelin Appiah (Bus'21) | Intern, Bloomberg
Joycelin Appiah said the rigor of her finance classes helped her score an internship with Bloomberg. And when she was asked unexpected questions during her interview, she said, her Leeds fundamentals helped her think quickly: "I have learned, and am still learning, the skill of taking your time, listening, and just being confident in what you know."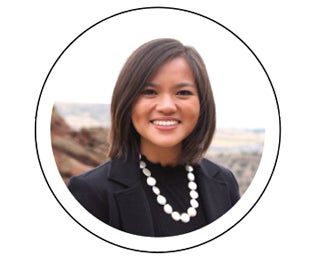 COMMUNICATION
Hayley Porter (Bus'19) | Audit Associate, KPMG
Hayley Porter completed several internships before signing on to KPMG full time, and said her classes and the Career Development Office helped her tell her story on interviews. "I relied on the storytelling structure I learned during networking and recruiting events, and many of the courses I took incorporated public speaking, which helped me feel comfortable on interviews," she said.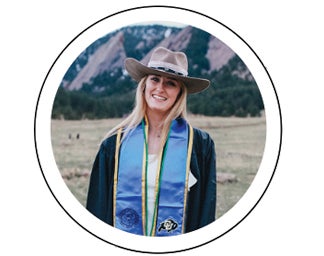 SOCIAL INTELLIGENCE
Emma Spaulding (Bus'21) | Operations Specialist, Perpay
Classes Emma Spaulding took through the Center for Ethics and Social Responsibility "absolutely influenced the type of company I want to work for," she said. She landed the role at Perpay through a Venture for America Fellowship. Leeds classes "gave me the foundation for understanding where I want to be in business, but also what I'm passionate about. I would not be on the path I am right now if not for those classes."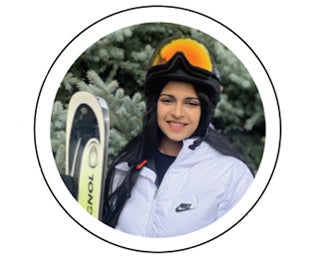 EMOTIONAL INTELLIGENCE
Ananya Tyagi (Bus'21) | Technology Consulting Associate, RSM
Ananya Tyagi brought her interest in technology with her to Leeds, where she was encouraged her to take that interest in whatever direction she liked: "I got an education that allowed me to do whatever I wanted in business, thanks to classes that were inclusive and broad."