The full-time MBA is now No. 32 among public schools and is still the top program in Colorado.​
---
Recruiter reputation and the career outcomes of recent graduates are powering Leeds' ascent in the influential ranking of best graduate business schools.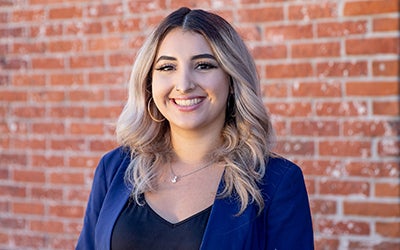 When Nataly Diaz Ortega accepted an offer to join the MBA program at the Leeds School of Business, she had two things in mind—academic excellence and a network that could help her start a career in the competitive field of sports marketing. 
"My peers in the MBA cohort are doctors, engineers, business leaders, teachers—everything," Diaz Ortega (MBA'24) said. "They push me to do better every day, and I'm learning so much from them that will help me as I try to break into this industry. And Boulder has connections to literally everywhere."
The editors at U.S. News & World Report clearly agree. In its 2024 ranking of the nation's best full-time MBA programs, U.S. News ranked Leeds No. 32 among public business schools, powered mainly by an improving reputation among recruiters and stronger career outcomes for new graduates. 
MORE: Adapting the MBA for a fast-changing world
The listing typically features minor fluctuations, but this year, 13 of the top 100 schools saw their rankings improve by seven or more spots. Leeds was one of only nine public schools to manage this feat. 

"My peers in the MBA cohort … push me to do better every day, and I'm learning so much from them that will help me as I try to break into this industry.'"
Nataly Diaz Ortega (MBA'24)
"As we continue to look for new ways to create a best-in-class MBA experience, we're fortunate to have such an incredible business community here in Boulder to draw upon," said Yonca Ertimur, acting dean of the Leeds School. "Our industry partners and alumni help us quickly identify areas of need so that our graduates are well equipped for tomorrow's challenges."
Some highlights from the 2024 U.S. News rankings:
The full-time Leeds MBA is ranked No. 60 overall. Among public schools, it has steadily improved, going from No. 39 in 2022 to 36th last year, and to No. 32 in the most recent rankings. It's the best full-time MBA in Colorado.
Leeds' reputation among recruiters climbed to 3.8 out of 5, a new high-water mark. 
At graduation, 65.3 percent of the Leeds MBA Class of 2022 had job offers—a 15.3 percentage point improvement from the year before. 
The part-time MBA maintained its ranking among the top 40 programs in the country, and is also the highest-ranked program of its kind in Colorado. It is No. 25 among part-time public MBAs.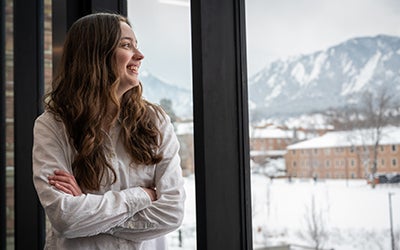 And Leeds is continuing to make improvements to its MBA programs, including the addition of a hybrid MBA for students seeking maximum convenience and an executive MBA for experienced career-changers and those aspiring to top leadership positions. The MBA program's unique pathways leverage Leeds' centers of excellence to provide connections and co-curricular experiences that give graduates a head start in industries such as real estate, clean energy, natural and organic products, and high-growth ventures. 
Those improvements are helpful for students like Diaz Ortega, who is interested in a more traditional management role, but also for students such as Holly Henderson (MBA'23), who founded her own clothing line as a student and wants to keep growing it on the side. 
"At Leeds, I found the path for myself and had a self-exploration journey that helped me create something truly meaningful," Henderson said. "I couldn't have done it without the friendships I made through my MBA." 
The MBA rankings follow other great rankings news coming out of Leeds, including ranking No. 23 among public undergraduate business schools and No. 38 among North American schools for research productivity.