Alumnus Gives $5 Million to Entice the Very Best to Leeds, Continuing School's Upward Trajectory
You are here
Tandean Rustandy's generosity ensures the business school's new leadership will make an immediate impact.​ ​​
---
A donor's support can make all the difference when it comes to helping a professor create impact. Just ask Yonca Ertimur.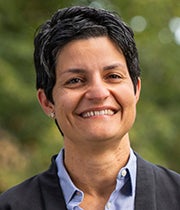 Before taking on the role of acting dean of the Leeds School of Business, Ertimur benefited from the generosity of Tandean Rustandy (Fin'87), who established the Tandean Rustandy Esteemed Professor position that has enabled her to become one of the most prolific researchers at the school. 
"Tandean's generosity has been so important in giving me the freedom to pursue my research interests, raise the Leeds profile by holding editorial roles at multiple journals, and have the time and flexibility needed to be an effective mentor to junior faculty," she said. "It's helped me find more meaning and fulfillment in my work, by allowing me to share my passion for research with others." 
Now, Rustandy's generosity is again poised to engender excellence while further positioning Leeds as an internationally recognized business school. 
CU Boulder's first named deanship
Today, Rustandy announced a $5 million gift to create the Tandean Rustandy Endowed Deanship at Leeds—the first named deanship at CU Boulder. 
In addition to helping recruit an exceptional leader through the prestige of a named position, the Rustandy Endowed Deanship provides additional resources for the next dean to create and execute a vision that continues the school's impressive growth trajectory. That dean will have complete discretion over the use of these funds, in alignment with one of Rustandy's personal mottos, "Simplicity is best."
"I believe CU and the Leeds School have the potential to compete against the most elite business schools in the world," Rustandy said. "As an alumnus, it is a great honor to support and work with the university on such an extensive scale. I am excited to see the impact this commitment has on the search for the next leader, and I am eager to see what it means for the school's future."

"I owe much of my success to my experiences as a student, and it's important to me to do what I can to set the stage for tomorrow's leaders."
Tandean Rustandy (Fin'87) 
Keith Molenaar, dean and K. Stanton Lewis Professor of the College of Engineering and Applied Science at CU Boulder, who is chairing the search committee for Leeds' next dean, said the timing of the gift announcement will be invaluable in recruiting the talented finalists vying to come to Boulder.
"Under its past leadership, Leeds has transformed itself from being a regional powerhouse to a nationally recognized business school—one responsible for making important research breakthroughs, securing great student outcomes and creating tangible impact in the business community," Molenaar said. "This gift will fully equip the next dean as they continue making Leeds a global destination for people addressing the complex challenges of tomorrow."
Giving back as a central focus
Vision and Rustandy have gone hand in hand since he first arrived in Boulder as an undergraduate. Born in Indonesia, Rustandy has always considered himself privileged to attend a great university as a first-generation student, and he has made supporting the ambitions of others a central focus of his life—through giving to his alma mater and as the founder and CEO of PT Arwana Citramulia Tbk, one of the world's most successful ceramic-tile manufacturing companies. 
Rustandy's largest gift to CU Boulder is the one that created the campus' newest academic building. The Rustandy Building physically connects two disciplines—engineering and business—that are increasingly overlapping in the real world as well as academia, and has ushered in important collaborations between students and faculty preparing for an interdisciplinary future. 
"It brings me great pride to invest in Leeds' future as a way to inspire future generations," Rustandy said. "A motto that has always guided me is 'to live is to serve.' I owe much of my success to my experiences as a student, and it's important to me to do what I can to set the stage for tomorrow's leaders.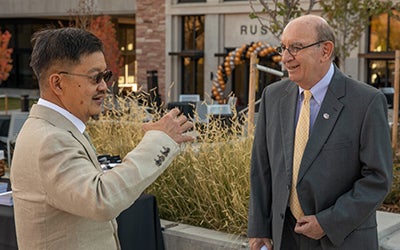 "I hope future classes of Leeds students have the same life-changing experiences I did in Boulder, and will continue the legacy of paying their successes forward to bring new opportunities to the generations of students who follow."
Chancellor Philip P. DiStefano noted the importance of the Leeds School and its dean in maintaining CU Boulder's tradition of excellence in education and research. 
"This gift will play such a significant role in the continued success of Leeds and CU Boulder," DiStefano said. "I'm grateful to Tandean for his ongoing support of Leeds and our university, and I look forward to seeing how our next dean, supported by this gift, will transform the future of global business."