Just-released ranking of the top undergraduate business programs puts Leeds 20th among public schools.
---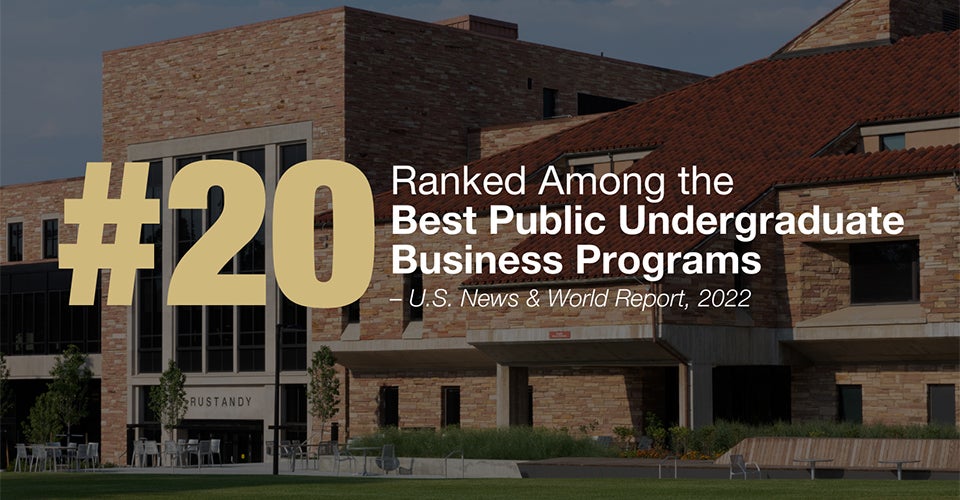 Today, the Leeds School of Business cracked the top 20 of the best public business schools in the nation, according to U.S. World & News Report's rankings of the 2022 Best Undergraduate Business Programs. Following a one-point jump from last year, Leeds is now ranked No. 20 among all public undergraduate business programs. And, of all public and private undergraduate programs combined, Leeds jumped up two spots, to No. 30.
"We're thrilled to be ranked among the top 20 public business programs. Despite the challenges of the pandemic, we've been determined to continue providing our students with the highest-quality business education and to help them keep moving toward their goals," said Dean Sharon Matusik.
In addition to the new rankings, a surge in undergraduate applications over the past year indicates strong forward momentum at Leeds. Undergraduate applications for fall 2021 were up 35% compared to the previous year. Female applicants rose by a whopping 42%, while applications from students of color shot up by 35%. 
"As I told the incoming class last month, I can't think of a better place to do an undergraduate business degree than at the Leeds School of Business," said Laura Kornish, associate dean of undergraduate programs. "It's great to be recognized by others—only 19 spots to go!" 
Leeds continues to rank No. 1 among all business schools in Colorado, and the Leeds business minor—available to all CU Boulder students—continues to be the largest and most popular minor on campus. 
With its portfolio of career development, mentoring, global and co-curricular programming integrated within a culture of academic excellence, Leeds continues to move forward with its innovative business education.