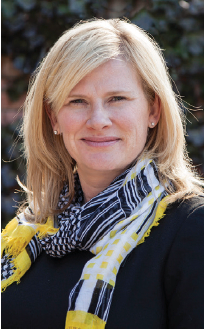 Our partners constantly drive Leeds to innovate and rethink what is possible in business education. We are proud of these bold partnerships and our track record of going beyond traditional boundaries to inspire and educate next-generation business leaders."
—TRISHA MCKEAN,
Assistant Dean for Advancement
So many members of our community contribute to keeping Leeds on the cutting edge of business leadership—faculty researchers, students seeking specialized programs, and countless dedicated alumni, to name a few. High on that list are our corporate partners, whose engagement and investment is proving more critical now than ever before.
It's invigorating to see corporate partner involvement increasing across nearly all areas of the school. Our Natural & Organics industry partners are shaping the student experience in exciting new ways through our MBA programs and Center for Ethics and Social Responsibility (CESR). Partners across many different industries are engaging directly with students in our MS Business Analytics and MS Supply Chain programs to solve real problems with material impact—including on their bottom line. Moreover, corporate partners have been an essential part of our response to COVID-19 and ensuring that students still find meaningful learning opportunities and career placements in challenging economic times. Together, we will continue creating opportunity and driving positive change in the world. To all those partnering with Leeds along the way, we share our sincere thanks.
Corporate Partner Spotlight



KeyBank is proud to support the Leeds School of Business and the Office of Diversity Affairs (ODA). With KeyBank's commitment to underrepresented students, ODA has experienced transformative progress in becoming a nationally recognized office dedicated to diverse student support. The KeyBank EXCEL Summer Bridge lays a foundation for success for first generation and underrepresented students that propels these students into thriving careers post-graduation. The KeyBank Business Leadership program allows students to discover a business education and career that they might not otherwise experience. Volunteers from KeyBank support students in each of these programs and this exemplifies the company's commitment to Leeds Diverse Scholars.


Western Digital proudly supports the Leeds School of Business through their sponsorship of the BE Tech Scholars program. This multiyear program is a comprehensive and interdisciplinary effort, focused on inspiring undergraduate women to pursue the technology industry. Each year, Western Digital makes it possible for more accomplished and intellectually curious women within Leeds and the College of Engineering to explore careers at the intersection of business, technology and engineering.