For Hotel Leadership, Student Perspectives on Industry's Challenges Offer Something Suite
You are here
'Invaluable' insights from first-year students help partner company rethink retention as resignations roil resorts. ​​
---
The pandemic has been a double whammy for the hotel industry, which saw bookings sink and cleaning costs rise during lockdowns, while the Great Resignation has made it harder to bring in staff as tourism rebounds. 
Omni Hotels & Resorts hasn't been immune to these challenges, but the company also isn't afraid to be creative in addressing problems. That's how Omni Interlocken, in Broomfield, engaged teams of first-year students at the Leeds School of Business, to bring in fresh perspectives on improving associate retention.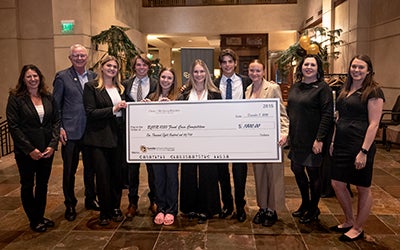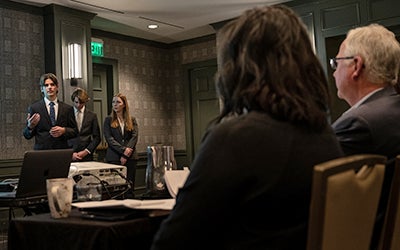 "It's easy to get stuck trying the same things over and over," said Adrienne Ireland, director of human resources at Omni Interlocken. "The students have the freedom to be creative and rethink these ideas, which is really invaluable for us." 
The Omni team partnered with teams of first-year students enrolled in the required Communication Strategy course at Leeds. The students worked on the problem of how the hotel could better retain its employees in the face of both traditional offseason turnover and continued resignations in the workforce. The three teams of finalists visited Omni Interlocken in December to pitch their plans to Ireland and two of her colleagues.
An intriguing mix of solutions
The students pitched a variety of concepts—from onsite social media interns to create a more authentic feel for potential and current associates, to a robust online portal that would improve engagement and offer opportunities to reinforce Omni's values. The winning team brought a pair of ideas that intrigued the judges—financial incentives for completing its employee surveys and multiday retreats for seasonal employees. 
The team opened its pitch by recounting some of the most popular first jobs people have, typically as students, on the idea that a first job can impact the kind of career you eventually wind up in. 
"I thought it would be funny to ask people about what their first job was, as a way of getting Omni to think about how to make itself a destination, not a stop along the way," said Adelyn Dozier (Bus'26), who opened the presentation on behalf of her six-person team. 
The course is designed to ensure students have the communication and collaboration skills demanded in today's workplaces; in the culminating project, the winning team developed "a clearly researched and structured proposal, polished delivery, strong teamwork, and compelling slides," said Jennifer Bone, a communications instructor who advised the winners.

"It held so much more value for us. It's actually someone's business—these are real people you're thinking about, and you're trying to find real solutions to make their work environment better."
Brooke Boas (Bus'26)
Members of the winning group said the opportunity to work with an actual company helped them more effectively apply what they learned in their first semester of college.
"It held so much more value for us," said Brooke Boas (Bus'26). "You're not looking at models, it's actually someone's business—these are real people you're thinking about, and you're trying to find real solutions to make their work environment better."
In working with Leeds, Omni Interlocken was hoping to get a younger perspective, which Logan Burchard (Bus'26) said helped the team focus on designing a solution that would actually be implemented: "We thought about it as young people entering the workforce, who are going into their first jobs, and what we would be looking for from an employer."
Strong presentation skills, confidence
She and her teammates hit the nail on the head, Ireland said. 
"We'll absolutely look into these ideas," she said. "I especially love the idea of a seasonal retreat. I'm excited to sit down and go through the recommendations in more depth."
She and her fellow judges praised each team's presentation skills, especially their enthusiasm and confidence. The students attributed much of that to what they learned working together in class; Dozier joked that she nearly had a panic attack the first time she had to present in class.
"The biggest thing for me is confidence," said Kelsey Kley (Bus'26). "At first, I think we all felt presentations were not our strong suit. But as we started to build our skills and get to know each other through presenting, I could see such a change in all of us."