Leeds is Colorado's first business school to offer professional headshot service on demand to its students.
---
Business students get plenty of coaching on writing an engaging cover letter, perfecting a résumé and presenting themselves on LinkedIn. 
But for recruiters, a picture is still worth a thousand words—and schools don't devote the same resources to helping students build a headshot that will resonate with hiring managers.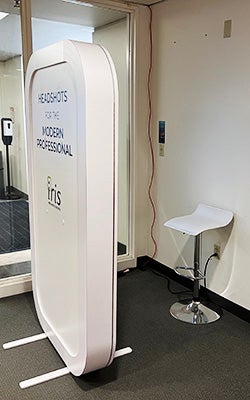 To help counter that, this fall, the Leeds School of Business unveiled a kiosk that allows students to get free, top-quality headshots to help tell their professional stories on LinkedIn and elsewhere. It's the first business school in Colorado to offer its students this service.
"Having a professional headshot makes you stand out from other candidates, especially if you're a college student looking for that first role," said Amanda Hansen, director of the Career Development Office at Leeds. 
Not just for job seekers
A survey from Jobvite found more than 40 percent of recruiters said they formed a first impression from candidate photos; Hansen said she even encourages first-year students to get a quality headshot, as most start meeting with recruiters—or networking with alumni—from the start. 
"An updated headshot elevates their professionalism when they come into the business school in a way their senior portrait from high school does not," she said. 
Unlike a traditional photography studio, the Iris Booth doesn't require an appointment and is free to use—but like a studio, the booth is beautifully lit, provides high-resolution photos and even gives subjects tips, like, "Tilt your chin down," or "Move closer to the camera."
How it works
The Iris Booth requires no appointment to get a headshot taken. Visit the Career Development Office in Koelbel 201 to use the space. Students are encouraged to dress professionally to ensure they get a photo that will work well on LinkedIn and other career-oriented platforms.
"The person who designed it, Sue Siri, was a professional photographer for 25 years," said Victor Fisher, who calls himself a "co-conspirator" behind the company. "She had an RFP to write a proposal for 3,000 graduate photos at a university. But then we thought, 'This is the selfie generation. What if we just set up a studio and let them take their own photos, rather than having them spend several hundred dollars for a professional portrait?'"
The Iris Booth offers touch-up and editing tools that extend beyond most smartphone selfies, such as brightening teeth and fixing flyaway hairs. Students also can take as many photos as they like before they come up with a final version, which is sent via email. And if they don't get it right the first time, students are welcome to return—if the Career Development Office is open, so is the Iris Booth.
Finally, for students whose wardrobe could use some post-pandemic updating, Hansen said Ralphie's Closet—a professional business clothing swap run for, and by, Leeds students—is located in the same suite as the booth. It's available to all students.