The business school welcomed one of its largest, most academically gifted and culturally diverse freshman classes ever.​
---
Entrepreneurs. Creators. Top scholars. 
The Leeds Class of 2026 is among the largest, most academically gifted and culturally diverse on record, with a total of 651 students boasting higher GPAs and standardized test scores than the previous year.
Class of 2026 by the numbers
Total enrollment: 651 (last year: 634)
Average GPA: 3.89 (3.87)
Average ACT: 30.68 (30.64)
Average SAT: 1347 (1332)
Percent female: 49 (44)
Percent students of color: 31 (30)
"Our Class of 2026 truly is special—their achievements in the classroom, their service, their entrepreneurial spirit and their passion to make their mark in the world," said Yonca Ertimur, acting dean. "It has been a treat to get to know these students as they acclimate to Leeds, and I am excited to watch them grow into tomorrow's leaders and problem-solvers."
Among those entrepreneurs is Jesús Soto (Bus'26), who started a business as a Boulder High School student.
"I'm first-generation, and my family wasn't really able to save anything," Soto said of Uptrack, a platform that makes it easier for donors who fund smaller scholarships to identify student applicants. "I saw a real opportunity for a middleman to benefit the organizations, so they keep getting donations, and individuals who may not think they qualify for financial aid."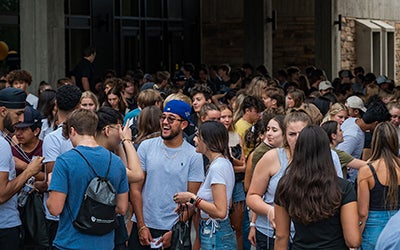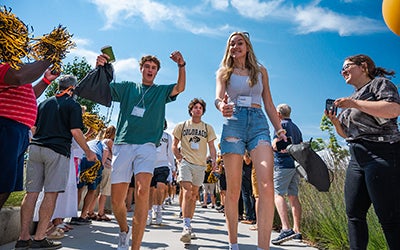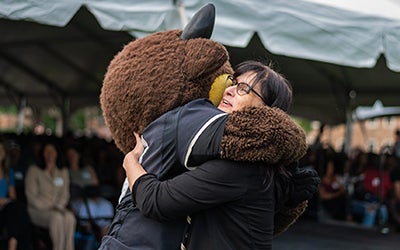 Soto is already working with the EforAll accelerator, in Longmont, to build out his business plan, but hopes to study finance and information management at Leeds so he can pair his entrepreneurial passion with hard skills. 
"Leeds has an amazing entrepreneurship program, and all these programs to help you launch your business," said Soto, who's already become a regular at Leeds' Deming Center for Entrepreneurship. "There is an abundance of clubs and organizations that offer a strong community for entrepreneurs to participate in co-curricular activities and receive meaningful insights from faculty, professionals and fellow entrepreneurs."
Another local member of the Class of 2026 is Thornton native Fadilah Passmore, who arrived at Leeds through the Diverse Scholars Program and chose CU Boulder from her 14 admission offers. 
"I was in a high school business program and was able to take college classes from Front Range Community College as well as CU Denver, so I'm very comfortable with business," Passmore said. "And doing the precollege KeyBank Summer Bridge program helped me meet other students and just feel comfortable going to class." 
Passmore, a gothic literature fan and self-taught painter, is considering an art history minor to go with her management area of emphasis. She's keeping her future open but is curious about working as an art administrator in a gallery someday, "which would be a great use of what I've learned about business and my creativity." 
Carson Carere also had his pick of schools. As president of Colorado DECA—the high school business association—he got to plan events and conferences around the state, as well as travel to and speak at high-profile events in New York, Atlanta and elsewhere. 
"It was really a chance to learn a lot of valuable information—not just business topics, but how to put myself out there on interviews, job applications, résumés and so on," he said. 
The Lamar resident had plenty of options for studying finance. He ultimately chose Leeds because of the Boettcher Scholarship he received—as well as his business Buff brother, Max (Fin'22), also a Boettcher scholar. 
"Ironically, he studied finance, as well," Carere said. "I was looking at some different routes, but I was able to visit Max quite a few times when he was at Leeds, and I loved the school, the campus, the program. 
"I really felt I was truly wanted at Leeds," said Carere, a member of the Leeds Scholars Program. "A lot of schools I visited, I got the impression I'd be just another student. Leeds was where I felt at home."