CU Honors Leeds Dean, 'An Incredible Mentor and Advisor,' with Excellence in Leadership Award
You are here
Matusik recognized for the vision and leadership she's brought to the business school at CU Boulder​.
---
Accepting the Excellence in Leadership Award from the University of Colorado system last week was a great honor for Sharon Matusik, who first joined the Leeds faculty in 2004 and became dean in 2017. It's a fitting honor for someone who has been a tireless force for excellence, both at the school and across the university, since she arrived.
"It's an incredible honor to be recognized with this award, and considered to be in the same company as so many leaders who have helped shape the future of CU," Matusik said.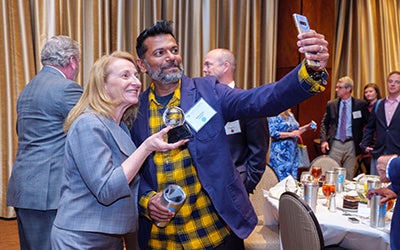 The Excellence in Leadership Program at the University of Colorado provides faculty and staff opportunities to become more effective leaders who can successfully address the key challenges of a dynamic university. The Excellence in Leadership Award recognizes an alumnus from this program who has shown exemplary leadership at the university.
CU Boulder Provost Russell Moore nominated Matusik for the award, noting her efforts to make the business school an invaluable part of the Boulder campus.
"As dean, Sharon brings an incredible blend of kindness, compassion and strength, which is very rare in a leader," Moore said.
A triple threat
Matusik's leadership at Leeds has been highlighted by three priorities—Business & Engineering, Career Impact and End the Gap—that have played a central role in the school's rising reputation in research and education.
Her most visible pillar so far is a partnership between Leeds and CU's College of Engineering & Applied Science. The Rustandy Building connecting Leeds and Engineering is the most visible symbol of this partnership, which addresses the increasing professional and academic overlap between these disciplines through specialized academic programs and collaborative opportunities. 

"To spend each day helping students open up opportunities for themselves through education is deeply meaningful for me."
Dean Sharon Matusik
The $43.5 million construction project was largely funded by donors—including Tandean Rustandy (Fin'87)—who understood and supported Matusik's vision for these interconnected disciplines. Trisha McKean, assistant dean for advancement at Leeds, worked alongside Matusik to conduct this massive fundraising objective.
"She stands out just in terms of her ability to connect with all sorts of people," McKean said. Matusik "meets people where they are, demystifies academia's issues and processes, and builds informed confidence in the projects and initiatives they're seeking to fund."
Matusik's Career Impact initiative focuses on addressing the core professional skills—communication, emotional intelligence, critical thinking and more—that are as important to professional success as disciplinary knowledge. That emphasis has led to better graduate placement rates and long-term career success, as alumni are able to effectively navigate corporate cultures while advocating for themselves, their teams and their work.
Her third pillar focuses on ending the gender gap in business, starting with business education. Under Matusik's leadership, Leeds continues to attract female applicants in record numbers, who create demonstrable impact in the business world through the world-class education they receive at CU Boulder.
Together, these three goals are strengthening the Leeds School, its ties to the Boulder campus and the entire CU system.
In presenting the award, Todd Saliman, president of the University of Colorado, noted how much he enjoyed collaborating with Matusik in developing a strategic plan for the university. 
"Sharon has been an incredible mentor and advisor to me," he said. "You've made the Leeds School into an amazing place that keeps getting better every day."
Of course, she's also a role model to the thousands of Leeds students she's taught and worked with since first coming to CU Boulder.
"To spend each day helping students open up opportunities for themselves through education is deeply meaningful to me," Matusik said. "And to be given an award that signifies accomplishment leading at a university is very hard for me to wrap my mind around."