Full-time Leeds MBA rises to #36 among public business schools.
---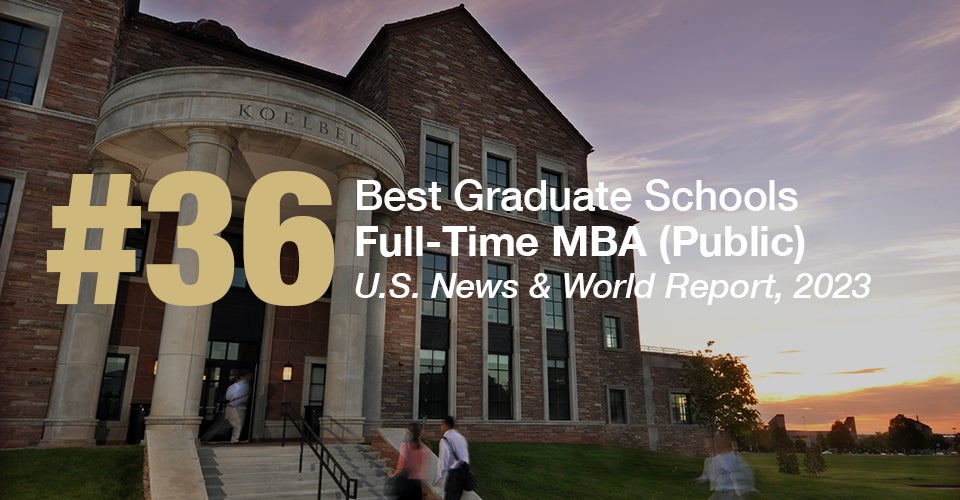 It's not just prospective students who are realizing the incredible value of a Leeds MBA. Corporate recruiters are starting to better appreciate how the blend of skills baked into graduate business programs at the University of Colorado Boulder prepares alumni for the challenges of leadership. 
In its most recent ranking of the nation's best full-time MBA programs, U.S. News & World Report ranked the Leeds School of Business No. 36 among public schools, an increase driven largely by Leeds' soaring reputation among recruiters. 
"When they're meeting with MBA students, recruiters want to see not just the disciplinary knowledge you get—finance, strategy, marketing and so on—they want to know they're hiring someone who's primed for the leadership track," said John Helmers, director of graduate career management and a Leeds MBA graduate. "Our emphasis on developing students as collaborative leaders, who can work across teams while setting strategic direction, is why they're so highly sought in the market."
Among the highlights of this year's U.S. News rankings: 
The full-time MBA is ranked 36th among public schools, up from 39 in 2022. Overall, the Leeds MBA rose from No. 74 to No. 67.
The average starting salary of Leeds MBAs hit $92,500, a noted increase from last year. 
The part-time MBA remains a top-25 program among public programs, at No. 23. It's ranked 36th overall. 
MBA powers promotions
For Amy Link, who completed her MBA in 2016, the decision to attend graduate school was influenced by Leeds' close relationships with the Boulder business community. She started with Zayo Group as a product manager after graduation, and has been steadily promoted to her current role of sales account director at the communications infrastructure provider. 
"I wouldn't have been considered by Zayo without my MBA," Link said. "Leeds was an introduction to a new network of close friends and professionals."

"I wouldn't have been considered by Zayo without my MBA."
Amy Link (MBA'16), sales account director, Zayo Group
Link manages one of Zayo's top accounts, which involves bringing a strategic perspective to the long-term future of the businesses while grappling with the day-to-day challenges her team faces; "my MBA gave me the confidence to know I could be an effective problem-solver." 
Beyond the broad slate of business skills that an MBA offers, Leeds offers several unique customization options for students. These pathways—in real estate, natural and organic products, clean energy and high-growth ventures—leverage Leeds' centers of excellence to provide connections and co-curricular experiences that give graduates a head start in these industries.
"One of the things that makes Leeds truly special the combination of our stellar faculty and our well-developed relationships with companies locally and globally," said Dean Sharon Matusik. "Whether we're considering a new pathway for the MBA or redesigning an existing course, we're fortunate to have industry partners who are eager to collaborate, engage directly with our students, and provide input on the skills and experiences our graduates will need to thrive long-term in their careers."