Creative Distillation Podcast Celebrates Earth Day, Research and Spirited Discussions in Season 2
You are here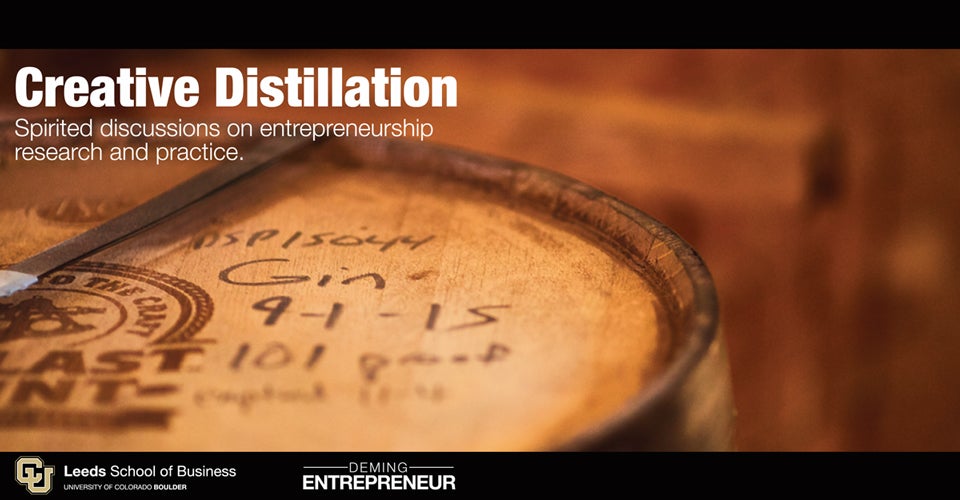 Since 1970, every April 22 marks the anniversary of the birth of the modern environmental movement through activities and events related to Earth Day. In honor of the 51st anniversary, the Leeds School of Business and Deming Center for Entrepreneurship are announcing the second season of the Creative Distillation research podcast, with topics on sustainable venturing, impact entrepreneurship and the environment.
Creative Distillation is a podcast co-hosted by Associate Professor Jeff York, Research Director, and Instructor Brad Werner, Teaching Director for the Deming Center for Entrepreneurship. Each episode distills academic research on entrepreneurship into actionable insights. This season, Jeff and Brad also connect with researchers from around the globe to discuss sustainability, yoga, cannabis, food trucks, university entrepreneurship programs and accelerators.
Episode 14: Founder's Identities and IPAs
In Episode 14 of Creative Distillation, co-hosts Jeff York and Brad Werner are joined by a leading researcher in the area of environmental, social and women's entrepreneurship to understand identities, authenticity and professional legitimacy. Associate Professor Isobel O'Neil from Nottingham University Business School at The University of Nottingham joins the conversation and shares research she co-authored with Jeff York titled "The evolution of founder identity as an authenticity work process"
In their paper they found that "research has shown founders' identities have a significant impact on their sustainable-focused ventures. Yet, the process through which founder identity evolves and takes shape remains relatively unexplained. This paper explores the evolution of founder identity through a qualitative study of first-time sustainable entrepreneurs, and their stakeholders, over a three years period."
As tradition with the Creative Distillation podcast the hosts and their guests also enjoy a variety of beverages including distilled spirits and brewed offerings. In Episode 14 the group samples beverages from the United Kingdom's Brewdog Beers including their Punk IPA.
Creative Distillation Podcast background
The nexus for this podcast came about through conversations between Jeff and Brad about the value of entrepreneurship research. Brad brings a strong business perspective to the Deming Center that compliments Jeff's focus on academic research. In each episode, the pair will focus on a recent study and highlight how this academic research is valuable to not only our students, but the broader startup community.
It just so happens Boulder has a booming industry for spirits and craft beer, so it's only natural to visit a new location each episode and enjoy a tasty beverage while distilling the latest research.
The Season 2 announcement also includes the release of Episode 13—a lively discussion with Leeds' PhD students.
Listen to the latest episode of Creative Distillation at: