We remember and celebrate the life of Robert H. Deming, two-time Leeds alumnus (Acct'56 and MS Mgmt'59) and longtime, generous supporter of the Leeds School of Business and namesake of the Deming Center for Entrepreneurship.
---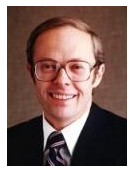 Bob Deming passed away peacefully at his home in Maui, Hawaii, on September 4 with his wife of 67 years, Beverly A. Deming, at his side.
Born, May 16, 1934, to Margaret and Herschel Deming in Indianapolis, Indiana, Bob moved to Denver at age 13, where he met Bev Baker, the love of his life. They married at age 19 in 1953 while they were students at the University of Colorado Boulder, surviving their first year together living in a married student housing trailer with no running water.
As students, Bob worked at the Federal Center and the Colorado Daily and Bev was a telephone operator. After receiving his master's degree from the University of Colorado's School of Business, he culminated his education with a Doctorate from Harvard Business School in 1963.
An entrepreneurial life well lived
Bob had an enormously successful career. His strong entrepreneurial spirit led him to found his first company, DESA Industries, in 1968, and eventually acquire and take Toastmaster Inc. (manufacturer of portable kitchen appliances) public on the New York Stock Exchange.
After selling Toastmaster Inc. in 1998, he endowed the Robert H. and Beverly A. Deming Center for Entrepreneurship. Because of their devotion to CU, they also endowed professorships, scholarships and several dedicated rooms in the Koelbel Building.
In his life, Bob received the Distinguished Alumni Award from the University of Colorado's School of Business, was a member of the Young Presidents Organization and served as International President of the Chief Executives Organization. He was also an assistant professor at CU Boulder in the early 1960s.
The keys to Bob and Bev's success include motivation, perseverance and strong entrepreneurial spirit, which gave them the priceless gift of traveling the world together. They visited nearly 40 countries and all 7 continents.
He was the proud father of 4 sons, 8 grandchildren and 4 great-grandchildren. His son Rob predeceased him.
Deming's legacy remembered
Bob believed that "success is in the journey, not the destination." The Demings' goal via their endowment is to fuel the success of Leeds' dynamic entrepreneurship program and provide the resources to propel the program to ever greater heights.
With his support, CU Boulder became the first university to offer a PhD in entrepreneurship in the world. The university's Entrepreneurship Center was one of the first 20 entrepreneurship centers in the world when formed and later supported by Deming. The Deming Center Venture Fund was one of the first student-run VC funds in the world.


"Bob was a true innovator, believing in and supporting entrepreneurship education while others thought it was a fad. His and Beverly's excitement and enthusiasm for inspiring and empowering our students and  community to change the world through the entrepreneurial mindset was transformative. His support made a big, positive difference in the lives of thousands of CU students and community members. For this, we will be forever grateful."
Erick Mueller, Executive Director, Deming Center for Entrepreneurship
He will be deeply missed by our community, but his legacy will live on at Leeds and the Deming Center for Entrepreneurship.