Co-founder and CEO of Iterate.ai and Leeds Alum Jon Nordmark demonstrated action-based philanthropy by creating a custom website to collect innovative solutions for the BE Tech Scholars. Now, Leeds community members and these up-and-coming women leaders are invited to submit their best ideas for empowering women in the U.S.—for a chance to win up to $10 million dollars.
---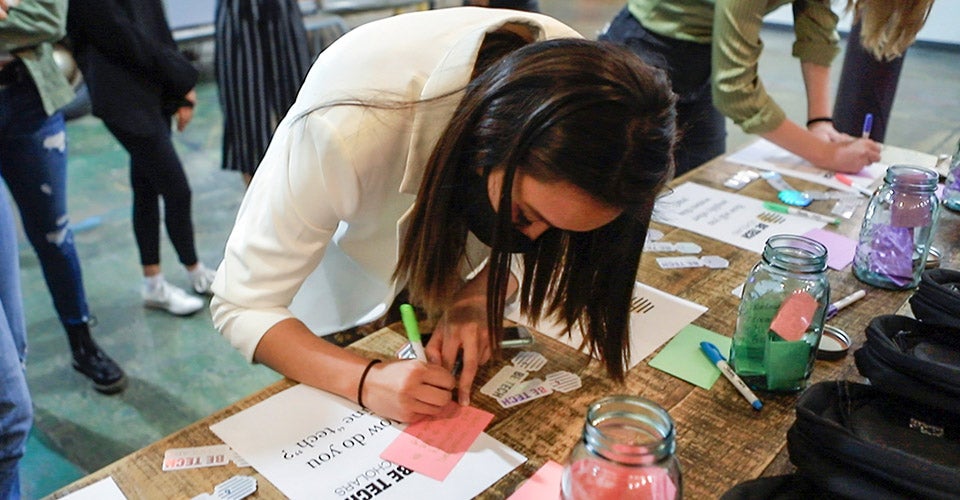 Photo courtesy of Jordan Singer
This fall, Leeds' exclusive new cohort of Business and Engineering Tech Scholars (BE Tech Scholars) are entering the Equality Can't Wait Challenge, which will award $40 million in grants to help increase women's influence and power in the United States by 2030.
Winning ideas will each receive a grant of up to $10 million paid over five years. An additional $10 million will be divided among the finalists.
Faculty, staff, alumni and community members, are invited to help the students by sharing their innovative solutions for increasing women's power and influence in their homes, workplaces and communities.
As a community committed to elevating women in business, and ultimately the C-suite, we are uniquely suited to meet this challenge with a wealth of innovative, transformative and scalable technology solutions.
All ideas must be submitted here by Friday, September 18. Ideal solutions will connect to the mission of the BE Tech Scholars Program—which readies women to pursue careers that combine business, engineering and technology—and consider one or more of the following:
Dismantle barriers
Fast track women in critical sectors
Differentiated with technology enrichment and skill development
Call society to action
Scale nationally
Transform the current landscape
More details outlined on the submission page.
Leeds' BE Tech Scholars Program and Partners will evaluate and select the strongest ideas for a master application to send to the challenge. Multiple submissions are welcome.
Help our BE Tech Scholars win a grant to help fund future programming and opportunities. Share your ideas today.
About BE Tech Scholars Program
Presented by Western Digital, the Business and Engineering Tech Scholars Program launched its inaugural year with 50 exceptional undergraduate women students. The highly selective program accepted 25 incoming women from Leeds and 25 women from the College of Engineering and Applied Science
A special thanks to Iterate.ai and Jon Nordmark for building the submission/analytics website.