A graduate degree is a fantastic investment in yourself and your career. Here's how to pick the right program.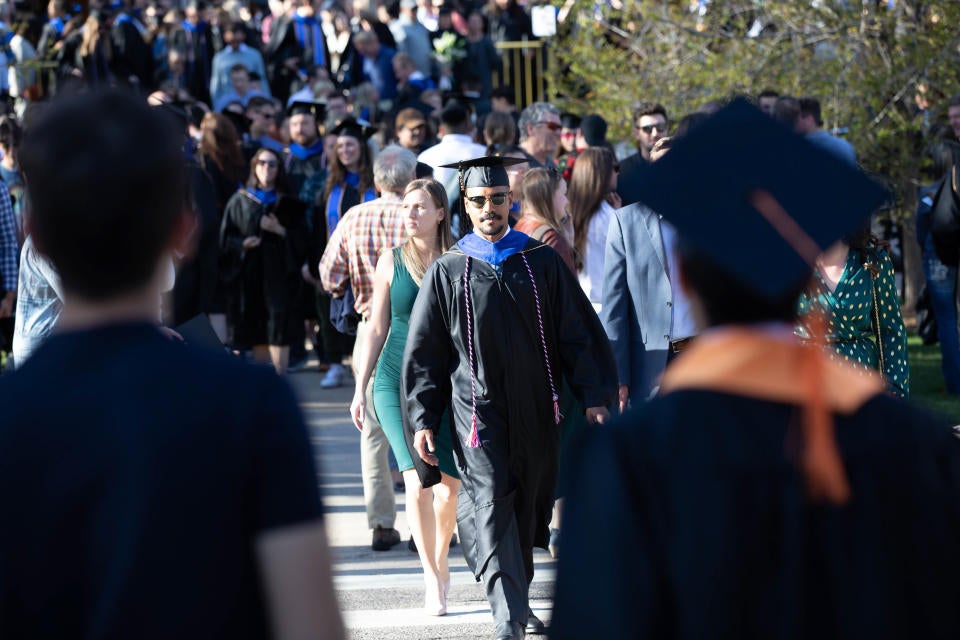 When it comes to furthering your career through earning your MBA vs Executive MBA, you will never regret the investment in yourself. The knowledge, experience, mentorship, and network you build make an MBA the most worthwhile career investment you'll ever complete. 
But there are many kinds of MBAs out there. How do you choose the right MBA program for you?
At Leeds, we offer a Full-Time MBA, Evening MBA, Hybrid MBA and an Executive MBA that are designed for ambitious professionals eager to advance their careers, improve their marketability, increase their salaries and challenge themselves to be more effective leaders. Yet despite those similarities, these programs are built for professionals in very different stages of their careers. Here are some questions you should ask yourself as you think about the best Leeds program for you. 
1: What kind of network do I want? 
One of the best reasons to go to grad school is the peer network you'll develop. Your classmates will come from every industry, giving you a broad perspective on different kinds of work and on your own career path. Your classmates in an MBA program are likely to be younger, in their 20s or early 30s, with less work experience, but their professional diversity will be an asset as you learn to work alongside and lead teams of people who have different roles and approach problems differently. Executive MBA students have much more experience—at least 8 years is required at Leeds—and so are older, from their late 30s to early 50s. Typically, these students are looking to leverage their experience to change careers, or take the final leap into top leadership, so you'll graduate with a network of movers and shakers that can help you as you figure out your own path. 
2: How long does the program take to complete? 
At Leeds, both programs take two years to finish—but that doesn't mean they have the same time commitment. A full-time MBA is an immersive environment where you're in class, or working on group projects, with the other students in your cohort. In the executive MBA, you're only taking classes two night a week, to balance your busy professional and personal schedule. Instead of the full-time community, you'll take part in residencies—both in Colorado and globally—where you further hone your leadership skills with your classmates.
3: What's my path as a leader? 
While both the MBA and executive MBA at Leeds will test your leadership mettle, they do so in different ways. In the MBA, you are encouraged to take part in MBA student clubs and organizations—from discipline-specific organizations, like marketing and finance, to social impact consulting and entrepreneurship—and competitions that will give you opportunities to apply your lessons and help you develop your voice as a leader. Classroom time in the executive MBA focuses on applied leadership skills, so you can use it at night and lead with it in the morning. The offsite residencies also show you how to earn trust, communicate a plan, and support teammates, with time for reflection as well as discussion of how to apply these techniques in professional settings. 
Gain Real World Experience through MBA Student Clubs and Organizations
| | | |
| --- | --- | --- |
| Club Name | Focuses on? | Good for students who… |
| Leeds Social Impact Consultants | Provides consulting services to Colorado non-profits by recruiting CU graduate students with diverse skills and backgrounds. | Want to graduate and pursue a career building stronger and more successful nonprofit and social enterprises. |
| Deming Center Venture Fund (DCVF) | The Deming Center Venture Fund (DCVF) supports emerging companies in Boulder and surrounding communities. The Fund is managed by Leeds MBA and Colorado Law School students. Student team members benefit from the guidance of an experienced advisory board that includes University faculty and local leaders in venture capital and angel investing. | Are interested in exploring opportunities in the venture capital, angel investing and start-up space. |
| The MBA Finance Club | The MBA Finance Club is a student-led organization designed to serve as a link between the MBA program and the finance community. It is a great opportunity to learn more about potential career paths in finance and network with finance professionals, alumni, and fellow students.  | Are interested in exploring opportunities in Finance |
Visit the Leeds MBA Student Clubs and Organizations page to see a full list.
4: How much career support do I need? 
Mentorship and career development are hallmarks of a Leeds education. MBA students benefit from all the career advising services our career team offers—from basics, like résumé reviews and mock interviews, to career chats, industry panels, networking events and more. In the executive MBA, you're more likely to benefit from our faculty and their networks, which are honed through their extensive professional and consulting careers. You will also make new connections with, and through, your classmates as you seek opportunities at the highest levels. 
No matter which program you select, at Leeds, an MBA is a powerful asset to your career and a useful tool to better understand yourself, your leadership style, and what you need to be successful. If you're still looking for help choosing a program, check out our online program comparison or have our admissions team contact you to learn more. 
MORE READING:
The Biggest Myths About Executive MBA Programs (Poets&Quants)
Why People Still Want an MBA Degree (Forbes)