Strategy and Analytics Consultant, Deloitte 
Allie Williams is an early adopter.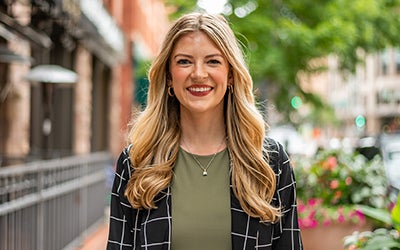 No, she doesn't need the latest and greatest phone, VR headset or smartwatch. But from the time she enrolled at Leeds, she could clearly see that technology and business were fast becoming inseparable. 
As a senior, Allie was president of the Leeds Association for Information Systems, where she was proud to continue the group's mission of bringing together students studying business and engineering, to help them discover areas where their studies and professional ambitions overlapped. 
"When I was a student, that intersection of business and technology wasn't as available at Leeds," she said. "I'm glad to see that now, it's become a core mission of the school to foster that partnership between the disciplines." 
The cross-disciplinary efforts she made as a student are now an important part of Allie's professional life. After a summer scholar internship with Deloitte, she joined the Big Four powerhouse; two years ago, she was promoted to her current role, where she connects client needs with developers to ensure her recommendations solve the client's problems. 
"I really enjoy how applicable my work is," she said. "Sometimes, I get to work with a large-scale client where I'm also a customer, and to actually get to see the recommendations I've made show up in the marketplace is really cool." 

"There's so much more we can do to use data for good. It's one thing to collect data at every piece of process, but to pull insights from it and help make decisions through it is an area where I can see myself adding value for years."
Allie Williams (Ops, InfoMgmt'19)
Allie also stays in close touch with Leeds, having recently ended her service on an advisor board for young alumni and relishing the opportunities to mentor and influence future generations of students. 
That was especially true while she was chair of undergraduate engagement. 
Influencing future generations
"At Leeds, I was very involved, and really enjoyed extracurricular opportunities and getting to bring in and learn from guest speakers," she said. "On the board, there were so many opportunities to connect with students, give back and help them figure out what their future could look like." 
Many of those students are interested in her career path. Consulting is a popular early-career path at Leeds; Allie said that for problem solvers—especially those with an interest in data and analytics—the industry can be a rewarding one.
"Consulting is a great way to, early on in your career, see a lot of different businesses and understand how things work in professional settings—along with what skills you need to add value to the business," she said. 
It's an industry she'd like to stay in, as someone who relishes opportunities to learn at work. 
"Deloitte offers a lot of professional development and continuous learning opportunities, so I'm looking to keep learning more about the technical side of the business," Allie said. "There's so much more we can do to use data for good. It's one thing to collect data at every piece of process, but to pull insights from it and help make decisions through it is an area where I can see myself adding value for years."