Intern, The Success Foundation
When it came to recruiting Anna Bedell, CU Boulder came calling early.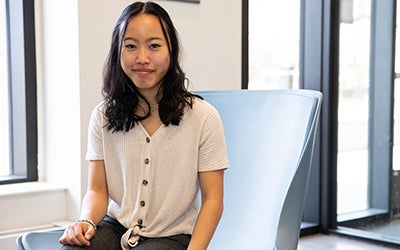 Anna was a second-grader when she won a CU poster during a visit to her classroom. And while it hung in her bedroom for years, the Greeley native thought she'd end up studying on the West Coast. 
"My parents were convinced I'd go in state, and of course, my parents are always right, so that's how it happened," she said. "Once I did a tour of the Boulder campus, I fell in love with it. And Leeds is a great school, with one of the top marketing programs in the nation."
Anna has been a creative writer all her life, and in high school got involved in DECA and FBLA, which gave her a taste of business and, specifically, marketing. Her writing interest is why she's pursuing a minor in journalism from CU Boulder's College of Media, Communication and Information; her dream job is to work in marketing or advertising at the New York Times or Washington Post. To that end, she's already completed a marketing internship with The Success Foundation. 

"You never know how having connections outside the business school might help you out."
Anna Bedell (Mktg'25)
"I did a lot for them on social media and got to write a bunch of blog posts," she said. "It was fun to kind of bring a journalistic perspective to marketing." 
That internship also gave her leadership experience, as she helped start the foundation's junior board. Meanwhile, she's a writer for the Her Campus online magazine, serves as a Leeds ambassador, and is part of the Women's Empowerment Initiative and SWAP program—where she helps grad students from abroad to improve their English. 
"I was super involved high school, almost to the point of doing too much," Anna said. "Coming to college, I only wanted to do things I'm super interested in."
Part of the reason she's able to be selective is academic excellence. She's earned multiple scholarships from the university and is part of the Leeds Honors Program. But being selective doesn't mean not being involved, and Anna still appreciates the unique opportunities available at a small school within a big university. 
"When I give campus tours, I always tell prospective students to get involved in something outside of Leeds," she said. "You never know how having connections outside the business school might help you out—whether you become lifelong friends, or even discover a job or internship opportunity."