Meet David Goldberg, CU Alumni and CEO of Cyberspaces, a platform to play social games with friends that has video chat built in. David graduated from the Leeds School of Business in 2010 where he focused on Finance and Entrepreneurship.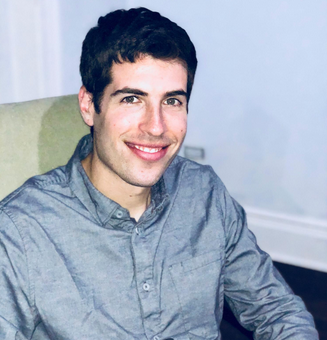 He always knew that he wanted to be an entrepreneur so he could constantly be creative and innovative. Although starting a business is difficult, getting to choose the impact your business has on the world made this path all worth it to David.
After his time at CU, he wanted to start a technology business, but did not have the technical skills. David quit his job in Finance to learn how to code at a 4 month long, 80 hours per week programming bootcamp in preparation for becoming a software engineer. He went from having zero experience in software to getting hired by Salesforce as a software engineer. After about 4 years at Salesforce, he moved on to co-found Cyberspaces. 
Cyberspaces
Cyberspaces was launched just 4 weeks ago, and the number of weekly active users who spend 10+ minutes in a session is growing by 140% week after week. Originally positioned as a mobile app for in-person events, Cyberspaces pivoted after COVID-19.
"We were witnessing a rise in the use of video conferencing technology for social purposes between friend groups, families, company happy hours, and more. However, Zoom and other solutions were not built for social purposes and getting sustainable user engagement for social use cases is difficult."
Now, users are finding new ways to combat this boredom on Zoom by running games offline, or manually in separate windows. Cyberspaces was launched to deliver both video chat and social games in one convenient place. Up to ten friends (they will be increasing this number soon) can join and choose from a variety of games like Cyberterms (their version of Codenames), Wordmine (their version of Boggle), Kings, and Liar's Dice all while getting to socialize and hang out via video chat. 
Next Steps
With all the great feedback and new game requests, they are focused on creating more games for users to choose from and expanding their product to include other types of social engagement activities.
"As an example, I hosted a birthday party for a friend on Zoom back in March to see how long it would last before people lost interest and left. The answer: 11 minutes on Zoom! With that same group of friends we had another birthday party that lasted over 3 hours on Cyberspaces!" 
Advice to students
There are many ways of executing a startup idea, but David found that one of the most important things for him was validating his idea early on. As a startup, listening to your users and actually understanding their problems is critical.
"The best products start with identifying and validating a real problem for users and from there come up with a 10x better solution than what users have today."
Finding a solution and being passionate about the problem you're solving is critical to persevering through the challenging journey that comes with being an entrepreneur. If you have any questions, reach out to david@cyberspaces.app, or find him on LinkedIn at http://linkedin.com/in/davidgoldbergr.