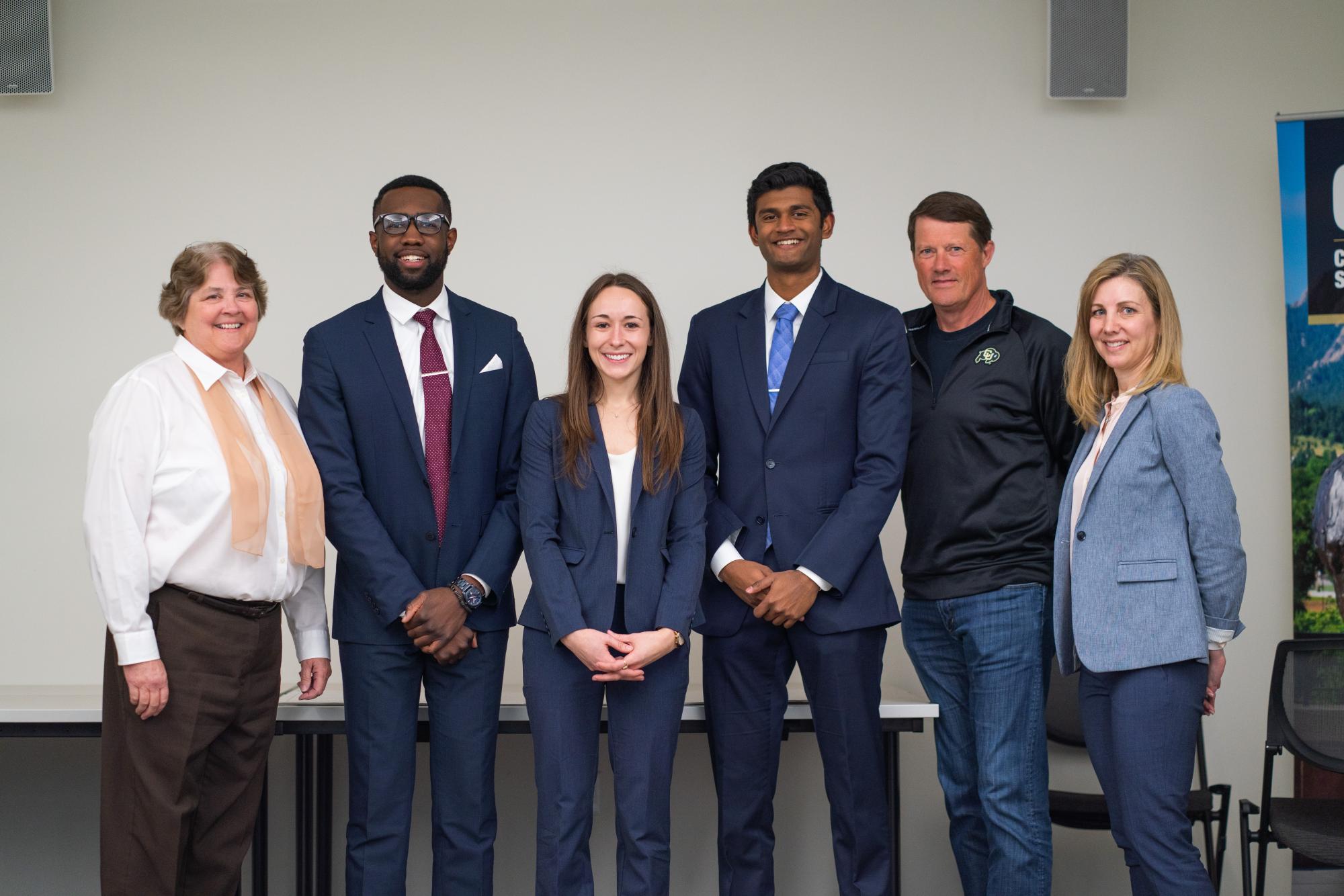 Case competitions like CESR's Business Ethics Case Competition (BECC), and pitch competitions like New Venture Challenge (NVC), are an important part of Leeds. They put your skills to the test, allow you to dive into a topic, and build your network. In addition, since many job interviews include some case analysis, competitions can help you be more prepared. 
If you have always wanted to participate in a competition or pitch slam but wondered how to get started - read on!
Creating your team
When creating your team, aim for diversity. This could include representation from various years or levels of experience, different majors, as well as gender and racial diversity. Being inclusive will strengthen your ability to analyze the problem in the case and can lead to greater creativity.
"Multiple elements of diversity set you up for success," says Eboni J.D. Freeman, an entrepreneur and BECC judge. "When you have different opinions on the team, and you have to work those out over your proposal, you have to come up with the best possible way of explaining your approach that makes sense to all teammates. That means it is likely to make sense to any judge as well regardless of their background." 
Don't have a team? Don't be discouraged! Competitions like BECC allow you to sign up individually.
Getting started
Be sure to talk with your teammates about roles and responsibilities, and set up a clear process. 
"Our team barely made it past the first round of BECC because we spent a lot of time analyzing and not enough time making sure our solutions were backed up with data and facts," says Michael Bortnowski (BSBA '22), a member of the 2020 BECC winning team. "In the second round we transformed how we worked and sought to learn from the feedback we received from the judges. We established cut off times for brainstorming, agreed on how much data we wanted to find, and set aside time to practice our pitch." 
Michael also recommends getting to know your teammates on a personal level so that there is good communication and trust for times when you need to critique one another's ideas. 
Research the competition
Understanding the competition is central to success. For instance, BECC is designed to challenge undergraduate students to apply their values to real-world ethical dilemmas. It is sponsored by Tim Borden, a pioneering force in the development of ethics within corporate governance. Structuring your approach to this competition with ethics at the center will create a stronger proposal with emotional appeal. 
"We tried to find the right data and numbers to make logical sense of the moral proposition that we were pitching and to make a strong business case for doing the right thing," says Michael. "It makes it a lot easier to convince others when your convictions are backed with logic." 
Telling your story
You will need to complete a slide deck and prepare a spoken presentation. It is much easier to deliver this in front of an audience if you have practiced.
Make sure to build your presentation around something you truly believe in. The judges will notice your authenticity.
Michael says his team was initially split on how to focus their solution. "After a couple of late nights we figured out how to start from the moral case and build the business case around that. We asked ourselves, if we were really working for this company, what would we want to do?"
Also remember to connect with and move your audience. Then back it up with research and data.
"What wins is a story!"
says Tara O'Brien, NVC Program Director.
"As humans we are moved by stories, it is how we make sense of things we do not understand. Once you have the story down however, now you need to prove that there is a need for what you're building."
Eboni adds that it is important to let each team member shine in their own way. 
"Do what you have a talent for," she says. "This is one benefit of the group case competition; not every person is the same. If you have a 'shark' and a 'flower' on the same team and each has taken the time to understand how they can speak to their point of view so that [judges] get that range, that is a winning team."
How to handle Q&A
Answering questions on the fly is a chance for you to demonstrate just how much depth lies behind your presentation, and to showcase the range of expertise on your team.
"Let the most appropriate or knowledgeable person on the topic answer the question," advises Tara. "To prepare for this you and your team should write down 30 questions you hope no one will ever ask you. Then practice answering these questions." 
The Final Round
In a case competition, if your team makes it to the final round, you will face an additional challenge often referred to as a "twist." Finalists have to address new information in the twist and adjust their presentation. 
Haley Porter (Accounting '19), previous BECC winner, advises teammates to learn each other's strengths during the preliminary round so that "when it comes time for the second round, the team already knows how to approach a case effectively and efficiently."
What is different about Zoom
Presenting on Zoom comes with some new technical challenges but the most important thing to remember is to keep your energy and engagement level high. 
"Think like a TV newscaster," Tara advises. "You must deliver your message into the abyss of the green light on your computer screen just as you would with 1,000 people sitting in front of you in an auditorium. First, have a great tech setup. Second, be excited. You're here to inspire people to believe in you."
Eboni sees opportunities in the Zoom environment for students who are prepared. She suggests anticipating questions you might get asked, and organizing supporting documents that can be shared on the spot. 
"We have a fantastic Colorado-based company called bitly," she says. "If you want to make a Google Sheet to share with the judges, give the link a clever name and send it to [us] via chat."
Final Reflections
Michael says that his BECC experience came up in a lot of job interviews and offered him many opportunities to talk about how he works and what he is passionate about. "Even more than just having done well in the event, BECC gave me a chance to talk about what I learned, and highlight my strengths," he says.
As a successful entrepreneur with experience pitching her company, Eboni believes that "even though public speaking is one of the top three fears globally, if you can let yourself be vulnerable and care about a topic, then be courageous about letting yourself talk about it. Anyone can learn to do it."
Links to upcoming events