As the school year begins for CU Boulder, CESR is excited to share our Fall 2020 program schedule. It is packed with events that support business careers which add value to the bottom line, to the planet, and to humanity. Two separate series, one for undergraduates called the Find Your Path series, and the other for graduate students titled Careers in Sustainability, give students the chance to gain vital industry knowledge from alumni and others working in impact jobs. MBA students who are interested in the natural and organic industry develop critical skills that employers are looking for in our Natural & Organic Bootcamp and Food Safety Workshop. All students are invited to attend our new Changemakers events and be inspired by local business leaders who are guiding their companies to "do well by doing good." These are just some of what we have planned.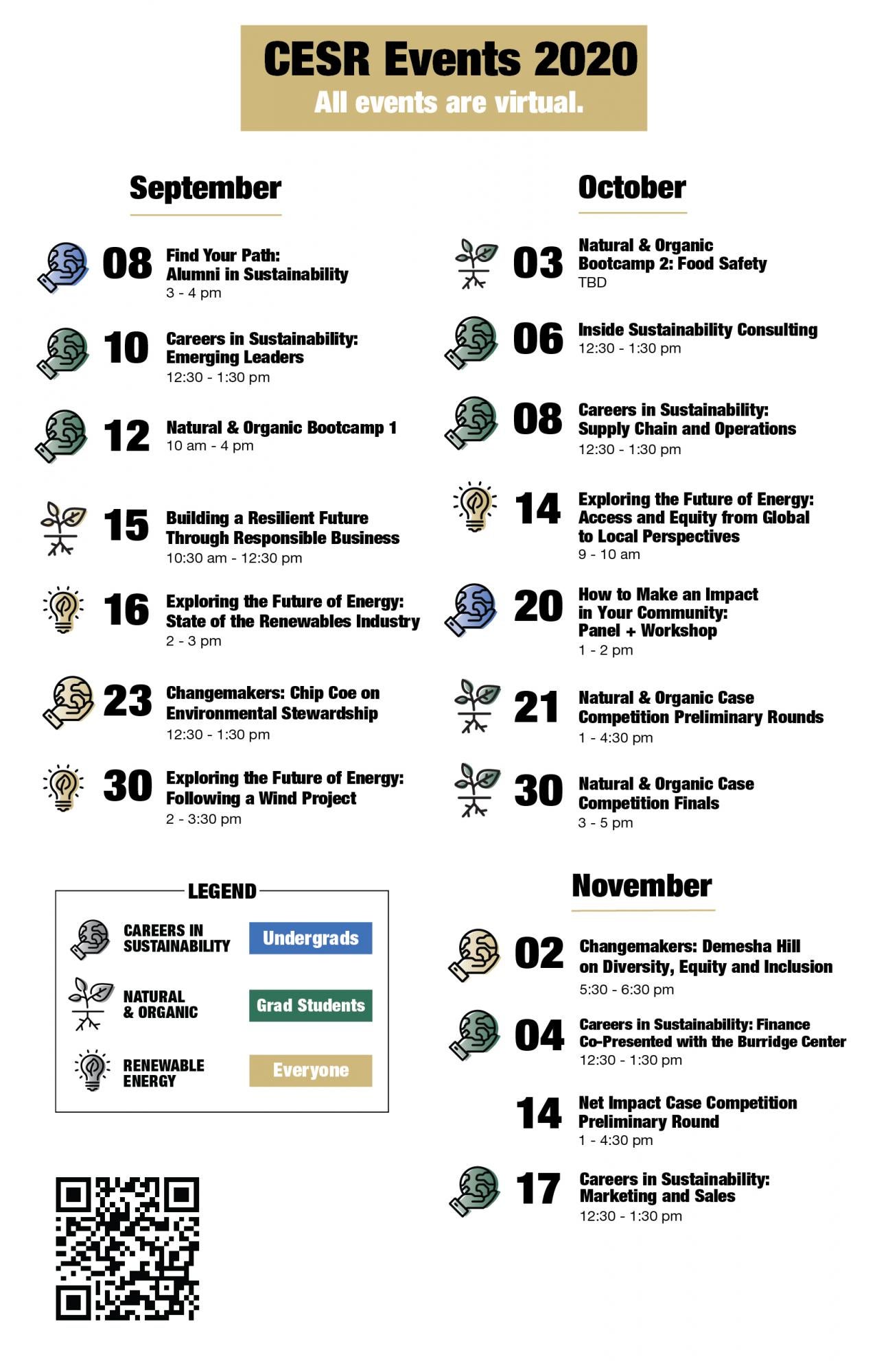 CESR speakers come from industries and job functions that showcase the wide variety of business careers where you can make a social impact. In addition, our fall programs will feature and amplify the diverse voices of business innovators and thought leaders whose work advances humanitarian and environmental priorities. 
With health and safety as a top priority, all events will be virtual.
CESR's New Rewards Program
All students who attend CESR events are automatically entered into our new rewards program.  As you attend additional events you will progress toward the next level status. Each time you reach a qualifying level we will send you a prize! Rewards have been designed in consultation with undergraduate and MBA students to support career development goals and promote CESR's mission of: "educating current and future values-driven leaders to engage and positively impact ethical, social, environmental and economic challenges."
Over the summer, we held an open call for entries to help name this rewards program. Now we need your help to choose the best name. Please vote for your favorite by August 30th. 
Natural & Organic MBA Pathway
The Natural & Organic MBA Pathway, launched in 2019, is a set of 15 suggested graduate level classes and complimentary co-curricular activities offered by CESR. Graduate students in the Pathway acquire targeted skills, knowledge and connections in the natural and organic industry and graduate ready to make an impact. Explore whether making a difference in the world through a career in the natural and organic industry is right for you through these fall events: Natural & Organic Industry Bootcamp, Food Safety Workshop and Natural & Organic Case Competition. 
Grace Dennis, 2nd year MBA Pathway student, and incoming Co-President of both the Net Impact and Organics + Naturals clubs, says that "The Natural and Organic Bootcamp was a great way for me to dive into the industry in the early weeks of my MBA program. The detailed industry overview and varied speakers allowed me to gain a better understanding of the industry as a whole and different options for career paths. The connections I made with speakers during the Bootcamp helped guide my career exploration during the first year of the MBA program and helped me ultimately land an internship. I can't recommend the bootcamp enough to any student interested in learning more about the Natural and Organic industry."
We encourage all students interested in the Natural & Organic Pathway to contact Justine Roberts and set up a time to meet.
New for Undergraduates
CESR and the Office of Diversity Affairs (ODA) are excited to present a new collaborative event called How to Make an Impact in Your Community: Panel + Workshop. Students will have the opportunity to learn from professionals who are making a difference in their communities and discover how they can make a positive impact by leveraging business skills. Developed with input from students who were asking for events that allow them to put what they learn in the classroom into action, this unique event will include time to work with panelists in small groups.
Community Programming
CESR programs are not just for students. This fall we are launching a new 3-part series in partnership with Schneider Electric and NREL titled "Exploring our Energy Future" which looks at the challenges and opportunities of renewable energy. These events are open to alumni and community members. 
CESR is also thrilled to be one of the founding members of the Changemakers Coalition of Colorado (CCC), a new cross-sector partnership of the State's foremost organizations working to support responsible and sustainable business in the front range. This September, the Changemakers Coalition is launching new programming focused on the activation of the responsible and sustainable business community. Our launch event is free but there are limited spaces available and we encourage you to register early.  
Learn more about our upcoming season and register for events on our website.