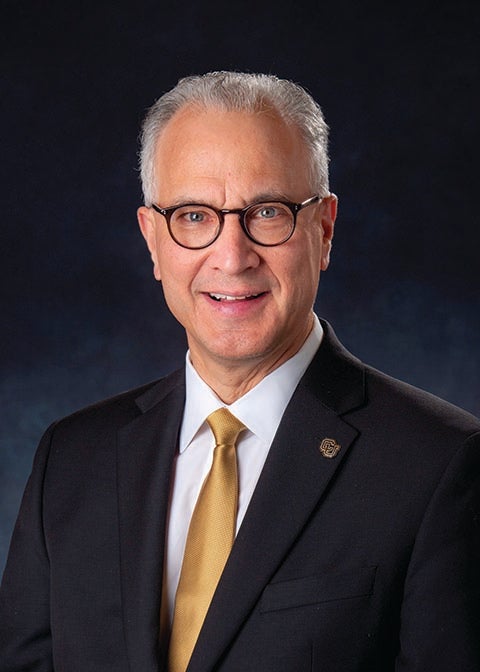 Mark Kennedy began his tenure as president of the University of Colorado's four-campus system on July 1. Leeds caught up with President Kennedy to discuss his first few months in office, his vision for CU Boulder and today's evolving business landscape.
1. How have the first few months as president of the University of Colorado been going so far?
My wife Debbie and I are highly appreciative of the warm welcome we have received at all four campuses, from CU alumni and Coloradans across the state. We live in downtown Denver and have traversed Colorado getting to know the many good things happening at CU, becoming actively engaged members of the community and exploring our newly adopted state. As I have begun my role as president with a period of intense listening and learning, I have become ever more impressed by the quality and impact of CU's teaching, discovery and service.
At the heart of any organization is its people. I found CU's professors, researchers and staff to be highly skilled and dedicated to advancing the mission of the university. I appreciate the collaborative approach of CU Boulder Chancellor Phil DiStefano and the leadership that Leeds Dean Sharon Matusik has shown, not just in elevating her school, but as co-chair of the system's Lean into the Future strategic plan. The many CU Boulder alumni and friends I am meeting are highly supportive and true partners in expanding the university's positive impact.
These first months have also been dedicated to getting to know the academic, business, civic and political leaders of Colorado. The people of this state, many of whom, like me, have come from other states, all seem to possess the same adventurous spirit dedicated to creating a better tomorrow.
2. What were some of the key takeaways you had from your recent travels around CU's four campuses and the state of Colorado?
The pride and respect Coloradans have for the university reflect the central role it plays in lifting up our state and our students. Having engaged literally thousands of Coloradans in the past two months, nearly everyone is proud to say they, their spouse, parents, grandparents, children and/or grandchildren are CU alumni or students. I have heard amazing stories of opportunities unlocked by a CU education and lives saved through our research and health care.
Of the over 4,000 universities in the nation, it is hard to imagine many campuses more ideally located than CU Boulder, offering an AAU quality education with breathtaking views of the Flatirons; CU Denver in the heart of a dynamic, growing city; CU Colorado Springs in view of Pike's Peak in an equally vital city; and the CU Anschutz Medical Campus nestled among three leading regional hospitals.
With CU ranking as the seventh largest public research university system, few universities offer better opportunities for students to learn from professors defining the future of their field. Few are more important to America preserving its innovative edge.
Having crisscrossed the state from Fort Morgan to Pueblo to Grand Junction and Durango, I have found a state as varied as it is beautiful. Debbie and I find Colorado to be a welcoming state, where natives and newcomers mix easily, where all embrace the exuberant pioneer spirit of the West.
3. In what ways would you like to see CU Boulder respond to the new technologies rapidly changing the workforce and higher education?
We are now in the Fourth Industrial Revolution fueled by a fusion of technologies that blur the lines between the physical, digital and biological spheres. It will fundamentally change how we live, work and relate. The velocity, scale and breadth of the transformation it is unleashing has no historical precedent as it unfolds at exponential speed, outpacing the ability of many individuals and organizations to adapt. Experts predict it could automate nearly half of today's jobs, forcing many to change careers. Yet even as the demand for college graduates will grow, changing demographics suggest that we will have fewer traditional college students.
The only real path to mitigating the rising sense of dissatisfaction and unfairness felt by many because of this technologically-driven upheaval is to extend the benefits of a college degree to a greater share of the population, and to provide the lifelong learning that keeps individuals current in their skills and understanding. CU is called to be more agile and to lean into this future for the benefit of its students, state and nation.
With most of today's students likely to work during their lifetime in jobs not yet invented, it is ever more important that CU Boulder cultivates students' critical thinking, teamworking skills and cultural awareness. Our curriculum must be flexible enough to facilitate more scientists and business leaders who have refined their artistic side and more humanities and social scientists with advanced analytical skills.
To meet the needs of nontraditional students and the lifelong learning needs that will be increasing essential to keep up with technological change, CU must expand its focus to include new forms of credentials and new ways of acknowledging the skills learners have gained throughout their lives.
We should seek every opportunity to embrace adaptive learning and augmented or virtual reality technologies to supplement classroom dialogue led by knowledgeable professors with digital offerings that know what learners already understand, what they struggle with, how they respond to different teaching methods and what incentives drive them to excel. Today's digital natives will increasingly rebel against being forced to learn at the same speed, in the same way, at the same place and at the same time, viewing such an approach as less personalized, lower quality and higher cost.
A deliberate focus on rapid evaluation cycles for new pedagogical methods and credentials holds the promise of setting CU apart from its peers.
4. Can you share a story you've seen on how the university makes a meaningful impact on the community?
Perhaps few universities have had a greater impact on their state and the nation. CU graduates brighten their own future and that of their families, but they also provide the talent necessary to propel an increasingly high-tech economy forward. CU research and innovation centers spawn discoveries that improve our quality of life, while adding new enterprises to the state's economy. Our service not only gives the communities we serve exciting teams to cheer for and enthralling artistic programs to experience, but a quality of health care unmatched in our region.
Just a couple of examples I have learned about. A son of one of the founding brothers of Ball Corp. partnered with CU Boulder physicists to found Ball Aerospace. Fueled by talent from CU graduates, it has become a significant player in not only the Colorado economy but in advancing the nation's space and security efforts. A second example: Leeds' entrepreneurship series has brought innovative business education to rural commumnities around the state. Over 300 people have participated—catalyzing small businesses and scale ups in Colorado's small towns. LASP and CU Boulder's engineering college are helping us better understand our universe as CIRES helps us better understand the state of our planet. I have heard from more than one grateful patient of how BioFrontiers has made possible their recovery. The Marcus Institute for Brain Health at CU Anschutz is delivering amazing care to veterans suffering from traumatic brain injuries and post-traumatic stress. CU Denver's Assistive Technology Partners program is highly innovative in creating and adapting technology for people with disabilities. Colorado Springs' Ent Center for the Arts enlivens the culture of its community.
5. What do you think are the most important skills we need to help students develop in preparation for the evolving business landscape and jobs that may not yet exist?
Two things are likely to dominate the business landscape in the decades ahead—technological disruption that upends the status quo of every industry and a rising separation between those benefiting from the advance of technology and those feeling left behind. The most essential skills for business leaders will be nurturing a culture of continuous innovation and navigating, hopefully mitigating, the social angst driven by economic disruption.
Those students keeping current who can best apply Fourth Industrial Revolution technologies such as 3D printing, 5G communications, artificial intelligence, biotech, cybersecurity, internet of things, quantum computing and robotics will be in high demand.
Every form of organized human activity will see these new technologies being applied by agile, innovative organizations, improving the quality, speed and price at which value is delivered. Nimble newcomers and incumbents will be elevated while historical leaders resistant to change will fade. Leeds graduates should pick their employers carefully.
I interned at Eastman Kodak during the summer of 1982, but rightly judged them not to be poised for innovation, despite it being a professed central plank in their culture. They were then ranked 28th on the Fortune 500, but today do not make the list. IBM was then ranked 8th, but last year was ranked 38th. It did not innovate fast enough to keep up. Its first innovation from mainframe computers to personal computers was a tentative step, one they eventually spun off. Had they jumped immediately into software and services, they may be more substantive today. While AT&T jumped from 22nd in 1982 to 9th last year, it was not because of change they chose to do. It was because the Justice Department, Supreme Court and Congress forced them to change.
In addition to keeping up with technology, tomorrow's business leaders will need to be increasingly skilled at engaging the political, regulatory, media and activist actors that have little stake in the success of a business, but significant ability to shape the risks and opportunities it faces. These actors that I defined as shapeholders have been the focus of my research and teaching in business schools, not just in this country by around the world—Cambridge, London Business School, HEC Paris, National University of Singapore, Tec de Monterrey to name a few. My book Shapeholders, Business Success in the Age of Activism from Columbia Business School Publishing outlines seven steps for shapeholder success. I am convinced that effectively engaging shapeholders will increasingly be an essential skill for business leaders.
6. What are one or two pieces of advice/best practices that have stuck with you throughout your career?
My best advice is to cultivate a 360-degree view. Always strive to gain an ever-broader view. See life as filling in a million-piece puzzle. Each new encounter offers an opportunity to add another puzzle piece. Applied to charting your career path, this entails pursuing your highest goals, what you want your grandchildren to remember about you; having 360-degree vision will allow you see multiple paths to achieving these high goals; and 360-degree animation by developing a broad range of skills and tapping your passion to persevere.
My path to pursuing a 360-degree view was sparked during the last class period of my final semester at the University of Michigan when Professor Ray Reilly gave us two pieces of advice – become multifunctional and multinational.
Multifunctional. While the easiest and quickest way to advance within your career is to climb a functional ladder, once you rise several rungs you might find that getting the more diverse experience necessary to become a general manager is more difficult because you are viewed as a specialist – and your higher salary level becomes an impediment to cross functional assignments. The best time to get broad experience is early in your career, even though you take lateral moves and sacrifice early salary increases.
Just one example. When I graduated with my MBA from the University of Michigan, I turned down the higher paying offer to join General Motors and a similar offer from Eli Lilly in part because they were in finance roles where I already had experience. I instead took an acquisitions analyst role with The Pillsbury Co. (now part of General Mills). The unique Pillsbury experience, including being on the team that bought Häagen-Dazs, led me to be assigned as Pillsbury's first manager of international finance to help facilitate the global expansion of Häagen-Dazs and other brands. These distinctive proficiencies were an early propellant for further advancement. At nearly every stage of my varied career, I have found passing up higher salary options to gain broader experience has proved to be a wise decision. I recommend this path to Leeds graduates.
Multinational. Few roles for Leeds graduates will involve purely domestic operations that are immune to international influences. Despite today's dangerous dalliances with protectionism, global considerations are likely to become even more important in the future. I was surprised during my course on international finance at Michigan that the professor was teaching the course assuming we were actually going to use the lessons he taught, not believing I ever would. Two years later I was leading efforts to hedge Pillsbury's international investments by being the second American-issuer of Euro-Deutschmark bonds, and to fund international expansion by organizing a multi-currency credit line with seven international banks. Not only my coursework, but my study abroad, gave me insights that made me Pillsbury's choice for this role. The early international experience I gained proved invaluable. I encourage all Leeds students to study abroad and cultivate a global perspective