Last fall the Center for Education on Social Responsibility (CESR) said goodbye and thank you to an outstanding advisory board member who dedicated herself to the growth of CESR and its students.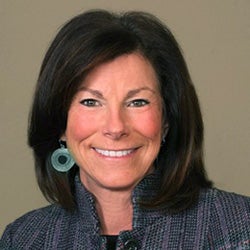 Dee Perry
It's inspiring to see how impactful Dee Perry's tenure on CESR's board has been over the past six years, both as a member and also as chair for five of those years. Dee's efforts on behalf of the Center shaped many of the core structures upon which the Advisory Board continues to operate.
As an executive coach, Dee served as a hands-on mentor in CESR's Leadership Challenges: Exercises in Moral Courage course, where she drew upon her own corporate experience to help students learn about applying positive business values and ethics.
"As the executive coach for Leadership Challenges, Dee has helped teach, mentor and motivate some of the best and brightest Leeds students…they often comment on Dee's energy and enthusiasm in the classroom and her commitment to helping them succeed,"
Kevin McMahon, former CESR Instructor
Her dedication to students extends beyond CESR to the Leeds student body, as she encouraged students' professional development as a mentor in Leeds' Professional Mentorship Program for eight years.
Last summer she accompanied former CESR Instructor Kevin McMahon with 25 students to Tokyo through the Leeds First-Year Global Experience program. As an executive coach, Dee helped students learn first-hand how culture plays an important role in the way Japanese business works. 
Even though she's technically retired from the board, Dee is working on a special project for the board, focused on the student experience of diversity at Leeds.
A corporate career
With an MBA and MS in accounting from CU Boulder, Dee's career includes 26 years in the corporate arena including sales and marketing for Kraft Foods, public accounting with Arthur Young, a controller for Celestial Seasonings, and controller and chief financial officer for McData Corporation, a high technology company producing high speed switches for storage networking.
After a robust career in finance, she retired from the corporate world in 2001 to dedicate herself full-time to volunteering and serving the causes she's most passionate about.
Professional and personal passions
In 2013 Dee was honored by the Community Foundation of Boulder County with the Stan Black Award, which honors individuals who have given a lifetime of "time, treasure and talent" to the community. Passionate about education and health services, Dee has given generously of her time and expertise to support local organizations committed to these critically important issues. Through her involvement with the Milagros Scholarship Fund, the I Have a Dream Foundation and the Citizens' Bond Oversight Committee for the Boulder Valley School District, Dee has worked to make Boulder County a better place for students to live, learn and pursue their dreams.
In 2012 Dee was recognized with the Distinguished Alumni and Service Award at the Leeds School of Business, an honor bestowed upon those who have distinguished themselves with outstanding professional and personal achievements and have loyally dedicated their time and service to the business school.
Dee continues to sit on a variety of community governance boards including the Boulder Community Hospital Foundation and TRU Community Care, as well as the Boulder Community Hospital's Board of Directors.
Meet other dedicated members of CESR's three boards composed of executives, alumni and faculty.