First-Class First Year: Leeds Relaunches its Freshman Experience to Ease College Transition
You are here
Reimagined features from successful residential program help students feel more at home, more quickly.
---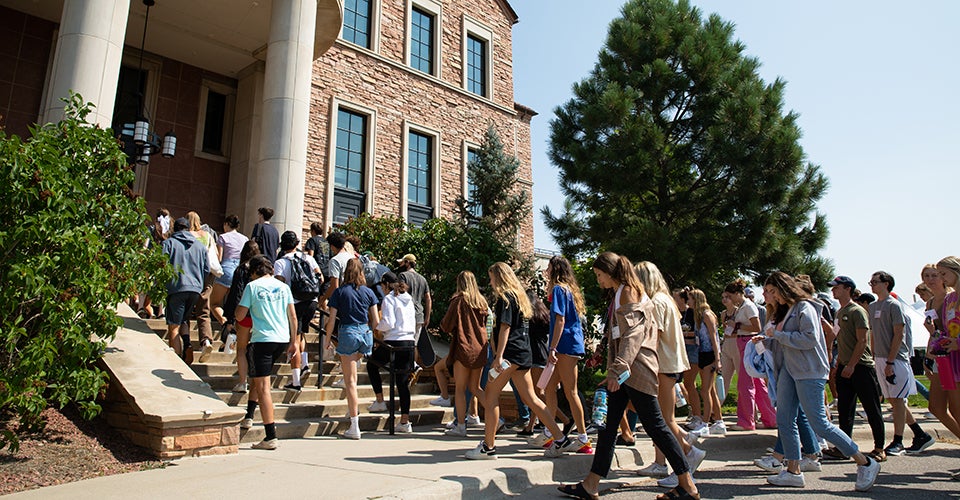 Maeve Reilly was more confident than most first-year students when she first arrived on campus, having already lived in different states and with her family close by. 
Still, it was a somewhat anxious experience.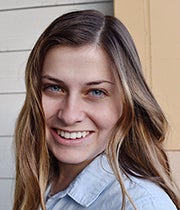 "I was nervous about things like sharing a room and meeting people," said Reilly, a senior who's studying marketing at the Leeds School of Business. 
That's a reason she entered into the school's Residential Academic Program, which offers students special events and programming, individualized advising and mentoring, and professional development and networking opportunities. She also took classes as part of a cohort of students, forming tighter bonds with peers in the classroom and residence hall.
When Leeds staff looked at the freshmen who joined the RAP, they found, generally, a group of students who acclimated faster, were more involved on campus and did better academically. 
So starting this fall, most of the RAP experience is now being extended to all students, whether or not they choose a residential component.
"We know how incredibly rewarding the college experience is for students," said Andrea Straccia, director of the new First-Year Experience at Leeds. "By giving every Leeds student access to these opportunities, we're giving them a head start in acclimating to their new home, developing lifelong friendships and getting the most out of their college experience."
All first-year students at Leeds will now have access to the following opportunities: 
Cohort-style classes. Seeing the same faces in each class helps first-year students cement relationships with peers and makes them more confident—in the classroom and outside. "It eases your nerves, so you're able to engage more, be yourself and meet people," Reilly said.
Exclusive speaker series. The First-Year Experience invites experts in entrepreneurship, global business and career development to special speaking events, helping fast-track student development.
Personalized support. To ease the transition to college life, students get one-on-one support from dedicated advisors. Those advisors serve as a resource for students throughout their Leeds experience, Straccia said.
Boulder Bucket List. Because the University of Colorado and the city of Boulder are so tightly integrated, part of the First-Year Experience emphasizes helping students feel comfortable beyond the campus. 
The Leeds RAP will continue as an opt-in program, Straccia said, retaining the residential features it is known for, including living with fellow business students in Cheyenne Arapaho Hall. Other options exclusive to first-year students include a short study-abroad trip through the First-Year Global Experience and the Peer2Peer Mentoring program.
It's all part of making what can be an intimidating experience a much more welcoming one, said Casey Rosser, a Leeds academic advisor. 
"The First-Year Experience makes this big university seem smaller by facilitating relationships among peers and offering personalized support at every step of the journey," she said.