Students, faculty and community members made up the sold out crowd at the 7th annual Conscious Capitalism Conference on food security. Hosted by the Center for Education on Social Responsibility (CESR), the event featured a variety of panels and talks, with Kimbal Musk, co-founder of The Kitchen, headlining as keynote speaker.                                     
The morning sessions were kicked off with a vision from Mark Retzloff, chairman of the board at Natural Habitats Group, Alfalfa's Market, and followed by a talk on how to design a flourishing food system for an uncertain future from Dr. Fred Kirschenmann, distinguished fellow at Leopold Center of Sustainable Agriculture and professor at Iowa State University. Before lunch, Dr. Pete Newton, associate professor in environmental studies and coordinator for sustainable food systems specializations at CU Boulder, facilitated the morning panel on sustainable food systems featuring panelists, Dr. Hussein Amery, director at the Division of Liberal Arts & International Studies at Colorado School of Mines, Dr. Thomas Dean, professor of entrepreneurship and sustainable enterprise in the Department of Management at Colorado State University and Dr. Cullen Hendrix, associate professor Sié Chéou-Kang Center for International Security and Diplomacy, Josef Korbel School of International Studies at the University of Denver.
Kimbal Musk's influence on a new generation of farmers
Musk's lunch keynote was centered on scaling real food systems through urban farming and learning gardens. He suggested that to have real food there needs to be "trust." For Musk's restaurants that supply farm-to-table meals to customers, the focus is on connecting with the community in comparison to chain restaurants serving industrial food where everyone in the supply chain is treated as a commodity.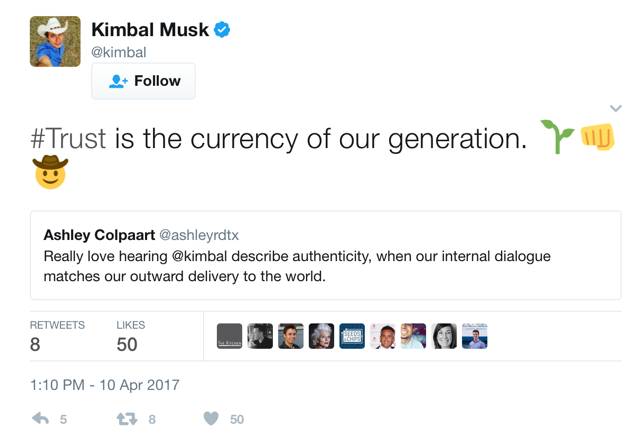 Musk also talked about his recent business venture, Square Roots, a new take on urban farming where the farms are created in shipping containers located in Brooklyn, New York City. Through this program, Musk hopes he can train a new generation of farmers and create more accessible fresh produce to cities. He also works with younger generations to do the same, through The Kitchen Community's Learning Gardens. These gardens are built to promote and encourage hands-on learning experiences, with each garden specifically tailored to the area they are in.
"We help kids dig into their education, thrive with real, nutritious foods and healthy habits, and become active participants in strengthening their communities." - The Kitchen Community Learning Gardens
A student's perspective & takeaway
Susan Morrell, a University of Colorado Boulder junior majoring in ecology and evolutionary biology, attended the conference because of her personal interest in food security. Morrell shared that the highlight of the day, for her, was Dorceta Taylor's talk on food deserts, obesity and Detroit's food system. Taylor spoke about the obstacles many low-income families face when trying to get the food they need, and how they overcome these obstacles (i.e. through community cooking or urban agriculture).
Morrell said, "Dr. Taylor pointed out the flaws behind food desert studies, and  changed the way I think about food access in cities."
After Taylor's special presentation, Dr. Damien Thompson, associate professor at Regis University, facilitated a panel on food justice. The afternoon panel featured panelists Dr. Jody Beck, assistant professor in the School of Landscape Architecture at CU Denver, Ashley Colpaart, co-founder and CEO at The Food Corridor, and Dr. Nanna Meyer from CU Colorado Springs. Dr. Mark Meaney, executive director of the Center for Education on Social Responsibility (CESR), ended the day's conference with a final synthesis. 
"As a listener to these experts, my biggest take-away was forming the opinion that there was insufficient communication between groups that are working to solve similar problems. I believe that if experts collaborated further, innovative solutions that cross environmental, social, political, and entrepreneurial realms could be generated. The biggest question is, how do we facilitate this communication?" said Morrell.
CESR would like the thank everyone who attended and participated in this year's Conscious Capitalism Conference!