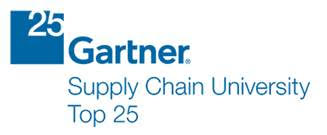 Gartner, the world's leading information technology research and advisory company, released its biennial list of the top 25 North American Supply Chain University Programs. The Leeds School of Business MS Supply Chain Program ranked at 22 and was also highlighted for its diverse, balanced program.
In recent years, demand for professionals with supply chain credentials has sky rocketed.  According to Fortune Magazine, the logistics industry comprised 8.5% of GDP in 2014 and there is a need for 1.4 million additional supply chain workers by 2018. The Leeds MS Supply Chain Management program meets the industry's needs for highly trained specialists who are adept at creating actionable business solutions in a global environment. With a 91% placement rate in 2015 for those who were work eligible in the United States, Leeds graduates are poised to excel today's face-paced global business world and can look forward to career longevity given the field's universally anticipated growth.
The Leeds MS Supply Chain Management program is a 12-month program that starts in May each year and combines operational strategy and tactics with the business analytics of global supply chains. Program faculty have experience in both academic and industry settings to deliver the best of theory with real-world application.
According to Gregg Macaluso, Faculty Director of the Leeds Business Analytics and Supply Chain Management program, business partners are a key component of the program's success. The Master's Program has partnered with over 30 companies, representing a mix of both large, multinational companies and local Boulder businesses.
As part of the program, students complete a hands-on, supervised supply chain project with guidance from both faculty and an industry representative. This partnership gives students an authentic, diverse experience with business leaders across multiple industries. "The MS Supply Chain was designed to prepare our graduates for a professional position where they perform at a level 3-5 years ahead of their actual experience," remarked Macaluso.
The curriculum includes core courses in supply chain strategy, data analytics, data architectures, planning and production, procurement and contracting, transportation and logistics, international operations, supply chain and operations analytics, as well as project management. The program's demanding coursework maximizes market value for Leeds graduates who are prepared to hit the ground running with a rare blend of skills demanded by employers.
Learn more at http://www.colorado.edu/business/ms-programs/masters-program-supply-chain-management
1Fisher, A. (2014, May). Wanted: 1.4 Million New Supply Chain Workers by 2018. Fortune Magazine. Retrieved from http://fortune.com/2014/05/01/wanted-1-4-million-new-supply-chain-workers-by-2018/