Katie LoNigro - Operations & Information Management '17 - Incoming MSPH Candidate at Johns Hopkins University
You are here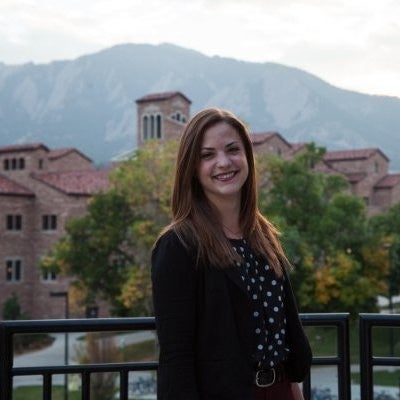 Since graduating from the Leeds School of Business in 2017, Katie LoNigro has launched a career in healthcare consulting and management. Soon, she'll be pursuing a Master of Public Health at Johns Hopkins University, a U.S. News Top 10 institution in Baltimore, Md. 
Her experience at Leeds-- as a busy student who worked part-time, was part of several student organizations, and found the time to study abroad-- was fundamental in providing Katie with the skills and knowledge to launch a career focused on positive societal impact. 
--
Katie was a member of the Leeds Scholars Program, a leadership development program for high-achieving business undergraduates. 
"Leeds Scholars set me ahead and impacted me in so many ways," Katie said. What stood out most to Katie about her experience in the Scholars program was the sense of community and collaboration.
"People would constantly ask 'are you interested in this?', 'do you want to try this with me?'," she said. "And that set me up to feel very comfortable in the work environment, to feel comfortable reaching out to people and expand what I'm doing."
One way Katie expanded her opportunities as an undergraduate was through global study. She traveled abroad through Leeds programs on four separate occasions. It was during her junior year studying abroad in Italy that Katie first started to think about health care as a potential career path. 
"I was having this conversation with friends from the Netherlands, and realized health care was pretty messed up in this country," Katie said. She decided she could leverage her business degree to do something about it. 
When she returned from the semester abroad, Katie applied for an internship with DaVita-- a position she first heard about through her job in the Leeds Office of Career Strategy. She spent the summer between her junior and senior years as a Redwoods Summer Analyst with the healthcare giant. She was offered a full-time role with the company in Los Angeles upon graduation. 
Working at DaVita "gave me a good foundation in health care," said Katie. As an analyst on the Patient Experience and Retention team, she focused on improving the primary care experience of patients receiving Medicare, working alongside other Leeds alumni.  
In 2019, Katie transitioned over to the USC Student Health Center, a part of Keck Medicine, as a project manager. She also taught an after school program for fifth graders in the Watts community of south central Los Angeles with a local nonprofit organization called True Connection. Katie describes working two jobs as hectic, but that she was able to balance it out thanks to the time management skills she developed as a student in Leeds. 
--
When Covid hit, Katie relied on other skills she learned at Leeds, especially how to design and execute new projects. She was tasked with developing the contact tracing program for all students and employees of USC's Keck School of Medicine. The pandemic also helped Katie hone in on her career goals: improving access to healthcare. 
"Whether it be improving physical access to health facilities in rural areas [...] or improving economic access to health care," she said. 
"A lot of people see this tangled mess of health care in this country," said Katie, "like a knotted ball of string."
Katie sees many people and institutions stop short of trying to sort the whole thing out, chalking it up to being too complex of a project, too messy to tackle. But not Katie. From learning about different perspectives, how to work on a team, and balance her time, Katie sees this as her life calling.
"If I can untangle even one string… that's worth it."