Elevating the relationship between tenure-track and non-track faculty.
Over the past few decades, academic tenure in North America has experienced a significant shift. Across the United States in particular, post-secondary institutions are employing non-tenure-track faculty in greater numbers than ever before. Depending on the particular institution, these faculty may be on full time, multi-year contracts or paid per course and this category may include instructors, adjuncts, postdocs, TAs, clinical faculty, part-timers or lecturers.
According to data from the American Association of University Professors (AAUP), nearly three-quarters of faculty at U.S. post-secondary institutions today are non-tenure track. Reasons for the increase in the non-tenure-track faculty across institutions can be linked to budget shortfalls, statewide politics, last-minute increases in enrollments, inability to garner approval for new tenure-track positions and departmental changes in hiring practices.
Consequently, the classification comes with consequences.
Though all non-tenure-track and tenure-track faculty teach, the two groups' roles and responsibilities can be quite different. This can cause tensions at some institutions. Some potential reasons, according to the executive summary of "Non-Tenure-Track Faculty in Higher Education: Theories and Tensions," point to the fact that hiring, reappointment, compensation, benefits, work responsibilities, governance, and promotion of non-tenure-track faculty are often left out of and inconsistently carried out in many institutions' overall faculty plans. These disparities can create challenges in a school's culture; for example, it's not uncommon to hear non-tenure-track faculty express that they feel like "second class citizens" in comparison to tenure-track faculty.
How can we bridge the divide?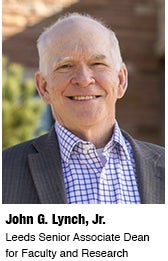 Roughly 60% of the classes at the Leeds School of Business at the University of Colorado Boulder are taught by non-tenure-track faculty, and they are absolutely integral to everything the business school is doing. Leeds Senior Associate Dean for Faculty and Research John G. Lynch, Jr. works to ensure both tenure-track and non-tenure-track faculty are able to succeed in their respective roles. Central to his position is the facilitation of conversations among faculty, helping them to understand what's happening more broadly at Leeds, e.g. program delivery and school-wide initiatives, and encouraging collaboration and inclusion.
Lynch shares his perspective on cultural challenges and offers solutions for navigating these internal issues.
How do you approach the relationship across different kinds of faculty?
JL: Most important, we believe the key to a good faculty culture is fostering mutual respect.
Respect is a glue for faculty, and any perceived disrespect is corrosive. Leeds has some outstanding faculty in both the tenure-track and non-tenure-track ranks, and we believe they both have unique and relevant expertise, which they can share with and learn from each other.  In addition, Leeds recognizes true teaching accomplishment just as we do outstanding research accomplishment, and we reinforce a shared sense of purpose and identity as one faculty team.
Here are a couple of examples: 
One division started a summer teaching workshop series that drew tenure-track faculty, non-tenure-track faculty and doctoral student participants. Folks in that group took turns leading discussion on shared concerns in teaching and improving our craft. 
A second example is two of our most accomplished non-tenure-track faculty approached the dean with a suggestion to host a distinguished speaker series featuring leading researchers who study the science of effective teaching. [Leeds'] Dean Matusik instantly said, "What a great idea," and it has proved to be that. Everyone on the faculty appreciates the leadership and initiative of these two colleagues in creating this new "Teaching Excellence" speaker series.
We've found these events have been well attended by both tenure-track and non-tenure-track faculty and have significantly improved our teaching.
How can business schools create a respectful climate among their faculty?
JL: Everyone has to understand what others are bringing to the party. The non-tenure-track faculty must understand why the tenure-track faculty's research is critical to advancing our understanding of emerging problems in business, how it benefits society, and to a lesser extent, how their research influences the institution's programmatic rankings.
On the other hand, the tenure-track faculty need to understand how important the teaching and contributions of the non-tenure-track faculty are to the school's success. Some of our full-time non-tenure-track faculty have had distinguished business careers and have insights that should inform our research and what we teach in the classroom.
What's more, in many institutions leadership roles go almost entirely to tenure-track faculty. Dean Matusik has tried to find ways we can offer full-time non-tenure-track faculty opportunities not just to teach but to play important leadership roles, for example as a faculty director of a program, associate division chair, or the head of a critical school committee. We also include both tenure-track and non-tenure-track faculty in the co-leadership of many school initiatives that draw upon an individual's particular area of expertise—from academia and industry alike. That is an area in which we've seen non-tenure-track faculty excel.
Business schools may want to consider asking for more leadership from their non-tenure-track faculty. 
Bottom line: Deans should work to ensure all faculty appreciate the importance of the work done by both non-tenure-track and tenure-track faculty, while also providing opportunities for every single person to show leadership of something they really care about—and see it taken seriously.