Trending Up: The Challenge Posed by Low Graduation Rates and U.S. Universities' Innovative Responses to Raise Them
You are here
As many of us would agree, four years is often the generally accepted amount of time we associate with college. Families and students start thinking about and saving for a college education, and yet more often than not, those who persist through graduation take upwards of six to eight years. According to the National Student Clearinghouse Research Center, just 58 percent of students who started a 4-year degree in the fall of 2012 had earned that degree by the 6-year mark.
However, those additional years add up to real costs, in both time and money, for college students and their families. Low 4-year graduation rates also present a complex issue for universities to address, as this is an important factor that prospective students and parents consider when deciding which colleges to apply to and attend. This issue may be especially salient at public universities where state legislatures are increasingly concerned about affordability and escalating student debt. Graduation rates can also impact state funding for some public universities because of performance-based funding systems.
Turning the tides
According to the Public Policy Institute of California, the higher the graduation rates, the more ROI the state sees from its contributions to higher education and financial aid. Now on their second initiative to raise graduation rates in the last 10 years, the California State University (CSU) system has made strides across its campuses but still has much more work to be done. In 2018, 4-year graduation rates still varied widely across the system, ranging from 9.5 percent at Cal State Los Angeles to 52.5 percent at Cal Poly San Luis Obispo. 
The CSU system's latest 2025 Graduation Initiative will build on their 2015 campaign to raise 4-year graduation rates. According to Jeff Gold, the CSU assistant vice chancellor for student success, their goals are based on student bodies' socio-economic profiles and comparisons to similar institutions nationwide. Appropriately, CSU's strategies highlight student engagement and inclusion in campus culture, and they are employing high-impact practices such as first-year seminars and learning communities, summer bridge programs, peer mentoring, and increased student services like advising and counseling.
Individualizing approaches for success
The Leeds School of Business at the University of Colorado Boulder was facing a dilemma posed by its own 55 percent 4-year graduation rate in 2011. The school tackled the problem head-on with a four-part strategic solution: changes to advising; curriculum updates; better employing technology; and one-on-one, personalized outreach. The result: Leeds raised its 4-year graduation rate by more than 15 percent in three years—up to 71 percent for first-year, full-time students in 2018—the highest on CU Boulder's campus. The one-on-one outreach was a critical component of this success, particularly because some students did not have the awareness that they were veering off-course.
The University of Texas at Austin shares a similar story. UT's Class of 2018 marked the highest 4-year graduation rate yet at 69.8 percent, after a goal was set in 2012 to focus on increasing graduation rates from 52 to 70 percent. Their process: launch new programs aimed at student success and use fresh approaches to analyze student data. Timely graduation has opened up space for more incoming freshmen as well. The University of South Florida tackled a low graduation rate from several angles, including academic aptitude requirements for freshmen and sophomores, increased interactions promoted between students and faculty members, and increased counseling services to serve growing mental health needs.
A new era of technology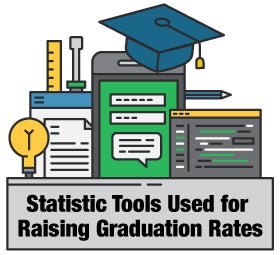 Until recently outreach and interventions with students for schools has been largely manual and time-intensive. The Leeds School has customized and optimized Salesforce for tracking varied student data and setting up key milestones and alerts when a student is getting off track. Leeds is currently moving toward a decentralized approach that empowers advisors to utilize the advanced functionality of Salesforce, so they can maximize their time in monitoring and connecting with their students. Arizona State University Tempe also uses an in-house program to monitor students called eAdvisor that automatically sets up appointments with advisors when triggered that a student is struggling.
Statistical tools are being used at a number of schools to raise their graduation rates. Georgia State University has had particular success employing predictive analytics designed to figure out which students are ready for college and how to ensure they graduate. The software provides academic advisors with tools to identify students at "risk" of, for example, underperforming in a class, and they can track all interactions with the hundreds of students they advise in a comprehensive dashboard. In 2018, Georgia State's 6-year graduation rate was 55 percent, up from 7 percent before they initiated the program in 2011. 
The University of Maryland system is also using analytics to generate a "pathway" from freshman year to graduation, which is translated to a personalized plan for each student. Some schools within Maryland's system also contract with independent analytics companies to track student success and identify factors that might impede students from degree completion.
Coming together for a common goal
A more recent trend is rising among universities trying to raise graduation rates: collaboration. More than 100 research universities in the Association of Public and Land-Grant Universities formed a coalition that aims to improve graduation rates by hundreds of thousands by 2025. Participating schools will work in groups to develop high-impact practices and share key data amongst themselves, ultimately creating a toolkit for other institutions of all types. The groups will "work collaboratively to drive agreed-upon degree completion and student success efforts on campus," according to the APLU's initiative timeline, such as adaptive courseware and proactive advising.
A similar collective approach to increasing student success was employed by the University Innovation Alliance. Formed in 2014, this group of 11 public research universities from across the U.S. teamed up in an entrepreneurial effort to share data and resources to increase the number and diversity of graduates at their respective schools. Their projects include using adaptive-learning techniques, predictive analytics, pre-college student outreach and targeted support for students, aimed to graduate 68,000 more students by 2025.
---
Every additional semester it takes to graduate increases the cost of a degree and holds students back from the earning potential they would have in the marketplace. And in a time when the increasingly high cost of college is negatively affecting the public's confidence in higher education, an increase in 4-year graduation rates is a positive step toward regaining trust in the system. More importantly, it serves as evidence that universities are working for their students' success. "Good enough is never good enough," said Kelli Stevens, director of Undergraduate Affairs at Leeds. "There is always more we can do to launch these students into their next phase of life with momentum and success." And as demonstrated by the scope and variety of efforts put forth by these universities, students' persistence to graduation is everyone's overarching goal.