In the past year, three out of five college students felt "overwhelming anxiety," and two out of five students were "too depressed to function," according to a recent survey by the American College Health Association. It is clear that for some of our country's 21 million college students, the pressures of school, finances, social relationships and planning for the future present serious challenges to their emotional health and well-being.
At the University of Colorado Boulder, Chancellor Philip DeStefano recently voiced concern over the state of student mental health: "Demand for mental health services on college campuses is on the rise, including at CU Boulder. Since 2013, we have seen a 40 percent increase in demand for counseling services, which is in line with campuses nationwide…We cannot stand by and let this happen."
As higher education institutions rethink their support mechanisms for students with mental health concerns, innovative initiatives are being implemented, including four stand-out approaches:
1. Use technology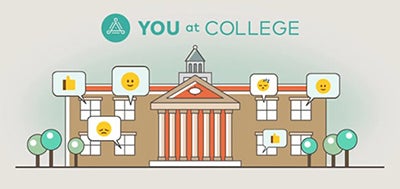 Colorado State University helped develop an app to reach students who are reluctant to seek help. YOU at College gives students information on how to recognize mental health problems and access resources on campus. The app isn't presented as a mental health tool; instead, the emphasis is on academic success and well-being, with mental health as one component of the whole.
For example, a student may not visit the platform thinking they have a mental health issue, but when they search for advice on how to get better sleep, they will find information about stress and anxiety and be directed to resources on campus that can help. Since its successful launch at Colorado State, 20 other universities have launched the app, with high usage rates and positive results.
2. Tap into student enterprises
Student leaders nationwide are taking mental health awareness into their own hands by creating programs that fill the gaps in traditional mental health support on campus.
Chloe Camp at Emory University is president of Emory Dark Arts, an advocacy group committed to destigmatizing mental illness through art, performance and personal stories. In directing its signature Mental Health and Well-Being art showcases, she hopes to eradicate stigma at a cultural level and shed light on mental health issues. 
At the University of California Los Angeles, sophomore student Cat Wang is developing a mental health chatbot for students: a holistic platform that consolidates on-campus mental health resources, offers basic conversational counseling and provides emergency contact numbers for mental health crises. 
Olivia Lubarsky of Towson University founded the #OwnYourRoar campaign to unite mental health and athletics, with the goal to increase mental health awareness, prevent suicide and normalize mental illness. As president of the Student-Athlete Advisory Committee, she aims to increase mental wellness resources within athletics departments and for students across campus.
3. Integrate it into the curriculum
Leeds School of Business at the University of Colorado Boulder is leveraging its research in workplace mental wellness to infuse mental health into the core business curriculum. Working closely with the National Mental Health Innovation Center (NMHIC) at the University of Colorado's Anschutz Medical Campus, Leeds teaches business students, from freshmen to MBAs, how to recognize and manage mental health problems in themselves and in the workplace.
They acquire a theoretical understanding of stress and well-being, supplemented with practical, hands-on techniques for maintaining their own mental health. As students work their way through the curriculum, they progress from understanding others' mental health to managing those with mental health issues to creating a culture that supports employees' physical and mental health.
4. Make it easy to get help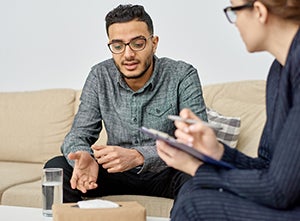 At the University of Sioux Falls, students can send a message to a free crisis texting hotline, Text4Hope. Answered by a crisis response agency, students receive immediate support and resources. Text4Hope decreases their fear of judgement and offers a confidential channel for them to access in addition to university counseling centers.
Cornell University provides walk-in counseling a few hours each day. The initiative, called Let's Talk, offers drop-in sessions on a first-come, first-served basis—ideal for students who need help addressing a specific problem right away.
In addition to increasing staff at campus counseling centers, universities are going a step further to implement inspired initiatives for the support, prevention and awareness of mental health problems in students. According to the Centers for Disease Control and Prevention (CDC) Leading Causes of Death Report in 2016, the suicide rate among young adults, ages 15–24, has tripled since the 1950s, and suicide is currently the second leading cause of death among college students. It is imperative that we continue to seek new and innovative solutions for young people who find themselves overwhelmed in a society of increased speed, complex change and exploding technology.