Successful risk response is about what happens leading up to a crisis—not the immediate reaction.
---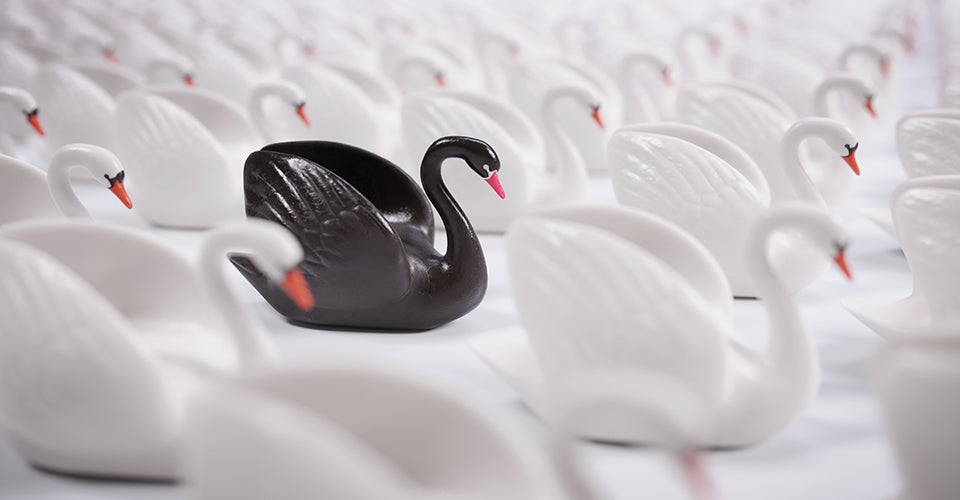 Retired four-star general Stanley McChrystal spoke at the University of Colorado Boulder recently, where he shared insights from a long career in defense that included his role overseeing Joint Special Operations Command, including in Afghanistan. One of the main themes he talked about was risk. What was especially interesting was his perspective that, while the specifics of a crisis may be unique—whether a pandemic, an unexpected act of violence or natural disaster—what is most important is what has gone on before the crisis. The resiliency and shared commitment and respect in any organization are critical elements that drive responses to crisis and its aftermath. 
In January, we at the Leeds School of Business met with our peer review team as part of the re-accreditation process for AACSB International. And while preparing for that visit is a major lift, it is a useful process that forces us to think more strategically about where we are headed and how we are preparing for uncertainties on the horizon. This is especially true now, as we find ourselves between the COVID crisis and the looming challenges posed by the declining number of individuals in the typical undergraduate student demographic, as well as the robust job market, which can depress the demand for full-time graduate programs in business.
Risk assessment is, of course, a key part of the accreditation process—and something we should all be thinking about more intentionally as we navigate these uncertain times. Here are a few thoughts from different schools on how to assess risk. 
Create well-defined strategic priorities
It's much easier to create effective risk plans when they are tied to clear goals—and it can help get stakeholders on board when they understand the stakes of a challenge like the cliff.
For instance, at Leeds, one of our chief strategic priorities is to develop forward-looking leaders who create important economic and social impact. How do we meet a goal like that if we are unable to attract students (and, to a lesser degree, faculty) because we failed to take the changing demographics seriously? Our risk assessment is looking at the kind of actions we can take now, to be better equipped for the challenges ahead. For instance, we created an initiative, End the Gap, that has helped raise the visibility of women at Leeds, both in terms of attracting more female applicants (prospective students and faculty) and building pathways to ensure their success. Through these efforts, we are focused on increasing the primary demand for a business education among women.
Everyone in your organization is a risk manager 
Effectively owning risk means understanding that faculty and staff throughout the school offer valuable perspectives that can help you identify challenges and create strategies ahead of a disaster. 
At American University of Beirut, disaster came in the form of the 2020 explosion that caused $20 billion in damages. On the one hand, predicting a cataclysmic explosion in your backyard is virtually impossible—the sort of "black swan" event that is so remote that it isn't worth developing a specific response to. But leadership at the school looked at their actions leading up to the event and in the aftermath to determine how they could better predict and manage risk.  A major takeaway they identified was the need for processes that can serve as a blueprint for how to navigate through a crisis. Processes can cover various scenarios—including ones you may not have considered—which makes them more robust than simple response plans.
Another takeaway was a better appreciation for the value of bringing people to the table who understand different facets of the overall picture, not just the leaders. Training everyone in the organization to identify risks as part of their work, in order to uncover insights that could be missed at the top, is incredibly valuable, but must be enacted carefully. If you are constantly on the lookout for risk, you may encourage people to see risk everywhere, and they may become less innovative as a result. 
When catastrophic events occur, people have to act in the moment, putting out organizational fires as they start. A better focus on process will help the school be more resistant to shocks and more likely to weather the storm. 
Metrics and interventions 
With fewer prospective students as a result of demographic shifts, competition among universities will intensify. For undergraduate programs, this means not only competition for new high-school graduates. Schools will have to spend at least as much time on retention activities as they do recruiting future classes, to help students who need extra attention and to prevent the academic or social dissatisfaction that can lead to transfers.
More schools are embracing data to solve this problem. Bucknell University developed a student success intelligence model that helps staff and leadership predict when and how a student is struggling and allows for timely intervention before the student drops out or is forced to withdraw. Knowing when and where students are likely to encounter problems allows for more effective engagement, and can improve retention and graduation rates. While these rates have always been important, they will become increasingly so as students have a wider range of options for where to pursue their undergraduate degree.
With respect to graduate students, analytics to help identify and reach populations that are most likely to be interested in the differentiated aspects of your graduate program offerings will become even more essential. Effectively communicating the value proposition of your graduate degrees will require more sophisticated marketing and communication analytics—especially in a robust job market.
Regular follow up 
Risks are a constantly evolving dynamic that need regular attention, to ensure your response efforts are on target. At Leeds, we review our strategic priorities—and associated risks—each year, which allows us to make adjustments to the likelihood or potential impact of a known risk, as well as consider new threats that may be gathering on the horizon.  
Sharing ideas 
I am always interested in learning how other business schools are identifying risks and planning how to address them. Please consider sharing your thoughts, which we may include in a future newsletter.