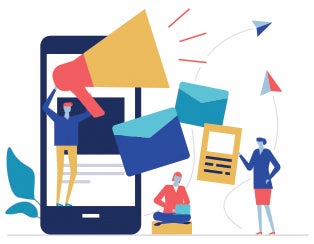 It's no secret that higher education institutions are investing heavily in dynamic and sophisticated student recruitment campaigns. But budgets can only stretch so far. With the broad communication needs that each school has, social media can be an excellent way to optimize your recruiting budget.
Why social media?
As we all know, today's students are digital natives – they've grown up online and are on multiple devices every day.  For them, social media is a natural way to consume information and connect their worlds. These use patterns coupled with the widespread access to digital media in general (e.g., Facebook last reported more than 2.3 billion monthly users, and Instagram touts over 1 billion monthly active accounts) mean that establishing a strong social media presence for your institution is more important than ever.  
Whether you're just getting started on social channels – or you're looking to fine tune your methods, we've compiled a few actionable ways to grow your online communities, increase your interactions, engage more students and boost your recognition.
Social by strategy
1. Student Recruitment: To reach Gen Z, we need to meet them where they are. This means establishing a presence on platforms like Instagram, Snapchat and even TikTok. All provide great avenues for giving prospective students a glimpse into daily life on campus.
The University of Nebraska, Lincoln launched a "Discover Nebraska" weekly Instagram story to showcase campus events and activities — from big to small.
CU Boulder's Leeds School of Business frequently empowers student takeovers on Instagram stories – to showcase career treks, global experiences and case competitions from the perspective of the students who participate.
The University of Florida has paved the way for higher education's presence on TikTok – a platform that lets users create comedic skits, short form music videos and participate in collaborative challenges. With the app's user base made up broadly of 14-24 year-olds – a presence on the app is the perfect way to keep your university relevant with prospects as well as current students.
2. Alumni Engagement: Because of its vast user base demographic wise (from 18 – 65+), Facebook is an outstanding platform to keep all alumni engaged – as well as to boost visibility of fundraising campaigns. But as you broaden your fundraising efforts to reach younger donors, be sure to align them across platforms with a younger core user base, like Twitter and Instagram.
Purdue University took to Facebook to lead the way for their annual "Day of Giving" Campaigns – then cross-promoted the campaign on Instagram and Twitter to broaden their reach. They issued fundraising challenges to followers and aligned participation with the hashtag #PurdueDayofGiving.
CU Boulder's Leeds School of Business adopted a platform that enables alumni who sign up as "insiders" to get sneak peeks at news and events. These ambassadors and influencers are then rewarded with swag when they help spread the word about the school.
The University of Maryland Smith School of Business engages alumni by tapping into trending hashtags. They range from school- and curriculum-relevant ones (e.g., #BeatDuke , #GoTerps); to more generally topical hashtags (e.g., #NewYearsResolution, #BlackHistoryMonth).
3. School Promotion: Your school is a brand like any other. But while most brands struggle to find continuous content to post across social channels, higher education institutions have no shortage of it. From research publications, to alumni successes, and academic and programmatic student achievements, these successes can be shared to help build your schools' reputation and recognition.
Harvard University has no shortage of news to share, and they do a fantastic job of funneling it to Twitter. Their use of Twitter has helped enhance their thought leadership through handles to help distribute targeted news: @HarvardLibrary, @HarvardPhysics, @HarvardResearch and @HarvardCrimson are just a few. 
Duke University's Fuqua School of Business has built their Twitter account to reflect what they perceive sets them apart – being global. Their handle @DukeFuqua focuses nearly exclusively on demonstrating their global presence. Additionally, Fuqua was the first business school to extend their social reach into Asia, creating an account on Weibo (the Twitter of China).
4. Classroom Engagement: Social media can also be an extremely effective tool for educational purposes. Here are a few ways professors have harnessed it to connect with their students:
Creating a Facebook Group for a class – It can be used to host discussions, stream lectures, assign projects and make other class announcements.
Using Twitter as a Class Message Board – By creating a handle for a specific class, it can be used it year after year – aggregating relevant content. The handle can be used to share related links, post reminders and create Twitter chats via specific hashtags.
Building a class-specific Pinterest Board – Pinterest is a great platform to organize resources by creating a "Pin" for each one. The resulting "Board" becomes an easy-to-use cache of information displayed in visual format.  Additional boards can also be created for sub-topics, weekly units, etc.
To learn more about best practices in higher education social media, take a look at what some of the top Higher Education Social Media Managers recently pinpointed as their favorites.