In today's uber-competitive MBA landscape, business schools are challenged not only to stay relevant to the evolving nature of the business world but also keep pace with the shifting needs of MBA candidates and employers. According to the Graduate Management Admission Council's recent market intelligence, the top curriculum "must-haves" desired by prospective full-time MBA students include strategy, leadership/change management, and general management, with data analytics, corporate finance, and operations management not far behind. What's more, these prospective students plan on supplementary opportunities to enrich their MBA experience, and internships are among the most desired co-curricular activities. In short, schools need to ensure they are innovative in these key areas in order to continue to attract top candidates to their programs.

Two business schools, the Leeds School of Business at the University of Colorado Boulder and Ohio State University's Fisher College of Business, are meeting this challenge head-on. Both have recently redesigned their full-time MBA core curriculum, which will move their programs boldly forward in alignment with the changing graduate education marketplace and today's rapidly evolving business world.
We spoke with Lori Seward, faculty director of Leeds' MBA Program, and Anil Makhija, dean of the Fisher College of Business, to learn more about the updates their schools made to their MBA curriculum and the key insights gained in the process.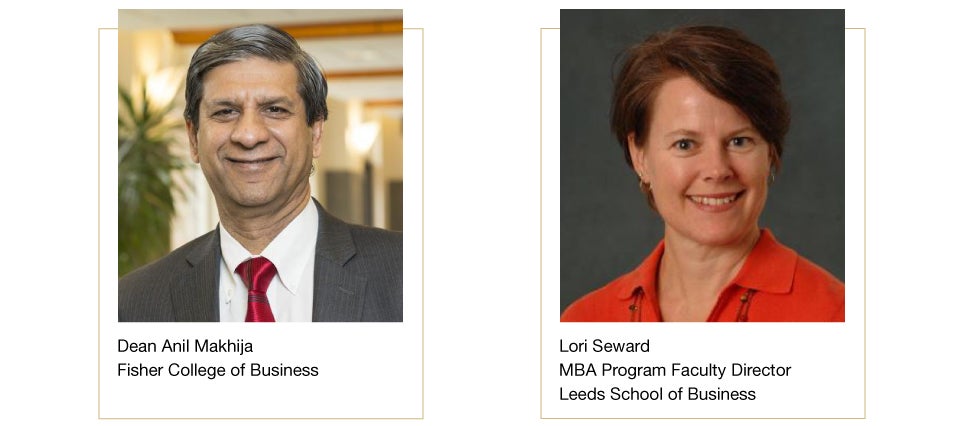 Leeds School of Business: How would you describe the key elements/highlights of your redesigned MBA core curriculum?
Lori Seward:  The key changes in our program that roll out this fall center on several key areas.  We ramped up the leadership and collaboration skills we help students develop and created more extensive quantitative course content to take students from start to finish—in terms of identifying a challenge and then applying data and analyses to address that challenge. We amplified how we teach students about the social and ethical contexts of business and are delivering more extensive communication training, which is increasingly critical in our data-intensive business world.
To give you a few examples of what this looks like, our new curriculum has leadership courses that bookend the core: One focuses on leading teams, and the other on discovering the leadership traits unique to each individual student. Students start out with the team component, and after a year of being in the program, they take a follow-up course that helps them discover exactly what type of leadership style they have. We also offer advanced electives related to leadership for students who are especially passionate about developing their leadership skills, and we encourage our students to get involved with leadership activities outside of the classroom while they are at the Leeds School.
With regard to business analytics, our students will now take an introductory statistics course prior to the start of the program—in our orientation pre-term—and then move into a data analytics course that covers sophisticated software such as R. After their core courses, they can take additional advanced data analytics courses; we're able to leverage our MS in Business Analytics program to offer an extensive set of choices for our students in this area.
We're also reevaluating the elective courses we offer to ensure that we offer options in areas in which we've got strengths, i.e. within our faculty and the Boulder business community. To that end, we are better leveraging 1-1/2-credit courses to expose students to focused topics, such as a new course we're rolling out on leadership in a high-growth venture and one on sales management. We're also leveraging experiential learning activities inside and outside of the classroom, especially in areas like entrepreneurship, our natural and organics industry, and real estate, all of which are booming fields in our region.
Anil Makhija: The key changes to our Full-Time MBA program can be summarized using the acronym PIE. These changes leverage our strong functional education, our abilities and our past experiences to deliver a student experience that is Personalized, Integrated and Experiential.
The redesigned MBA will be personalized to each student through assessment, coaching and unique pathways. … [including] access to advice on academics, mentoring regarding career choices, and coaching to improve personal skills. The pathways—flexible course sequences—are designed to personalize the program to match students' interests and cut across functional areas.
The redesigned MBA will be integrated, with faculty teaching in the core curriculum working together to integrate the curriculum and offer co-taught material. It will also provide ample access to experiential learning: The curriculum is expanded to offer domestic or international experiential learning opportunities with for-profit or nonprofit organizations. Some of these opportunities are required and others optional. For example, during the first year, students are required to participate in our Business Lab, where they work on-site with local firms addressing an actual business problem. Students are also required to work on a social impact project.
LSOB: What was the biggest challenge(s) you faced in the process?
AM: There were a few challenges associated with the redesign. First was understanding the needs of tomorrow, be it from the perspective of employers or students, in a world with rapidly changing business and demographics. A significant effort was spent conducting research from multiple sources, summarizing findings and incorporating them into the redesign.
A large emphasis was placed on bringing faculty together to work on the redesign and to promote their buy-in to the proposed changes. A redesign has many different moving parts, and when changes in curriculum are needed, they can affect nearly every faculty member at the college.
Lastly, we worked to try to maintain proper communication throughout the redesign process among our stakeholders, including faculty, staff, corporate partners and our alumni.
LS: In general, we did a lot of prework on this. Our Dean tasked different faculty groups in investigating these areas and making suggestions on what we thought would be the best changes to the program. That process itself was important for several reasons. One was to get faculty buy-in, particularly from those faculty who developed the existing MBA courses. As the Faculty Director, getting the faculty to agree with the curriculum changes was my number one goal. And in the end, I believe the faculty as a whole feel that the core is the best it can be given their differing perspectives.
We also prioritized learning about the current MBA curriculum landscape and understanding what the trends are in this space. We wanted to ensure that we were offering a competitive curriculum while also highlighting our faculty's world-class expertise. For example, entrepreneurial studies are quite popular right now; and we have entrepreneurial faculty experts who work with our Deming Center for Entrepreneurship to offer a host of entrepreneurial activities—and a new High Growth Venture Fellowship for MBAs. In turn, we've attracted many students who are interested in this area of study and were recently named #10 in Entrepreneurship by Bloomberg.
What prompted you to tackle this endeavor?
LS: The impetus was a series of roundtables our dean had with key business leaders and influencers. She posed the question: What does the future of business look like in your field, and what will it take to lead in that future? Those insights, along with feedback from our students and faculty and an assessment of the competitive landscape, formed the foundation for the changes we made. We then built out our orientation; added content to take our students from data to decisions; included more experiential learning opportunities inside and outside of the classroom to tie us to our stellar business community; and developed more extensive training in leadership, collaboration and communication. Together, these changes are creating next-generation business leaders.
One of the things we know is important with an MBA program is the connections that students tap into while they're here—from their classmates and alumni of our program to our business community. In fact, in all the conversations we have with alumni of our program, they rank connections and access to the community as key benefits. And that starts in the beginning with orientation.
Also, a unique aspect of our business community is that it is rife with scale-ups or what we refer to as "high growth ventures." These are firms that have made it past the start-up stage and are growing rapidly, creating many jobs and opportunities. These firms have sophisticated business needs, such as building out their financial models, raising funds, professionalizing their organization, scaling operations and making critical sourcing decisions. They are also highly desirable places to work; those working in these firms can see the impact of their work and grow their career opportunities alongside the growth of the firm. As we reshaped our curriculum, we did so with an eye toward preparing our students to being highly effective in scaling and growing firms.
AM: The competitive nature of the Full-Time MBA market compels business schools to be innovative with their programs and to be responsive to changes in market demand. In recent years, prospective students demonstrated interest in personal growth and in experiential learning opportunities. For example, participation in our optional Global Applied Projects program has doubled in the last few years.
Additionally, regardless of the current market environment, a revision of our Full-Time MBA program was due as part of our standard efforts toward continuous improvement.
What do you want employers to think of when they see a resume from your MBA graduates?
AM: We want our MBA graduates to be viewed as future leaders, functionally and in their organizations. Employers should see that our graduates have a solid foundation of business skills, functional expertise in their area of specialization, business analytics skills and are polished in key soft skills, including critical thinking and the ability to relate to others and work in teams.
LS: We want employers to view our graduates as forward-looking leaders who are making an important economic and social impact from day one. They should have the fortitude to overcome any challenge they face when they re-enter the business world after graduation. By equipping our graduates with a toolkit that is relevant to their employer's business, we expect they will say, "Wow, this person can help our company move forward."
According to a 2018
report
from the Association of International Graduate Admissions Consultants, MBA candidates cite access to a strong network—especially those looking at entering small firms and startups—and job opportunities, often specific to location, among the most influential factors in choosing an MBA program. In other words, today's students are realizing the need to own their future. And they want a program that allows them the flexibility to customize their trajectory to meet personal, professional and financial goals. Bottom line: Prospective candidates' expectations for MBA programs have evolved, and those schools who are the most relevant and applicable curriculum are going to be the ones that stand out.