Kathryn Wendell:
Meet the New Executive Director of CESR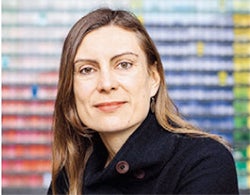 During high school, Kathryn Wendell spent her summers visiting her best friend's family in Cajamarca, Peru, where she saw Newmont Corporation's mammoth gold-mine operation
provide educational and economic opportunities to low-income communities; it planted the seed for her life's work.
"I felt inspired to learn more about the private sector's role in alleviating poverty and addressing other significant problems the world faces," said Wendell, the new executive director of the Center for Ethics and Social Responsibility (CESR).
An accomplished strategist with a career dedicated to global sustainability, corporate social responsibility and entrepreneurship, she has empowered youth to take action on climate change; helped entrepreneurs develop beneficial businesses in emerging markets; and led social responsibility initiatives for Chevron and Levi Strauss.
"Where I see myself able to make an impact [at CESR] is in building relationships with influential businesses and organizations, to see how we can work together toward common goals," said Wendell.
"I felt inspired to learn more about the private sector's role in alleviating poverty and addressing other significant problems the world faces."
With her distinct ability to rally people around an idea and bring them together to solve problems, Wendell is keenly poised to propel CESR's leadership in corporate social responsibility education. 
CESR promotes faculty thought leadership, partners with the business community, and educates the next generation of business leaders on business solutions to environmental challenges, ethical leadership, and diversity, equity and inclusion.
Net Impact Case Competition (NICC)
The incredible, global NICC turned 20 this year. Unparalleled in its popularity and unique approach to ethical business issues, this MBA student-led competition drew 80 competing teams to solve a case on vaccine distribution. AT&T sponsored the event.
"This is an opportune way for students to gain experience in solving sustainability challenges through a business lens. As a judge, I was inspired and impressed by their talent, creativity and hard work."
- Joe Cutrell | Director of Strategy & Innovation, AT&T Healthcare Solutions
Natural and Organic Case Competition (NOCC)
Natural and organics is an industry of keen interest for Leeds students, especially with the high concentration of companies in our own backyard. CESR has now expanded its signature NOCC (part of the Natural and Organic MBA Pathway) from schoolwide to a regional event where students solved a case addressing access to healthy food in underserved communities, a key strategic issue for the industry.
"The competition has been a great opportunity to interact with industry players from the community. Taking it region-wide and inviting the industry's best to judge us has definitely increased the stakes and competitiveness."
- Anoud Saeed (MBA'21)
Social Responsibility and Ethics (SRE) Certificate
Undergrads are building career readiness with the SRE Certificate, which includes experiential learning, reflection and focused coursework; thirty-four SRE students graduated last May, ready to help lead their industries in environmental and social impact.
"I knew I was going to complete the SRE Certificate no matter what…to reform the ethical and sustainable aspects of the fashion supply chain."
 – Carmen Rodriguez Garcia (Bus'21)
Social Responsibility and Sustainability (SRS) Track
Students can now choose sustainability as their area of emphasis through the new SRS track, which prepares them to develop practical solutions for the social and environmental complexities of modern business.
Certificate in Corporate Social Responsibility (CCSR)
A huge success since its inception five years ago, the CCSR executive education program has grown from 15 students a semester to more than 60 professionals from around the country, striving to catalyze their careers with in-depth knowledge, practical skills and a strong network of like-minded changemakers.