Ceremonies challenged newest alumni to leverage the skills won during the pandemic to create impact in business and society.​​
---
The best thing you could say about this year's commencement celebrations at the Leeds School of Business is that they were normal. 
Because for the graduates being honored, the experience at the University of Colorado Boulder was anything but. 
The Class of 2022 spent fully half its time in an uncharted virtual setting, but—as commencement speakers frequently pointed out—graduates will be that much stronger, more adaptable and more capable for it.
In his remarks, Scott E. Kingdom (Fin'82), vice chairman at Korn Ferry, said the most pressing concern on his mind at graduation was what to do about his couch as he prepared to move out of his apartment. Not so for the Class of 2022.
"You are a category of one," he told undergraduates at the CU Events Center. "Take a second to take this in, all of it … because unlike anyone else who's ever gone through this, your circumstance at Leeds have required you to do some things no one has. You deserve a bit more than just the congratulations from me." 
Kingdom, a member of Leeds Board of Advisors, outlined some of the hard-won skills students developed during the pandemic, from finding new ways to collaborate to managing schedules and projects with strangers.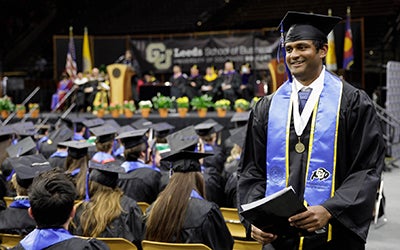 "The world is facing huge challenges that need different and new solutions," Kingdom said. "Big problems require big solutions, and demand innovation. They demand what you now have. You will be the ones to tackle these challenges, it's your responsibility and opportunity to lead us into the future with those new skills of yours." 
Kingdom also touched on the need to look for success beyond work, including creating impact in society and the community. Student speaker Atul Raguveer, president of Leeds Student Government, also urged his classmates to create an identity separate from their work lives. 
"Our worth as human beings does not change based on the success or failures in your career," said Raguveer, who's off to Morgan Stanley, in New York. "There's a fresh start in front of all of us, and you truly get to choose who you want to be and what matters most to you."
'The sun will shine again'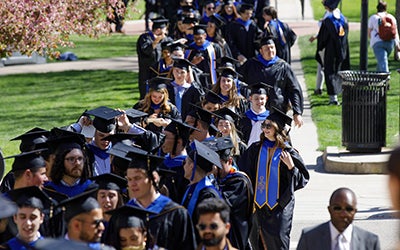 The graduate ceremony, held in a full Macky Auditorium, featured a keynote speech by Dan Caruso, an accomplished entrepreneur who ran through a list of entrepreneurs out to change the world. 
"Every product and service is being reimagined, every industry is transforming," said Caruso, managing director of Caruso Ventures who sits on the strategic advisory council of CU Boulder's chancellor. He listed the challenges that the world is confronting—pandemic, climate disaster, geopolitical instability, war—but was upbeat about graduates' ability to effect change. 
"The sun will shine again, and my bet is on your generation," he said. "Each of you is prepared to play a pivotal role in shaping the world. We need you to lean in."
Harrison GreenMaki (MBA'22), a 13-year veteran of the U.S. Navy, gave the student address to his classmates, touching on the resilience the cohort developed in class and beyond.
"Fail and get up, fail and get up again," said GreenMaki, who has already started work as a senior development analyst with NexCore Group. "My teams have failed, I have failed individually—and we are all still here today. Welcome to life."
Why Leeds  Undergraduate Business Programs  Graduate Business Programs