Leeds Class of 2022 Prepares to Create Impact in Sustainability, Finance, Real Estate and Beyond
You are here
Leadership roles and internships prepare students to make a splash at businesses in Colorado and beyond.
---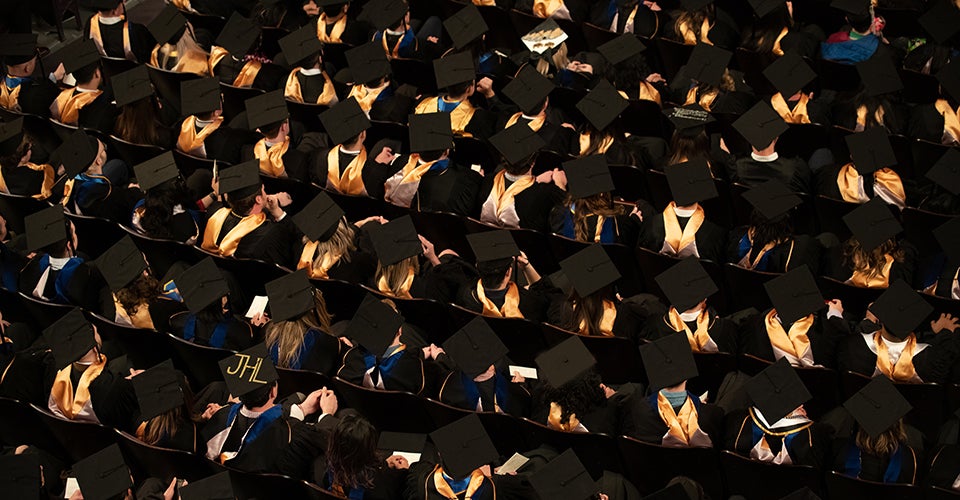 Thanks to her Leeds education, Amber Hughes is going from building dynasties to building real estate.
Hughes (MBA'22) came to Leeds after being steadily promoted up the ranks of the Chicago Blackhawks' marketing operations, and overlapped with the tail end of the team's most recent Stanley Cup championship. But she wanted to give real estate a try, which brought her to the Leeds School of Business at the University of Colorado Boulder.
"The smart people you get to work with and learn from at Leeds has given me a great network," she said. "Everyone has a diverse set of backgrounds and goals beyond the MBA, which makes the program valuable."
Hughes is off to RCLCO Fund Advisors after commencement. She joins a lengthy list of Leeds graduates poised to make an impact in business and society. Here are a few of their stories.
Emma Pearson (Fin, EBio'22)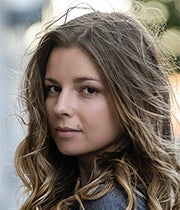 Biology and business may seem like an odd pair, but Pearson has long been an advocate for marine conservation, and said her finance degree is about helping ensure industry has a seat at the table in discussing the big challenges confronting the world. 
"Having a business background is so essential to figuring out solutions to major environmental issues," she said. "That's something that I'm excited to work on early in my career."
It's something she hopes to get through her role as an associate with Boston Consulting Group, where she previously was an intern. She had a chance to connect with its CEO to learn about its commitment to sustainability. 
"I think I gained a little bold confidence from my experience at Leeds, and from all the mentorship I've received," Pearson said.
Atul Raguveer (Fin'22)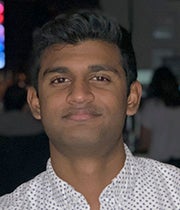 Raguveer is well-known around campus as Leeds Student Government president. His work with Global Platinum Securities is more low profile—then again, so is the organization, an active investment management experience with only eight university members that include Harvard, Georgetown, MIT and Penn as well as Colorado. 
"It's a lot of fun learning how to invest alongside some of the smartest people in the country," Raguveer said. 
It's been perfect training for Raguveer, who is off to Morgan Stanley's New York offices after graduation. He'll be working in its mergers and acquisitions team in the tech division after carving out time during his internship with the bank to do projects with that group. 
"On top of the other work I had to do, I built a fully operational merger model between two public companies," he said. "That was something I'm really proud of. I'm really looking forward to going back."
Amber Hughes (MBA'22)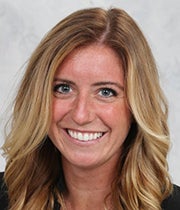 An avid hiker and explorer of national parks, Hughes moved to Colorado to pursue her MBA in order to both explore new trails and work in a red-hot real estate market. 
"Committing to something like a graduate program ensures you will follow through with your goals," she said. "It's so easy to say, 'I'm going to do this online course, or watch this video,' but it's easier to follow through if you're part of a robust program like the MBA." 
Being part of a structured program also gave her leadership opportunities —she is treasurer and a vice president of the MBA Association and president of the Graduate Real Estate Association, and also was part of a team that represented CU in winning the national Colvin Case Study Challenge—and prepared her for the challenges she'll face as a real estate investment associate with RCLCO. 
"I really want to dig more into the financials of commercial real estate," she said. "It's a vital part of the industry and I think that's my next step."
Kai Suematsu and Samariddin Meliboev (both InfoMgmt, BA'21)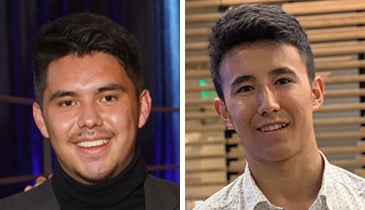 How did Suematsu and Meliboev both manage to graduate a semester early? 
They were both devoted students, but were highly active volunteers, as well. After creating a food pantry as Denver high school students, the pair launched Kobu Foundation during the pandemic. Under their leadership, the nonprofit delivered 150,000 meals, thanks to the help of other student volunteers, while providing more than $15,000 in scholarships. 
Their Leeds studies helped make the project a hit. 
"Business classes taught us how to network with the community, which helped us quickly get started when the pandemic hit," Meliboev said. 
Meanwhile, Suematsu said he learned to be flexible as they sought ways to create impact at a time when the pandemic was changing everything: "Knowing when to pivot, knowing what the big idea is and figuring out how to fill a needed role is something we learned about a lot."
Suematsu (a business and integration analyst at Accenture) and Meliboev (a clinical data analyst at Kaiser Permanente) already are creating impact at work, having jumped in after earning their degrees in December. 
Connor Lacey (Mktg, BA'22)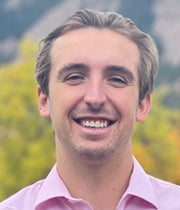 Leeds students are no stranger to high-pressure internships. Even still, Lacey might be a special case. 
While interning with L'Oreal, Lacey found himself working on a new product that challenged him to use different disciplinary skills in creating an effective marketing strategy. 
 
"I secured an $11 million media budget—which was really mine to lose—but I was pitching to the second-in-command of L'Oreal USA, and she's listening to me, asking hard questions that I had the answers to, and challenging me to fight for work I was proud of," he said. "It was so rewarding." 
He accepted an offer to work as a marketing management trainee at the company after graduating. It's a natural fit for an aspiring leader who was very involved on campus, including serving as student business chair for the CU Conference on World Affairs and as a member of the Alpha Kappa Psi business fraternity.