If successful, a startup aiming at dental disruption will have Leeds' collaboration with engineers to thank.
---
It takes a wealth of technical knowledge to create a company that uses a novel form of 3D printing to potentially revolutionize a visit to the dentist. 
But it also takes a wealth of business knowledge to ensure that vision becomes reality, and if Vitro3D becomes the success its co-founders envision, it will be in part because of the growing collaboration between the Leeds School of Business and the College of Engineering & Applied Science at the University of Colorado Boulder.
"We would not be where we are today without the university's resources," co-founder Camila Uzcategui (MMatSci'18; PhD'21) said. "And even more than the financial resources are the people—access to mentorship, new knowledge and networks." 
Vitro3D uses what's known as volumetric 3D printing to create materials for use in life sciences. The company originally sought to use its technology to improve the development process for cancer drugs, but high costs and regulatory barriers shifted them to the dentist's office, where they're entering the aligners market.
"Right now, we're looking to bring 3D printers directly to the patient point of care, to improve outcomes," said Johnny Hergert (MMatSci'18; PhD'21), co-founder and chief technology officer. "Our aligners will be faster and cheaper—we reduce the manufacturing time to a couple of minutes, and they're ready for you at the end of your appointment, so they don't have to be shipped." 
The shift to the dental market came about during the customer discovery process—"people were coming up to us and asking if we had thought about aligners," said Uzcategui, who is also CEO of the company—which has been the part Jennifer Howard (MBA'22) has most enjoyed.

"Today's leaders need to be collaborative and innovative and able to work across different disciplinary boundaries."
Professor Jeffrey York, research director, Deming Center for Entrepreneurship
"My passion is really talking to potential customers—not just people who will praise us, but people who will be our worst critics," said Howard, who brings years of experience in Pharma startups to the table; she was manager of analytics at Silvergate Pharmaceuticals before it was sold and became Azurity.
Howard and the founders were introduced by Leeds professor Jeffrey York, who teaches a venture launch course that Uzcategui and Hergert took together.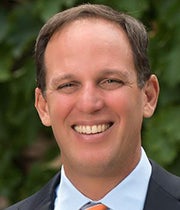 "This is a course that's valuable to engineers—they're getting constant feedback on their pitch and idea—but also for MBA students," said York, research director for the Deming Center for Entrepreneurship. "A lot of times, MBAs want to do something entrepreneurial, but they don't have technology they patented or a new lab discovery. The chance to work alongside people in aerospace or chemistry or robotics is important, because today's leaders need to be collaborative and innovative and able to work across different disciplinary boundaries."
The course is sponsored by the Intuitive Foundation, which identifies top science and business students and grooms them to be change makers and entrepreneurs. And it closely fits into Leeds Dean Sharon Matusik's vision for a future in which technology and business are closely intertwined—a vision the Vitro3D team has been excited to see come to life.
New network, new opportunities
"As PhD students, you have access to all this incredible technology, and it's easy to say, 'I'm not a business person, I'm going to ignore the business school,'" Hergert said. "But taking Jeff's class and working with Jennifer has not only helped us move the technology forward, it's helped us connect with a different network that's helping us create more opportunities." 
One of those opportunities is financial. Vitro3D's comfort in the engineering and business spaces has helped it qualify for university funding from varied outlets, including PHAST—the Pandemic Hyper-Accelerator for Science and Technology—and the annual New Venture Challenge.
At CU Boulder, the most visible symbol of the partnership between business and engineering is the Rustandy Building, which joins the two schools. Completed in 2021, the 45,000-square-foot connection includes an innovation and entrepreneurship hub and state-of-the-art collaborative spaces designed to encourage ideation between business and engineering students. Beyond the building, CU Boulder offers cross-disciplinary career excursions, academic programs, recruitment opportunities and student projects. 
Those opportunities are bearing early fruit with successes like Vitro3D, which is transitioning out of the university as the founders meet with investors to improve their printing capabilities. Howard said she hopes to continue with the project in some capacity after graduating in May. 
"Collaboration like this—it's the real world," she said. "Vitro3D honestly given me an opportunity to do what I love the most in an area I'm extremely passionate about. And without that, it just would have just been school."