Event honors Jerome Williams (PhD'86), a distinguished researcher and leader in business education.
---
When Jerome Williams earned his PhD from the University of Colorado Boulder in 1986, he was the only African-American to complete a doctoral degree in marketing that year.
Even that achievement was only the first step in a pathbreaking career, in which Williams became world-renowned for his influential research on racial discrimination in businesses—for which he was made a fellow of the American Marketing Association—and leadership roles at several prestigious universities, most recently as executive vice chancellor and provost of Rutgers University's Newark campus.
Williams' death earlier this year was a devastating loss to the field of marketing; in November, to honor his accomplishments, the Diverse Doctorates in Business program at Leeds celebrated his many contributions with a mini-conference conference on business bias and blunders in a diverse marketplace. A recording of the symposium can be found here.
A scholar who 'created so much good in the world'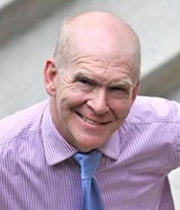 John Lynch, a distinguished professor of marketing at Leeds and the event's host, said Williams' work "created so much good in the world through rigorous research on racial discrimination in the marketplace—particularly in small-business lending. By co-founding the PhD Project, he helped increase the diversity of PhD pipelines and business school faculties around the world."
Leeds invited two distinguished marketing scholars to present their recent work relating to how businesses navigate racially diverse marketplaces.
David Wooten, a professor of diversity and social transformation at the University of Michigan's Ross School of Business, opened the symposium by discussing his research into  how marketing actions can – perhaps unintentionally – create "threat cues" or "safety cues" to diverse customers' racial identities.  Wooten found that releasing products like Band-Aids and crayons in colors mimicking different skin hues were appreciated and celebrated by consumers as an action accepting individual differences. Not surprisingly, products that called to mind blackface—in any form, from dolls to shoes—were shunned, especially from those with lower confidence in their racial identities.
The next speaker, Glenn Christensen, of Brigham Young University's Marriott School of Business, was a longtime collaborator of Williams. They focused their research around small-business lending practices that affect choice, including barriers to free choice and how it defines individuals in a free society. 
Entrepreneurship is an important form of free choice, and 30 percent of jobs are held by self-employed individuals. But starting a business typically requires financing; Christensen's research with Williams involved conducting mystery shopper applications for small-business loans, with identical credentials presented by potential borrowers who were Black, white or Latino. In the process of pre-qualifying loan applicants, bank employees were much more likely to provide information on loan fees, interest rates and terms to white customers, encouraging their applications. Minority applicants were much more frequently asked to provide financial statements and tax returns, and were asked about personal savings, credit card debt and auto loan debt, despite equivalent creditworthiness. 
Bank executives were sobered to learn how much good business they were losing by their practices of racial discrimination in the loan application process. 
"We are so grateful for Dr. Wooten and Dr. Christensen for presenting their research on how businesses navigate racially diverse marketplaces," Lynch said. "I hope that as more schools start offering research-based courses on multicultural marketing, businesses will do better—and so will all of us in society."